But Who Is Actually Buying Gold Right Now?
Thursday, 2/21/2019 18:57
Is it Penry, the mild-mannered janitor...?
CROWDED TRADES rarely prove clever, writes Adrian Ash at BullionVault.
Think of Tech Stocks in Spring 2000...US mortgage bonds in 2006...gold at the end of 2012...or Chinese equities in mid-2015.
Here in early 2019, suddenly 'BUY GOLD!' is everyone's hot tip. That's thanks of course to prices shooting higher, up towards 1-year highs in the Dollar and
6-year highs for non-Dollar gold
.
All this could make gold a screaming sell right now.
Or it might...
...if only the trade was anything like as crowded as the flood of bullish forecasts and comment suggests.
Here at BullionVault for instance – the largest provider of instantly-tradable gold to private investors online – customers can sell as easily as they buy gold. And as the data on our freely available public audit of client property show, selling is what they have done every month since gold jumped well over 5% in the last four weeks of 2018.
So it isn't private investors pushing the price higher.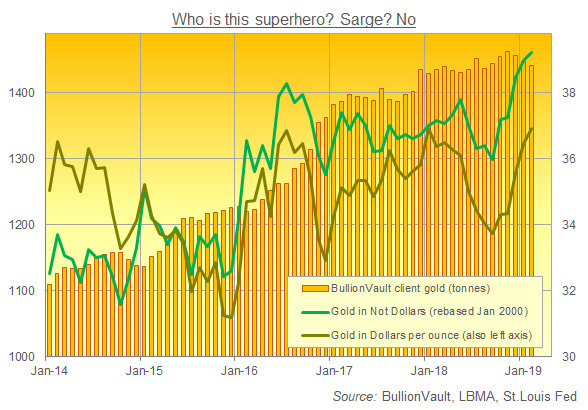 Outside BullionVault, New Year 2019 saw a decent rise in gold coin sales according to the Western world's big mints. And yes, the US Mint this month looks set to double or more last February's miserable sales of American gold Eagle coins.
But January always brings out collectors, not investors. They're keen to add the new-year mintage to their binders. And Gold Eagle sales this February still lag last month by a massive 85% so far.
Beyond that, only novelties and collectibles are really finding demand, and buying gold in such formats sits a long way from anyone's definition of 'investment'. The latest crop of limited edition winners for the mints will never drive spot gold prices higher anyway, not when consumers are already paying an extra 75% over the value of the fine content for a Gruffalo coin or more than 3 times the price per ounce for a Pink Panther bar, albeit with added sparkle from pink diamonds.
Retail investment products in contrast are seeing heavy discounting, at least according to our friends in the industry and also to the promotional emails we keep getting. Some dealers are in fact competing on prices to buy back from profit-takers – no doubt because that's where the only action is as gold sets multi-month and multi-year highs for investors worldwide.
How about stock-exchange-traded gold trusts? Launched in the early 2000s, around half of the largest US gold ETFs are owned by fund managers and other professional investors.
Are those ETF buyers piling in to drive up gold?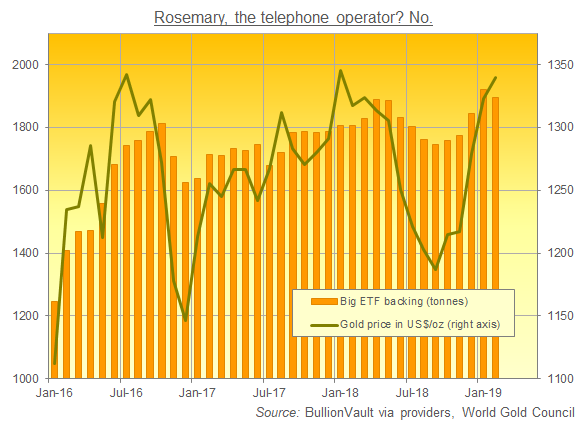 So far this month, with gold rising from $1300 to $1345 per ounce, seven of the 12 largest North America-listed ETFs have shrunk, including the daddy SPDR Gold Trust (NYSEArca: GLD).
In fact, with the GLD losing almost 30 tonnes to date in February, those 12 top ETFs have seen 1.8% of their shares cancelled by investor liquidation, despite solid growth for New York's No.2 gold ETF (the iShares trust, NYSEArca: IAU) and marginal growth from
2018's raft of "cheap" new entrants
.
Here in Europe a similar story. The seemingly hundreds of tiny Swiss-based ETFs are sitting twiddling their thumbs, while the continent's 4 largest gold-backed ETFs have grown by just 2 tonnes – albeit to a new record high of 593 – after adding a massive 23 tonnes in January.
Asia meantime has seen its 4 largest gold ETFs shrink by 7.6%, back to the smallest size since April last year and losing investors from China's Huaan Yifu and Bosera ETFs as well as Japan's Mitsubishi UFJ and India's Reliance product.
Whoever is buying gold to drive it higher, in other words, they ain't buying ETFs.
So maybe it's not happening in physical at all, but just through speculation in futures and options?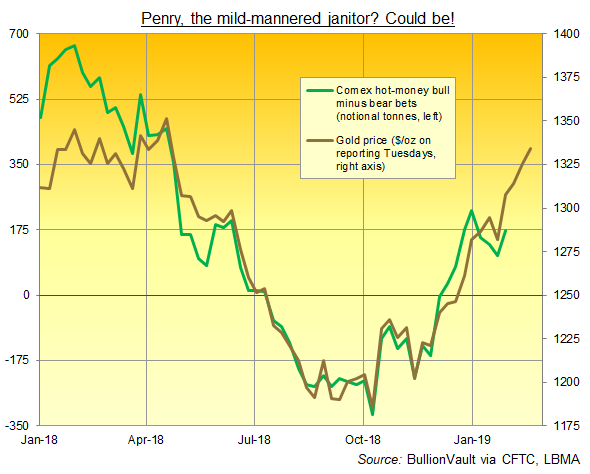 Thanks to this New Year's shutdown of some US government agencies – the longest in history thanks to the Mexican Wall stand-off between Trump and the Democrats – gold analysts are still in the dark as to exactly what's happening in Comex futures and options.
Gathered and published by US regulators the CFTC, this positioning data might matter. Over the last 10 years, the net betting of hedge funds and other so-called 'Managed Money' traders has gone in the same direction as gold prices 80% of the time week-to-week.
Latest figures say late January's rise in gold above $1300 per ounce – then the highest Dollar price since May – came as hedge funds and other speculators grew their bullish betting on Comex futures and options for the first week in three.
But while the total number of long positions rose to the highest since April, bearish bets among hedge funds and other such traders also grew, reaching their largest size since early December and keeping the net position at just 46.7% of its 10-year average.
Since then, the total number of Comex gold futures contracts now open is utterly unchanged according to the CME derivative exchange's own data (up a mere 0.3% in fact). Weirder still, the number of bullish call options now open on the March contract is also utterly unchanged (down 0.3%) despite gold rising 3% in price over the last 3 weeks.
What to make of it? Perhaps like
many analysts think
, speculative traders on Comex really are the driving force for this latest rise in gold prices. But maybe like
Penrod 'Penry' Pooch
thought that wearing a short red robe and a black mask made him into a real superguy, the Comex hot money keeps getting stuck in the filing cabinet...
...and the real hero, unnoticed and most often asleep, is really Spot the (stripey) Cat.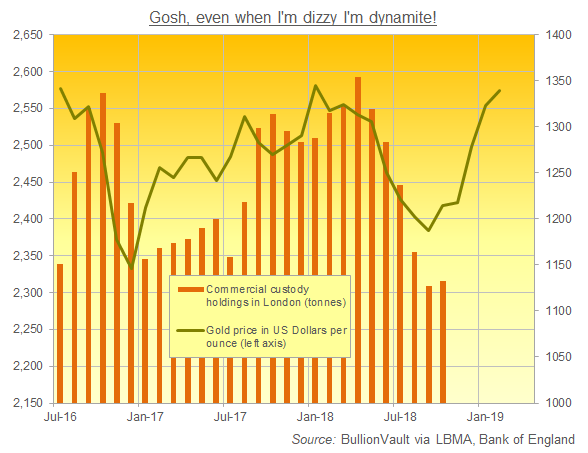 Today's rising gold prices mean India's household consumers have
stopped buying by all accounts
. High import duty and VAT sales tax won't help, even if the 'grey market' of smuggled metal does (something the latest Pakistan-border bloodshed
might curb more effectively
than Indian customs checks, apparently).
China's biggest festive demand
just came and went meantime
, with the Lunar New Year of the Pig holidays pulling such heavy gold jewelry buying, it's hard to imagine there's much happening now, 2 weeks later and with gold 2% more expensive.
But while India's wholesale Rupee prices can't keep pace with US Dollar quotes, China's wholesale gold prices have held firm, nudging above 2.5-year highs even after the Chinese New Year. That means wholesale demand looks strong versus local supply, because Shanghai prices have held a solid premium above London quotes, inviting new imports from the world's key storage and trading hub into gold's No.1 consumer nation.
As for London itself – heart of the physical gold market – word is that inflows to the City's specialist vaults are running well ahead of typical levels. And most usually when gold comes into London, the price is rising.
Whether that's "because" or "as a result", take your pick. But for our money – and noting the 3-month delay in getting latest data from the UK's commercial bank and specialist custody vaults – London gathers gold when investors move into the metal, wanting to own physical bullion and so pushing the price higher in just the way that Asian households buying jewelery or coin collectors going Looney Tunes will not.
Big whacks of gold piled up in London back in the crazy days of 2010-2012 for instance, including those piles needed to back the value of ETF shares we saw above, and which then fled eastwards to India and China as prices slumped in 2013.
So is today's gold buying coming from larger investors and managed portfolios, taking a tip from the chorus of bullish analysis but choosing gold bullion bars in secure storage whether in London or, for long-term holders, Zurich?
Could be...! Because on the current visible data, hardly anyone else is moving to buy gold or chase its price higher with leveraged speculation right now.