When Is the Best Time to Buy Gold?
Tuesday, 5/26/2015 11:17
Asian traditions say autumn & spring. But is in-between the best time to buy gold at low prices...?
CALL IT superstitious, call it good marketing, or call it tradition, writes Adrian Ash at BullionVault.
But where India has Akshaya Tritiya in spring and Diwali in autumn, China then has Lunar New Year – the most 'auspicious' time of year for people to buy gold.
The best time for gold traders, however, is different. And it may be due in some part to those same religious and astrological dates observed by gold buyers in Asia.
"Sell in May, come back on St.Leger's Day," claims stockbroking lore in the City of London. That old chestnut basically tells clients and staff to take a long summer vacation, starting with the Whitsun Bank Holiday and returning after the year's last big horse-race meeting. Wouldn't want to disturb your broker from studying the form, after all.
If you like such things, the data suggest mid-summer can indeed be a good time to buy gold at a discount. Better certainly than relying on that old stockbroker's saying for trying to trade in and out of the FTSE share index.
Folklore says the gold market tends to see a 'summer lull', with prices softening as trading volumes dry up amid the showers and downpours of May-August. We have written about this pattern before. Many...
many
...
times
before. Like,
loads
.
Our lack of imagination aside, you might link this lull in prices to the
'closed period' of Indian demand
(better known as 'shradh', when new investments and ventures, including marriages, become unlucky on Hindu calendars).
But take the Hindu festival of Akshaya Tritiya – an auspicious day for new ventures, falling in late-April in 2015. It has become a major date for gold retailers in India, the world's No.1 jewelry market. Getting ready for this year's festive demand, and thanks to easier import rules, India's wholesalers
took in twice as much gold
this March as during the same month last year.
April's gold imports then showed a 60% annual jump, totalling a further 85 tonnes on top of March's 125 inflow.
That's a lot of gold. It nearly equals one in every two ounces of gold mined worldwide over those same two months. And re-worked into bracelets and necklaces, that surge of Indian gold imports became a 10-20% rise in gold sales on Akshaya Tritiya. Some retailers
even reported a 30% jump
.
Fact is, however, "Sales volumes [in 2015] were higher as Indian prices were lower by 7% year on year," reckons All India Gems & Jewellery Trade Federation director Bachhraj Bamalwa, directly attributing the growth in sales to lower prices. US Dollar investors meantime found gold $100 lower per ounce from Akshaya Tritiya 2014. Sterling prices were pretty much flat from 12 months ago.
So, whatever drives the gold price, India's festival demand looks unlikely. Quite the reverse, in fact. By extension, a lack of good times on Hindu calendars is unlikely to pull prices lower. Indeed, the near-shutdown in gold imports to India in mid-2013 – due to an effective ban on new inflows after the record levels seen during the Spring 2013 price crash – coincided with the metal finding its floor at last roundabout the $1180 mark.
China's retail gold demand also takes a break over the summer, as do its wholesalers. But if removing this bid to buy gold the world's heaviest gold-buying market also tracks prices more than setting them, with Spring 2015's strong export of metal from London through Swiss refiners onto Asian buyers being "a sign of weakness, not of strength in the market," as Matthew Turner at Macquarie noted to Bloomberg last month.
None of this is to say Asian household demand doesn't help form gold prices. But it clearly doesn't (yet) chase it higher at the tops. Instead, the world's heaviest buyers prefer the dips and plunges created by Western investment selling. Thus the global market found lots of buyers in 2013, albeit very much cheaper than US and European investors would have liked as they quit positions built at $1500 and above.
So, back with the seasonal data, might the summer lull in gold prices come thanks to the summer doldrums in financial markets more broadly? Perhaps. It is in fact much clearer on the historic data than the City of London's more famous "Sell in May" folklore for UK equities. And again, on the data, it has been growing stronger as well.
You can see it here on this chart of average monthly prices. We've used the median, not the mean, to smooth out the crazier moves of outlier years. And there, right in the middle of the year, you will see a 'seasonal lull' during mid-summer for both the decade from 1995-2004 and then again for 2005-2014.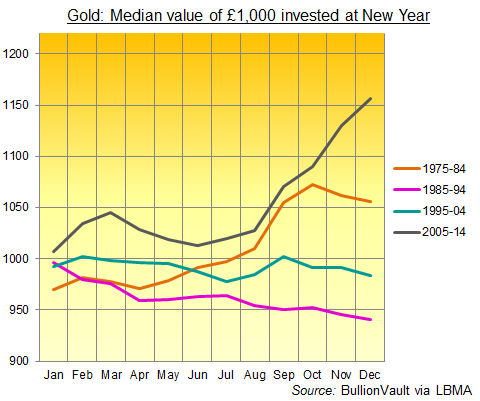 Eight times in the last decade, in fact, the softer prices of early to mid-summer offered UK investors a chance to buy gold and then sell it higher at year's end.
That's a much better hit-rate than the old chestnut about summer being the best time to sit out the London stock market. "Sell in May and come back on St.Leger's Day" the saying claims. But only 5 times in the last decade has the FTSE All-Share index of UK stocks closed May higher than it closed the month of September.
Indeed, if your stock broker repeats that old chestnut to you this May, you should ask for an invite to his retirement party. (You'll be paying for it, after all.) Because as you can see on this chart of the FTSE All-Share's monthly averages, the last time that "Sell in May" was really true for UK shares was back in 1975-84.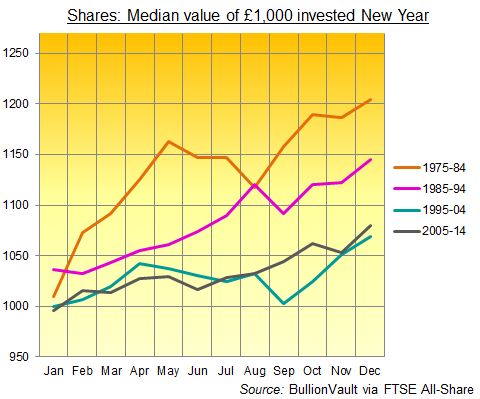 Bottom line? More active investors – looking for the best time of the year to buy gold at a discount and then sell again at a peak – might find this seasonal pattern to be useful. But no one gets to trade the average monthly moves, and history tells us nothing about what will happen for sure this year.
Just ask those Dollar-gold traders who took profits in springtime 4 years ago...
only to watch the gold price surge
to all-time record highs during the US debt downgrade, Eurozone crisis and then English riots of summer 2011.
Meantime in India, Akshaya Tritiya
hasn't been the best time
to buy gold over recent years. Not according to analysts who miss the point, even if stumbling over the same seasonal pattern in Rupee prices as UK investors enjoy. Making an auspicious investment isn't the same as expecting it will turn a profit directly itself. And besides, buying gold at any time of year has proven pretty smart for Indian savers over the last few decades anyway.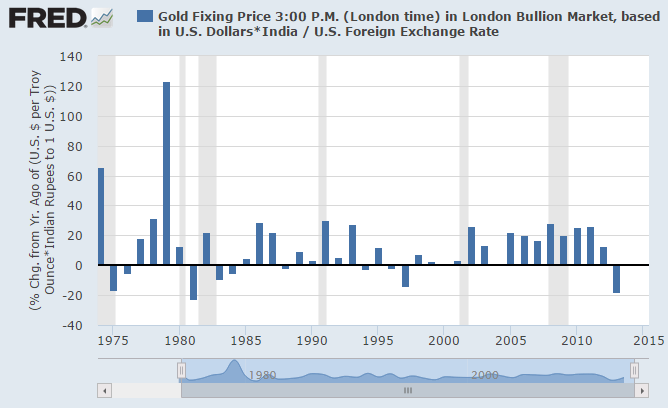 Gold prices have risen in Rupee terms in 30 of the last 41 years. How auspicious is that when you're trying to save for the future?