Bought Gold This Year? Beware 'Mean Reversion' in 2020
Monday, 12/30/2019 14:08
Gold correlations very stretched as 2020 begins...
INVESTORS
didn't need gold as a portfolio hedge in 2019, but they piled in anyway,
writes BullionVault's director of research Adrian Ash in this article first published for readers of Investment Week's European title.
Total returns from all major US asset classes beat inflation this year, something last achieved in 1971. Equities led with their best year in six, very nearly matched by real estate's 27% return, while Treasury bonds paid the most since 2014, commodities the most since 2016, and corporate debt the most in a decade.
Yet wealth managers, as a group, still joined central bankers in adding heavy new gold holdings this year. Gold-backed ETFs swelled by 31% to reach $135 billion, the highest value since 2012's record.
Secure bullion vaults also saw strong growth in directly-owned gold, with inflows to private custody in London – heart of the global gold market – matching inflows to exchange-traded products by late-summer (the latest available data).
What drove this 'safe haven' dash when safety wasn't needed? Plunging interest rates, most especially the surge in negative-yielding bonds.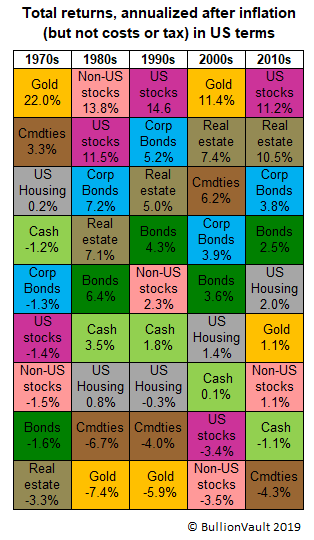 When gold prices peaked in September – setting a 7-year high in US Dollars, four-decade highs in Yen, and new all-time records in both Euros and Sterling terms – a total of $17 trillion in debt offered to pay sub-zero returns by maturity, even before inflation.
That made gold – impossible to inflate, destroy or default on – less costly than lending money to a raft of sovereigns and even some corporates.
At this autumn's top in bond prices, buyers of 10-year German Bunds locked in a 10-year loss worse than 0.74% per annum. Many
gold ETFs
charge half that much or less, and physical gold owned outright can be vaulted and insured for as little as 0.12% per year.
Might this no-brainer prove brainless in 2020? Investors typically buy gold because they fear trouble ahead. Whether cause or effect, that means gold has tended to do well in decades when equities didn't – and vice versa – as our table of real US asset-class returns since 1970 shows above.
Gold's shorter-term correlation with equity prices is more variable, swinging from strongly negative (eg, 2013) to strongly positive (eg, 2019) and therefore averaging out very near zero in the long run. While that makes this year's pattern of gold rising together with stocks quite normal, it means investors shouldn't expect it to keep running indefinitely – not given the very clear track record of mean reversion.

Gold's other key relationships also look stretched at end-2019, most starkly with the US Dollar. Again, there's nothing to stop gold continuing to move with the greenback, rather than opposite, for a while longer. But reversion towards the mean would see gold fall next year if the Dollar extends its rally of the 2010s, rising for a record eight years in 10 on a trade-weighted basis.
Mean reversion would also see gold fall in 2020 if, like the Dollar, the S&P can continue its record-breaking run, now longer-lived than any previous equity bull market. And if not, gold would be expected to rise on a set-back in stocks, a fall in the Dollar, a plateau or retreat in bond prices, or a risk of oil-led inflation – just the kind of risks investors choose gold to hedge against.