Calamity Poole
Thursday, 8/16/2007 14:55
Well, bless Poole's beautiful hide...!
ONLY A "CALAMITY" would justify an interest-rate cut now, says St. Louis Federal Reserve chief William Poole.
In which case, he either liquidated his personal stock investments before June...or the guy's got some real hide.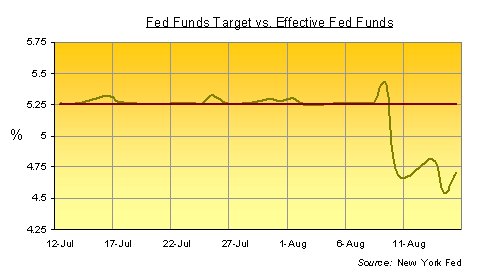 "The daily effective federal funds rate is a volume-weighted average of rates on trades arranged by major brokers," says the New York Fed. And as you can, it's slipped sharply below target...closer to the current yield on 10-year Treasuries, in fact.
So why does the US central bank insist on lending fresh cash to the money markets through its open-market operations? The Fed's put in $88 billion over the last week, ostensibly to keep the Fed funds rate on target by making money more readily available.
Some $36 billion of that liquidity is still outstanding right now (as of 10:20 EST, Thurs 16 Aug.), with the latest $17 billion being auctioned for repurchase agreements right around today's Wall Street open.
Does that make the current slump in global asset prices a calamity yet?