Rollin' Back the Years
Friday, 11/21/2008 10:39
A chart to help cast your mind back to the bull market in US stocks...
APRIL 5th, 1997: Garry Kasparov was yet to be defeated at chess by the Deep Blue computer; the United Kingdom still owned Hong Kong; a chubby, unknown intern called Monica Lewinsky was quietly being moved from the White House to the Pentagon...
...and the S&P500 index closed higher than it ended last night, 20th Nov, 2008.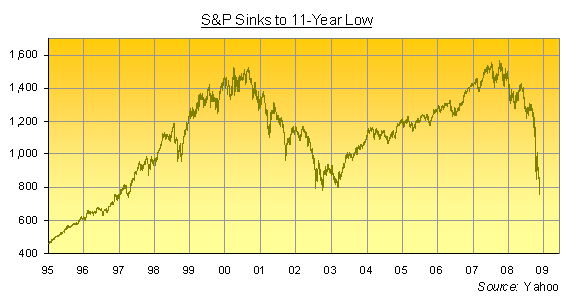 What took five years to regain after the Tech Stock crash took barely 12 months to wipe out when the housing slump turned into the banking crisis and then the global credit crunch.
A technical analyst peering at the charts from far enough away might point to that huge "double top" in the S&P – the benchmark index of America's top 500 stocks. That, in turn, would not bode well for future capital gains.
Not now the "key support" of Oct. 2003 looks to be broken.