Silver 2019 Recovery Seen on Strong Tech, Beta to Gold
Thursday, 11/08/2018 20:16
Price turnaround to start in silver investing...
SILVER PRICES are likely to see a recovery in 2019 according to bullion-market analysts, led by a return of positive investment sentiment and underpinned by solid industrial demand, most especially from the tech sector.
"Silver can look forward to robust physical demand with strong growth in electronic applications
leading to a positive price bias
," said David Holmes, senior vice president in New York at German-based refining group Heraeus, on Day 2 of last week's London Bullion Market Association conference, held this year in Boston, Massachussetts.
Reviewing the last decade's changing silver market, "This really shows the value of this annual conference," Holmes said of an
LBMA Edinburgh 2009
slide from Jessica Cross of consultancy Virtual Metals forecasting 100 million ounces of solar-energy demand for silver by 2017 – an "excellent forecast" from barely 30moz then against last year's 95moz out-turn.
Looking ahead, "I'm less sure about solar now," Holmes went on, pointing to cuts in government subsidies for the photovoltaic sector, rising import tariffs in the US-China trade war, and continued
thrifting of silver by PV manufacturers
to reduce the quantity of metal needed to generate the same amount of electricity.
Instead, he now expects "explosive growth" to come from auto-sector demand for silver as the world shifts away from internal combustion engines.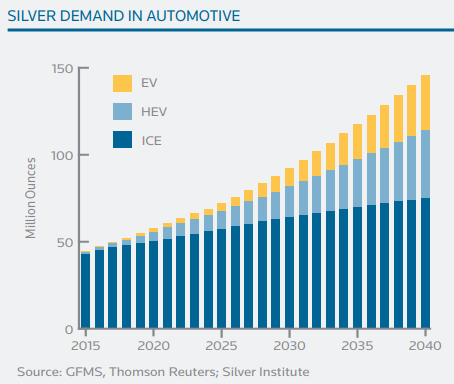 Electric vehicles and hyrid-electric vehicles will account for more than half of global automotive silver demand by 2040 said Thomson Reuters GFMS (now re-named Refinitiv) in its World Silver Survey 2018, produced for the Silver Institute of miners, refiners, dealers and fabricators.
That's because EV and HEV passenger cars use up to 1 ounce of silver each said Holmes in Boston, compared to around half-an-ounce in ICE vehicles. Premium models also need more silver switches and relays for their extra features.
"Smartphones have also become a noteworthy source of demand," said Holmes, pointing to estimates for global sales of 1.5 billion units in 2018. With average silver loadings around 0.35 grams according to the US Environmental Protection Agency, that takes this year's gross smartphone demand to more than 16 million ounces. Recovery rates from spent units meantime run to just 0.075 grams per iPhone according to the iconic brand's owner, Apple Inc (Nasdaq: AAPL).
"Developed markets are saturated, but there is ample potential from emerging economies," Holmes went on, pointing to India – now the No.2 smartphone market behind China,
overtaking the US in Q3
on data out this week from tech' industry consultants Canalys – where demand is forecast to have grown 15.6% in 2018.
But while solid industrial demand means that silver's fundamentals underpin the market, Holmes said, "investment flows tend to swamp fundamental activity," and physical investment has proven the surprise growth category for silver demand over the last decade, rising and falling alongside the metal's rise and fall from near record highs of $50 per ounce in 2011.
"Speculative investor activity is the primary driver of silver price action," Holmes concluded, saying that he believes 2018's heavy bearish betting against silver on the Comex futures market
will start to reverse
as macro-economic and financial factors turn in the metal's favor.
The
Gold/Silver Ratio
of the 2 metals' relative prices is also "stretched" near quarter-century highs, Holmes said – a factor which analyst Bernard Dahdah of French investment and bullion bank Natixis also thinks should see silver recover in 2019.
Silver has this year fallen 1.37% for every 1% drop in gold, Dahdah tells India's
Business Standard
. "The
same beta will be seen
as prices of both precious metals recover, meaning that silver will outperform gold.
"This will also bring down gold-silver ratio to 73 next year" he believes after it
broke above 85
for the first time since March 1995 this September.