Silver Bar & Coin Demand Sinks in 'Saturated' US
Tuesday, 5/09/2017 11:20
Investment drops by 1/3rd for US silver coins and rounds...
SILVER BARS and coins have seen a steep dive in demand so far in 2017, led by a one-third drop in US investing according to leading analysts.
Looking at sales data from the US Mint, "the first four months of this year reveal a 54% year-on-year decline," says specialist consultancy Metals Focus, comparing the drop in silver coin sales with the 46% drop in sales of gold Eagle and Buffalo coins.
Wider availability of cheaper 1-ounce
silver rounds – coin-shaped units
struck by private mints – perhaps skews that number, Metals Focus, as "price sensitive investors...shift away from newly minted coins."
But overall, it estimates that retail demand fell 30-35% during the first quarter of 2017 from the same period last year.
Early 2017's price gains also saw "a marked upturn in products being sold back by retail investors," says Metals Focus – but so far, that has barely dented "the level of retail stocks" built by US households between 2010 and 2016, estimated at "a staggering" 23,600 tonnes.
Equal to a full year's global silver mining output, "The scale of US purchases this decade has...created the risk of market saturation,"
Metals Focus
warns.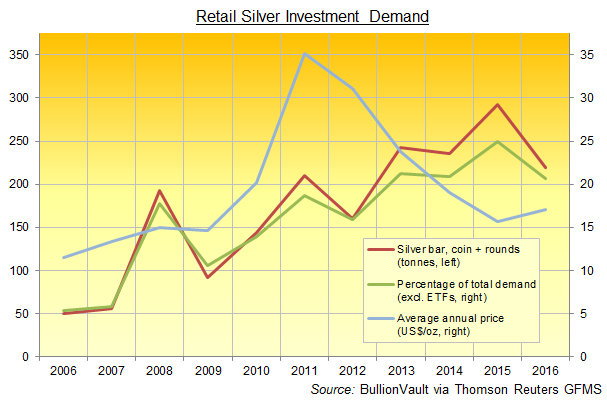 Worldwide, silver coin and bar demand jumped by one-quarter to a record 9,000 tonnes on 2015's price drop according to data from specialist analysts Thomson Reuters GFMS.
Last year's sharp price rally from those 6-year lows then saw bar and coin demand fall back by that same proportion, retreating to the lowest level since 2012 at 6,800 tonnes.
"The drop [was] unsurprising given the strong increase recorded in the prior year," said
GFMS in its November update
for the Washington-based Silver Institute, "when investors entered the market en masse to bargain hunt."
Retail investment demand for
silver bullion bars
in particular fell hard last year, down 38% on GFMS data despite a rise in Western Europe "on the back of Brexit fears."
All told, silver bar and coin demand accounted for just over one-fifth of total physical demand in 2016, "down from 25% in 2015," according to GFMS "[but] up from just 5% ten years ago."
US retail investment demand can be volatile, it adds, but "a pronounced drop for the full year [2017] total appears likely."