'Tis But a Scratch!
Wednesday, 7/28/2010 15:56
The current drop in Gold Prices – so far, at least – barely shows against other sell-offs to date...

WHATEVER REASON you cite for this week's swoon in Gold Prices to $1160 per ounce and lower, 'tis but a scratch so far, says Adrian Ash at BullionVault.
The current options contract on Gold Futures expired Wednesday, guaranteeing volatility. Because as longer-term speculators moved to rollover their position in the derivatives market, banks taking the other side of the trade were only too happy to oblige.
More broadly, active traders would always expect to see a seasonal lull – if not drop – in Gold Prices between July and Sept. India's gold-hungry millions don't buy over the summer, but wait until autumn's post-harvest Diwali festival instead. And after the huge gains spurred by the Greek crisis of April and May, a pullback was long overdue.
That's not to say the Gold Price bull market starting a decade ago hasn't just met it's end. Some in the mainstream investment media certainly want to see it that way, even if – like this guy at the Sydney Morning Herald – they're driven more by resentment of gold's recent gains than analysis of its future.
But either way, and like Monty Python's Black Knight says, the gold market has had far worse cuts than this...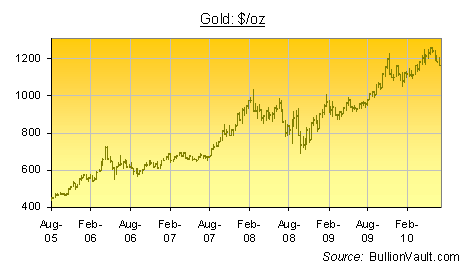 Losing a little over 9% from last month's top to date, the gold price in Dollars would have to reach $1073 an ounce before matching the 15% drops of Dec '09-Jan '10 and Feb-Apr '09.
Gold would need to hit $948 an ounce before matching the 25% drop of May-Jun '06. And it would have to reach $834 before matching the 33% Mar-Sept. loss of 2008.
This current swoon is also a good way from setting new records for pace, too. Top to bottom, it's nothing – so far – next to the 16% week-on-week drops of June 2006 and Sept. 2008.
Small comfort to investors or traders picking last week's dip as a bargain, perhaps. But so far, it's only a scratch.

Buying Gold on the dips? Choose your moment, and set your own price, with direct access to live pricing for physical gold at BullionVault...