Independence Day for Drivers
Saturday, 7/04/2009 11:35
Pricing crude oil out of the Dollar and into gold this Fourth of July...
SO LAST WEEK'S spike in the price of Brent crude oil – the North Sea benchmark – was due to a "rogue trader".
His unauthorized dealing through the PVM brokerage drove the price up to $73.50 per barrel and reportedly sparked 30 times the typical trading volume for the dead of night as computer "bot" traders raced to catch up. It also incurred a loss of $10 million, and threatens to re-ignite US policy-makers' loathing for Wild West speculation in commodities.
But whatever the regulators missed this time – and whatever the trader's boss may (or may not) have been up to, issuing a strongly bullish note to client just hours after the position was taken at 2am – that spike hardly compares to last summer's run. And averaging nearly $70 per barrel in June, the price of US crude oil only just got back to its average monthly price of the last four years.
That's not much of a recovery, even if it is a double since Christmas, given the monthly top of $132 per barrel hit this month and last in 2008. And it's peanuts next to the record daily close of $145 hit on Bastille Day, July 14th '08.
This Fourth of July, however, and not least if you're out driving, spare a thought for just how much more expensive crude oil and thus transport, heating, detergents and plastics are today than back before the credit bubble morphed into the financial crisis and then into today's global depression.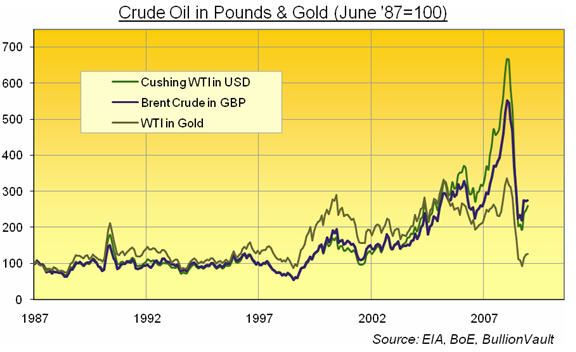 Also note how the spike of '08 was only slightly tempered for European drivers and households when the North Sea benchmark, Brent crude, is priced out of Dollars and into the British Pound.
Whereas, if priced in Gold – a simple enough concept amid rumors and counter-rumors of Chinese grumping over the Dollar's volatility, plus muttering over a new world reserve currency – crude oil is now back pretty much where it was throughout the low and falling trend of the late 1980s and 1990s.
Just a thought.