Panic on the Streets of Britain!
Tuesday, 1/06/2009 18:11
The heady days of the Northern Rock run in 2007 marked a key turning point for shares, housing and gold...
FEW EVENTS of the last 10 years stand out for British investors quite like the bank run on Northern Rock of September 2007.
During a few heated days that autumn, thousands of private cash savers lined up on High Streets across the country, anxious to pull their cash out of the formerly cautious ex-building society.
A bank since 1997, Northern Rock had grown its mortgage book by almost one-half in the first six months of 2007. The result – right at the top of the UK's most recent bubble in house prices – was as inevitable as the government's useless response.
First ignored, then denied, then dismissed and finally bailed out with tax-payer funds before being gobbled up wholesale in the first nationalization of the 21st century, Northern Rock marked only the start of the UK's ongoing bank crisis.
But looking back across the 10-year horizon (as is our wont here at BullionVault right now...going 10 times better than every other pundit in rounding up the "big picture" as 2009 begins...) you can see just how dramatic the panic has proven since then.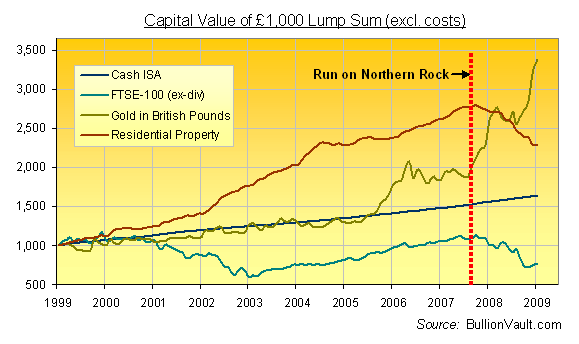 Geared to the gills on short-term funds borrowed from the interbank market – rather than financed from cash-saving deposits, lent out for a modest return – Northern Rock now looks the axiom of Britain's carefree accrual of debt over the last decade or so.
Its crisis and then demise also marked a dramatic turn in the value of UK investment assets, most notably the housing bubble upon which Northern Rock's own boom was built...the stock market of which had been such a darling...and of gold, priced in Sterling – to which it stood in stark opposition.
The outlook from here may come to look less dramatic, of course. But for as long as the government tries to destroy the value of Sterling in a bid to inflate away debt (both public and private ), Gold Investment – if owned outright and free from all credit-default risk – may still perhaps prove a decent home for a chunk or two of your wealth.