May 2006 revisited
Thursday, 5/10/2007 11:00
For the first time since 2001, gold is now trading below its price of a year ago...
"THE FACT that we didn't get through $691 suggests we may now start to test the lower end of [gold's trading] range," reckons Jonathan Barratt of Commodity Broking Services.
"It's still relatively supportive, but I think a few investors are getting a bit annoyed that the market has not gone on through that $691 area again."

Many investors, however, will be more than a bit annoyed at gold's failure to recover its 26-year peak of May 2006.

For the first time since this bull market began in 2001, gold is now trading below its price of a year ago. Longer-term investors shouldn't be surprised if disappointed traders and fund managers chose to sell out this week.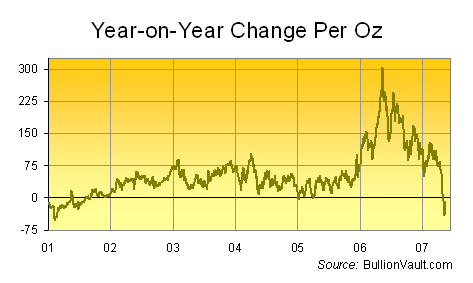 This Monday's failure to break resistance above $691 – followed by a near 2% sell-off on Tues and Weds – coincided with the 12-month anniversary of last May's huge spike above $725 per ounce.

The spike seen in mid-May last year, however, was followed by a 14% drop to $625. It then sank – twice – to just above $570 per ounce.

So at current prices, gold will stand significantly higher year-on-year by the start of June. Momentum traders may choose to buy on the bounce in year-on-year gains.

Longer-term gold bulls – and all investors concerned about the growing mountain of credit and derivative default risk today – may choose to stick with bullion in summer 2007. For as long as global rates of real interest remain low to negative, money will continue to lose value, even if the paper asset markets record fresh nominal highs.

To buy gold today – and enjoy outright physical ownership, free from both credit risk and the hassles of taking delivery and arranging insurance – simply click through to visit www.BullionVault.com now...