Gold Demand: A Collapse in India?
Monday, 7/28/2008 10:00
High prices plus high volatility cut Indian gold buying 65% in first-half 2008...
IT'S HARD TO OVER-STATE the role played by Indian jewelry in world demand for physical Gold.
Between 2000 and 2007, gold jewelry sold in India accounted for one ounce-in-nine sold worldwide. One ounce in every five wound up as an Indian import (its domestic mines produce less than six tonnes per year), ready to become 24-carat dowries or bracelets and necklaces for the international market.
The single-largest gold bullion consumer, India's own final demand outweighed the next largest market – China – by almost 57%.
But Chinese gold buyers caught up during 2008 to date. Or so says the latest data from the World Gold Council. The switch isn't only due to surging Chinese demand (up by 15% year-on-year between Jan. and April). It comes thanks to a collapse in Indian gold sales – down 65% in the first six months of 2008 from '07 according to the Bombay Bullion Association – as consumers balk at record high prices.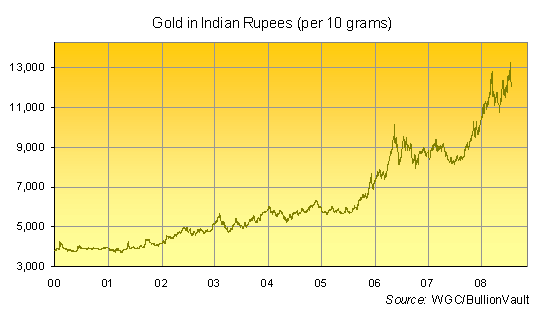 "The underlying drought in Indian demand should have analysts up at night," reckons Jon Nadler at Canadian refining and metal-dealing group Kitco. As Kitco's senior analyst, you might expect him to be chewing double-doses of Nitol as a result.
"Who will absorb the metal that the sub-continental buyers are evidently unwilling to consume at current prices," Nadler asks – and it's a fair enough question.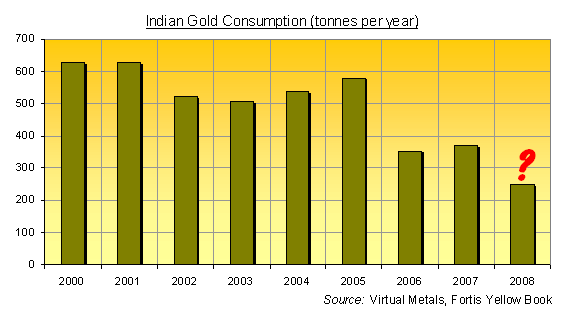 Our best guess-timate here at BullionVault – working off the data provided by our friends at Virtual Metals in London – says Indian gold demand this year could be on track to fall as low as 250 tonnes, well below half the average of 2000-2007.
What might this mean for world Gold Prices...? Four caveats apply:

Diwali – the Hindu religion's festival of lights – falls in October after the harvest ends (more on this below). It marks India's peak gold-buying period;
The drop in world jewelry sales comes in terms of physical tonnage; the Dollar value of world purchases actually jumped by 20% between Jan. and April compared with last year.
Global investment demand continues to surge as inflation rises and stock markets tumble, with Turnover Doubling for UK Gold Dealers and new purchases rising sharply (both by volume and value) across south-east Asia and the Middle East;
India's private citizenry is no different from the rest of the planet right now, in that they can't move for strong reasons to keep buying gold.
Strong reasons to Buy Gold? First, just like everywhere else, India suffers the problem of money. Much too much money.
The quantity of Rupees in circulation has more than doubled since 2003. So-called "broad money" supplies (M3) have risen 10 times over since the start of the 1990s.
That makes each Rupee in your pocket worth less every day. Inflation in the cost of living is now running above 11% year-on-year, more than twice the Reserve Bank of India's target.
But even with interest rates set at a six-year high, the real returns paid to cash – the real rate of interest after inflation – remains sharply negative for Indian savers, way down at minus 3.4% annually. That's even worse than the negative real rates now paid to US cash holders (minus 3.0%).
The Rupee's steady decline on the currency markets therefore looks set to roll on. It's steadily sunk against pretty much everything else over the last four decades...clawing back 15% of its value against the US Dollar since late 2002 only because the Dollar has fallen still faster.
Second, both Fitch Ratings and Standard & Poor's this month Downgraded India's Sovereign Debt, leaving it just one rating above "junk". Fitch's outlook on government bonds denominated in Rupees went from "stable" to "negative" thanks to "a considerable deterioration in the central government's fiscal position...combined with a notable increase in government debt issuance to finance subsidies not captured in the budget."
Fitch expects India's fiscal deficit to reach 4.5% of GDP next year, up from the current 2.8%. Throw in the debt issued to subsidize consumer prices via India's oil and fertilizer companies, and the ratings agency sees the underlying deficit at a huge 6.5% of the economy or even higher.
Third, the Bombay stock market has proved a great place to lose money so far this year, down almost 30% since reaching an all-time peak at the beginning of January, the worst performance of the four "BRIC" economies (Brazil, Russia, India & China) in 2008 to date.
Indeed, "if you had invested 10,000 Rupees in the Sensex or the Nifty [stock index] one year back," write Gaurav Pai & Ashish Rukhaiyar in the Economic Times, "your investment would have shrunk to about Rs 8,800.
"However a similar amount invested in gold would have grown to over Rs 15,000."
Still, at least the Bombay Stock Exchange (BSE) has so far avoided the riots that broke out across the border in Karachi, Pakistan, in the middle of July. Down by 35% inside three months, the plunging Karachi Stock Exchange (KSE) needed police and the army to defend its offices on July 17th from a 1,000-strong mob of Panicked Investors.
(Bombay did get heated scenes in parliament this week, however, when members of the opposition began waving round huge bundles of cash, claiming they were Bribes from the Ruling Congress Party ahead of a crucial confidence vote...)
"I've lost all my savings," said one Pakistan stock-holder to the BBC's local correspondent. "I am upset because I am constantly losing money and there is no one ready to help me," said another.
"For me, this is just a murder for my economic future," said a third after seeing his life savings – worth $5,000 – blown up. And here's the rub.
"It's the uncertainty in the financial markets that is propelling gold upwards," as Devendra Nevgi, head of the Quantum Gold Fund says from Mumbai. Indian and Western investors alike might want to keep that in mind. Because, whatever the aesthetic or festive attractions of owning gold bullion, its role as the No.1 safe-haven asset remains.
"Despite India's emerging middle class," wrote Laila Manji in Virtual Metals' Yellow Book of May 2007, "the rural poor account for two-thirds of annual gold purchases. Small-scale farmers have traditionally used spare cash to invest in small pieces of gold jewelry because, in the face of economic and political uncertainty, they favor gold above paper assets."
That's why the vast bulk of jewelry sold in India doesn't fit Western ideals of fine metal-work. Heavy bracelets and "marriage necklaces" weighing up to half-a-kilo (15 ounces) or more are often stringed together using 10-tola bars – smooth, round nuggets of gold each weighing 3.75 ounces (117g).
Ten-tola bars are heavily traded across India, Pakistan, Singapore and the Middle East. More than two million nuggets of this "TT" gold are believed to be cast or minted each year. "Practically, its portability makes it easier to keep safe and secure than cash," Manji goes on, "and – even if they overcame their suspicions of paper assets such as equities or government bonds – most of India's rural population either lack sufficient capital or access to banks to make that feasible.
"Much of India's informal credit system is backed by gold, and, of course, religious and cultural attachments, not least the idea that gold given to women as a wedding gift remains her own property, are strong."
Put another way, it's crucial to grasp just how the vast bulk of gold jewelry buying in India – and across south-east Asia – qualifies as "investing" rather than "for adornment". Farmers put their post-monsoon profits into gold because they don't trust the Rupee to hold value (and rightly so). Families hold bullion in the form of rough, heavy jewelry, selling small pieces when needed but laying down savings for wedding dowries, local investment or property purchases. And even as the un-banked sector of India's population slowly begins to shrink, fully 61% of adults in rural India still don't have a bank account. Some 40% of urban citizens are without formal banking, too.
This doesn't guarantee a sudden return of strong Indian buying, of course. But it does help explain a big difference between Indian investors and Western gold-buyers in how they respond to moves in the Gold Price.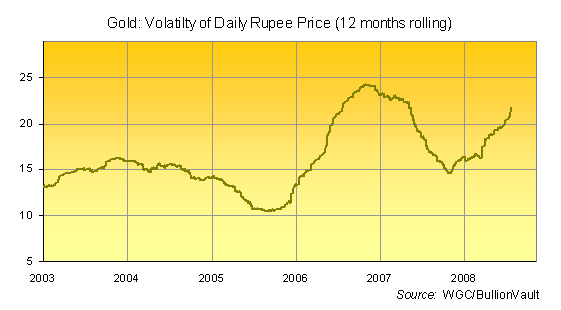 "India is a market well known for its price sensitivity," notes the latest Gold Investment Digest from Natalie Dempster at the World Gold Council.
In particular – as a comparison of volatility and gold consumption soon shows – India's gold buyers just hate increasing their holdings when the price keeps jumping around.
Total demand recovered a four-year high in 2005 as price volatility ebbed. It picked up again after slumping in 2006, rising 4.5% last year as the violence in daily price movements slowed.
Most crucially – and most unlike Western investors buying any bull market (be it shares, real estate or government bonds) – Indian gold owners like to buy on the dips, rather than piling in whenever the price moves higher. That's why, all through this decade's 225% rise in the Rupee Gold Price, the floor for new buying has quietly moved higher.
"Physical buying in the domestic market improved on Wednesday as Gold Prices fell below the psychological level of 13,000 rupees and the rupee strengthened," according to B.N. Vaidya & Associates in Mumbai.
"There is a huge demand," agrees Prithviraj Kothari, head of Riddisiddhi Bullions Ltd. "In the last couple of days alone 10 tonnes may have been sold all over India."
"They are buying coins and bars...mostly 100 gram bars for investment," says Jitendra Kantilal, a trader in the Zaveri Bazaar in Mumbai. "There is a lot of appetite for prices at lower levels," said another dealer to the Economic Times.
"At $915 an ounce, there would be huge interest."
And why ever not? Buying low, selling high is the way to make money. And analysis from the Quantum Funds in Mumbai notes that, during this bull market so far, Buying Gold in mid-summer has delivered an average 15% gain for Indian investors by the following New Year.