Global Gold Index
Wednesday, 10/29/2008 09:02
A chart of the price of gold in the world's top 10 currencies...
SO the SPOT GOLD PRICE sank in October, dropping right back to 13-month lows at $683 an ounce.
After failing to breach $930, this collapse marked the third step lower from March's all-time high of $1,032. And from a technical perspective, the Gold Chart looks horrible – recording lower lows and lower highs for the last six months and more.
Right? Well, fact is, the action has actually been greatly muted if we allow for the shocking volatility in gold's No.1 competitor for "safe haven" funds, the almighty US Dollar.
You see, like so much else, the market action just described only sets Gold in terms of the greenback (against which it has still tripled since July 1999).
Versus pretty much every other world currency, in contrast, gold in fact enjoyed a banner month this October – delivering gut-wrenching volatility plus new record highs – starting right here in London, home to the world's $60 billion-a-day trade in wholesale Gold Bullion Bars (a.k.a. the "spot market").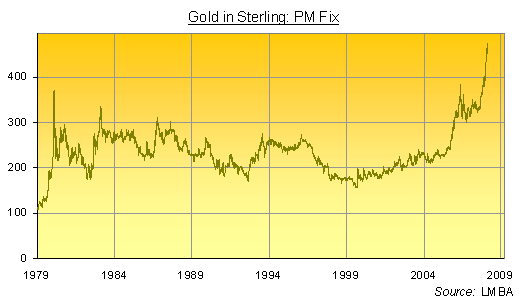 Mid-month, gold also leapt to new record highs for Australian, Canadian, Danish, Estonian, Hong Kong, Hungarian, Icelandic, New Zealand, Norwegian, South African, South Korean, Swedish, Turkish and Russian investors.
Oh, and the 350 million souls in the Eurozone. Plus the 1.1 billion people of India.
Gold Prices have of course slipped back – and sharply – against all major currencies since reaching €685 an ounce for European investors and savers on Oct. 10th. (That marked a near-tripling from the low of Jan. 2000.) In the spot market, gold's now trading almost 13% lower as the month-end draws near.
And notable by its absence from the rogues' gallery of fast-sinking currency zones listed above is the Chinese Yuan, as well. More spectacularly, the world-destroying Japanese Yen has squashed the price of gold since turning sharply higher against everything – real estate, global equities, emerging-market debt, even the Tokyo Nikkei – in mid-July.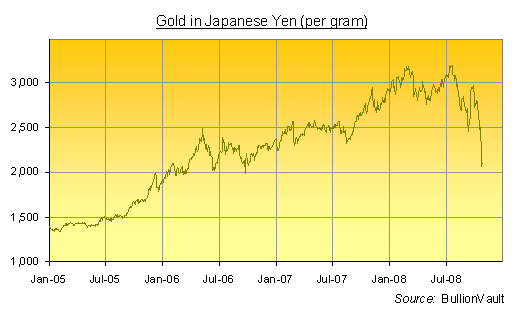 But if we really are witnessing a global currency crisis led by the destructive reversal of the Yen Carry Trade (and it certainly looks like it from inside a wallet of Sterling or New Zealand Dollars, let alone Forints or Krona), then just what kind of fight is gold putting up as the apparent "ultimate" safe-guard against currency shocks?
Regular visitors to this site may recall a chart we offered in August this year, a chart showing the Gold Price in terms of the world's top 10 currencies by economic output. It's not perfect; the GDP weightings for 2008 will need revising, perhaps, when this year's full-year data becomes available early next year.
But as a measure of truly globalized gold prices, it both softens the US Dollar's long slide of 2002-2008 on the currency markets, as well as tempering this month's intemperate highs in gold bullion vs. the Aussie, Loonie, HK Dollar, Forint, Kiwi, Krone, Rand, Won, Lira, Ruble, Euro, Pound Sterling, Rupee and various Kronas.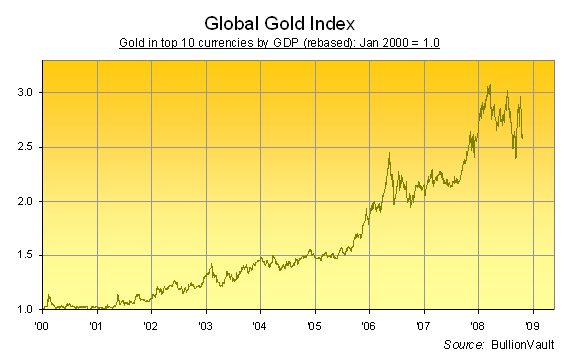 You can't help but spot the volatility – otherwise known as "My gold just crapped out!"
The way "quant jocks" figure the violence in asset prices, in fact, the daily volatility in this global gold price has more than doubled since August to a three-decade record.
You might also note, however, that gold really has risen sharply against all major world currencies so far this decade, not just the US Dollar. And no one should imagine it will be an easy ride – whether up or down – from here.
There's too much at stake when you try to measure that $60 billion daily turnover in physical gold against the $3.2 trillion daily turnover in official government currencies.