Class Warfare in the Housing/Gold Ratio
Saturday, 3/27/2010 11:09
Updating our big-picture charts of US homes priced in gold ounces...
IT'S HARD TO SAY quite how the latest slug of tax-payer cash thrown at US housing will affect prices.
Because at first glance, the $14 billion of aid (aka meddling) apportioned on Friday seems set to both inflate and depress prices.
Subsidizing over-priced contracts stops the market from clearing, and people whose homes are worth less than their mortgage can now seek government-backed loans to cover the difference. But that's only thanks to lenders writing down what they're owed – or rather, what the securitized bonds holding their debtors' mortgages are due at maturity – thus resetting the existing loan's value closer to current reality.
How close to reality, however, is another question.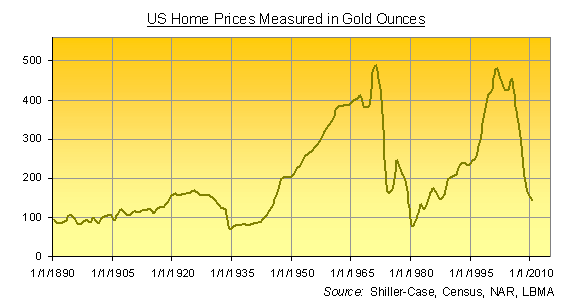 One mortgage-bond investor, speaking to The Economist magazine, calls it "class warfare". Forced by the White House to forgive debtors a chunk of their debts, you can see the bondholder's point.
Still, at least the loans were priced only in Dollars. Valued in Gold, today's loan modification or delinquency – let alone default – would be even harder to bear, as the chart of all US house prices above shows.
Twice peaking at pretty much 500 ounces of gold on the Case-Shiller data twice in the last forty years, the chart measures the average US home price, divided by the annual average ounce price of gold. Whether or not the low of 100 ounces gets hit again remains to be seen. But the steep plunge has flattened for now – and the way mortgage modification is running, the bottom in house prices could take a while to reach yet.
New units, for which BullionVault can crunch monthly data courtesy of the Census Bureau, certainly don't seem to have hit their Gold Price floor just yet.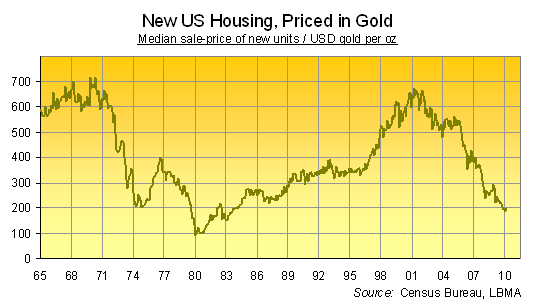 Delaying the happy day of market-clearing prices still further is the second part of this week's new Obama housing rescue injection.
Bank of America jumped early on Wednesday, rather than waiting to be pushed by the White House. It voluntarily laid out a plan for debt jubilees worth up to 30% of initial loans. Which would kind of accept the 30% drop in national prices since 2006.
But trouble is, BoA wants to spread that write-down – taking loan values to current levels, remember, and only in a tiny handful of cases no doubt – across the next five years.
The bubble remains punctured, in short, and this sticking plaster can only slowed the rate of deflation. Sixty months is a long time for mortgage modification to catch up with today's prices. Not that it could ever work anyway – if "work" means stop the destruction of value, rather than letting the market fall as it wants to.
"It's pointless to rewrite these loans because they're underwater," said one economist, Sam Khater at First American CoreLogic in Virginia, to Bloomberg on Thursday.
"[Modifications] clearly aren't working...It's not a surprise."
New data from the Office of the Comptroller of the Currency says that over 57% of once-delinquent loans modified before end-2008 were delinquent again by end-2009. Overall in the US mortgage market, some 14% of home loans are a month or more behind with their payments. Some 1-in-4 loans are worth more than the home they're held against, too.
Deflation rolls on. Throwing money at it only destroys more money again.

How best to Buy Gold today? Make it simple, secure and cost-effective by using BullionVault...