Gold Trade Reporting Coming to London 2017
Wednesday, 10/12/2016 11:08
Market's true size revealed as LBMA trading members report loco-London gold deals...
GOLD TRADING's true size in London – heart of the global precious metals market – is set to to be revealed starting from 2017, says the City's bullion trade body, announcing a new mandatory reporting system for all trading members.
London precious metals remain an 'over-the-counter' market, where each buyer and seller of large-bar bullion trade directly with one another in a commercial contract, rather than through an exchange-traded security.
Currently reported only by the London bullion market's core member banks, gold trading may have totaled three, five or nine times the $22.5 billion
daily average cleared
between those five institutions over the last 12 months on best estimates.
Proving the true value and liquidity of gold trading "is a big issue for the market," said Sakhila Mirza, General Counsel at the London Bullion Market Association at a press briefing Tuesday.
Latest banking regulations – known as Basel III – have since 2014 imposed an 85% haircut on the value of any gold held by a financial institution when calculating the stability of its funding relative to the amount required.
That raises costs for large market participants and deters banks from increasing their gold holdings.
The Basel Committee on Banking Supervision decided gold fails to meet its criteria for a
"high quality liquid asset"
and lumped it together with other "commodities" even though a one-off survey in early 2011 – prompted by lobbying of the Basel Committee as early as 2009 by the mining-backed World Gold Council, and answered by two-thirds of LBMA trading members, including all market makers – put the
average daily total of loco-London gold
trading at $240bn.
Nine times the Q1 2011 clearing total, that was also
10 times the volume of Comex gold futures
traded through that US exchange, and greater than trading in all but four of the world's most liquid currency pairs according to Bank for International Settlements' data.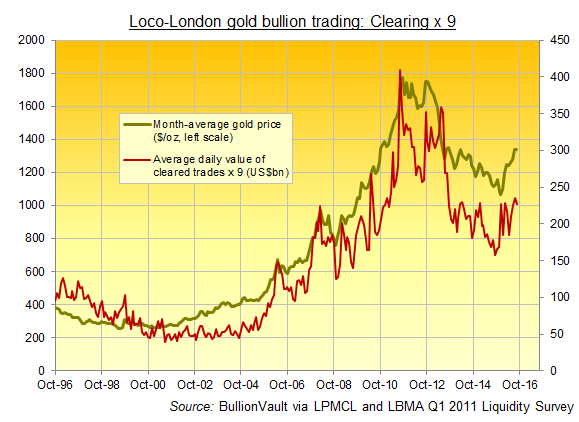 More than 90% of the trades reported in the Q1 2011 survey were dealt 'spot' for 2-day settlement or sooner.
The rest came in forward contracts for future delivery of physical metal, or in options giving holders the right but not the obligation to deliver at a later date.
Transparency of London's forward market will enable the return of a public "forward curve" said LBMA chief executive Ruth Crowell at Tuesday's briefing – a tool which market participants could use to value and judge their own positions
but which ended in 2014
as political pressure amid the Libor interest-rate scandal scared banks away from offering anything which could be construed as an unregulated benchmark.
Reporting spot trades meantime goes beyond UK and global regulators' demands for data on derivatives trading, the LBMA's Mirza said, showing the market's "commitment to transparency."
Silver, platinum and palladium contracts traded for settlement in London will also be reported to the new system, provided by fintech specialists Boat – a division of trading-exchange software providers Cinnober – in the "first phase" of market transparency and development led by the LBMA following this year's strategic review.
Implementation costs for LBMA trading members will be "capped" said Boat Services Ltd CEO Jamie Khurshid at Tuesday's briefing, adding that Cinnober already has data connections with 40 member banks, including some two-thirds of London's 13 market-making members.
"The choice was between a fintech provider or an [existing financial] exchange," said Ruth Crowell, chief executive of the LBMA, at a press briefing Tuesday.
"Fintech gives more flexibility because [issues around] clearing, or a centralized counterparty, are still unanswered questions."
"If we'd chosen an exchange that would be awkward."
Base-metals specialists the London Metal Exchange plans to launch an exchange-traded London gold contract in 2017, supported by the World Gold Council and 6 other institutions, including LBMA market-maker and clearing provider ICBC Standard Bank.
The LBMA's new reporting system "is not competitive to other initiatives" in loco-London gold, Mirza said at Tuesday afternoon's press briefing.