About That 3-Month Drop in Gold Prices
Wednesday, 5/02/2012 18:12
Gold Prices just fell for 3 months running. Which is rare...
SO GOLD PRICES just did something they've not done since 2000, according to the newswires' data, writes Adrian Ash at BullionVault.
Gold Prices ended April lower on Monday than they started the month, marking 3 monthly losses in succession.
Now, we can't say where the newswires got their data. But on the global gold market's benchmark – the London PM Fix – this three-month drop last happened for US Dollar gold owners in March 2001. And it didn't actually happen on Monday, either.
That's because – at 3pm London time on February 29th – that month didn't show as a drop in Dollar Gold Prices. February 2012's sharp plunge instead came after the last London Gold Fix of the month. Very soon after, and very sharp, taking Gold Prices some $80 lower per ounce at the worst to finish New York trade some 2.5% below where they had ended January.
Still, let's not split hairs. Three consecutive months of falling Gold Prices are rare however you count it. Since 1957 in fact, they've struck only 65 times in a total of 661 three-month periods.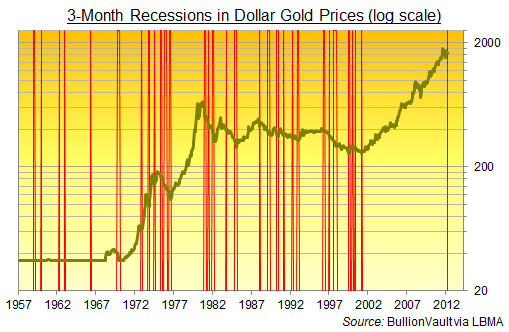 Such drops – let's call them recessions – are rarer still in the US stock market. The S&P has delivered only 55 runs of 3-month drops over the same 55-year period.
But the S&P had suffered such falls much more recently than gold – July, August and September last year, in fact, making for five monthly falls on the run over the spring and summer of 2011. Gold hasn't done that since its 10-month drop of 20% in 1997.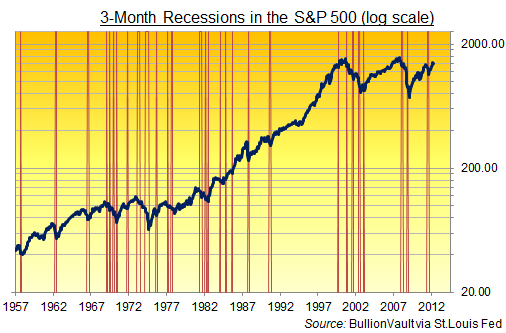 As both charts show, 3-month recessions are rarest of all in a bull market. The S&P put in none between 1991 and 1999, just as Gold Prices put in none between 2001 and spring 2012.
Indeed, the lack of 3-month recessions in Gold Prices had become something of a rule. Expecting "two months max" made for a great signal to Buy Gold on pullbacks, most recently in Jan. 2010 (your last chance below $1100) and April 2009 (last chance below $900).
So, is this 3-month tumble the last straw for Gold Prices, breaking the camel's hump of summer 2011's big top above $1900 per ounce at last? The big top of Jan. 1980 – after which Gold Prices spent almost two decades in decline – took nearly a year to deliver a 3-month run of falling prices. They came thick and fast after that.
But given that the fiscal and financial heat is rising in Europe, it might be worth noting that a 3-month decline last happened for Euro gold buyers in June 2007, and last happened for UK gold buyers in Oct. 2006 when you put Gold Prices in Sterling. Yes, both of those were before the financial crisis began, but only just, and gold's bull market has looked quite different depending on which currency you've been trying to defend against.
Check the 5-year gold price chart for instance – and switch from US Dollars to Euros and back again – to see just how dramatically different the bull market looked when Lehman Brothers collapsed. Check also the sharp pullback in Dollar Gold Prices, shown in our chart above, during 1975-76. Gold fell in seventeen of those 24 months, halving from top to bottom and recording ten 3-month recessions, more than during any other two-year period, including the early 1980s or the big Brown Bottom of the late 1990s.
Who was to know, amid that mid-70s bloodbath, that gold was on its way to rising 6-fold again? Who really knew, when the S&P suffered a run of 3-month recessions in 1990, that the bull market in US equities wasn't even mid-way through, and had another 10 years to run?
Considering a Gold Investment today? Find out why the safest gold is also the cheapest at world #1 online, BullionVault...