Summer Doldrums Hit Sterling Gold Price
Friday, 7/20/2012 09:58
The Gold Price for UK savers has gone nowhere for 2 months...


LONG-TERM ANALYSIS of the stock-market shows that the adage "Sell in May" is based on hard fact, if not quite a fail-safe timing strategy, writes Adrian Ash at BullionVault.

Gold investors and traders should note the seasonal pattern to bullion prices, as well.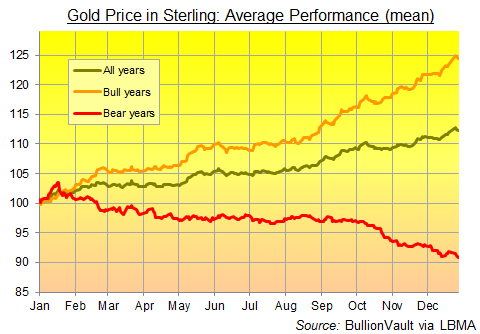 The Gold Price is Sterling hasn't gone anywhere for two months now. That's perfectly usual over mid-summer however.

Dipping from a spring peak and holding flat through the summer, gold typically makes a clear break to new ground in early autumn. What's then separated bull from bear markets has been a sharp gain running into Christmas and the New Year.

Nineteen times in the last 44 years, in fact, Buying Gold even at its highest price during July or August has paid off for UK investors by year end. It's returned some 13.5% on average. Whether or not 2012 continues to map that path, flat prices are very much the norm for gold at the current time of year.
What lies behind this seasonal pattern? The same summer lull that hits equity markets also hits precious metals dealing desks, of course. It's also monsoon season in India (not just the UK), meaning consumer gold-buying in the world's hungriest physical market is traditionally absent. As a rule, it then surges into the auspicious festival of Diwali, which tends to coincide with the dread late-autumn jitters in Western equity markets.

Looking to time a new Gold Investment today...?