Gold: Disbelief Everywhere But Price
Thursday, 4/13/2017 17:47
Gold prices have leapt back up to their 6-year 2011 downtrend...
PUNDITS don't believe it, nor do analysts, fund managers, miners, Indian or Chinese households, bullion bank traders or even private gold investors, writes Adrian Ash at BullionVault.
Yet gold priced in Dollars is marking the 4th anniversary of pretty much its worst price crash in history with a major attempt to break higher...
...trading ahead of this Easter weekend $5 per ounce below the key 2011-2017 downtrend starting from its (current) all-time high of $1920.
Above this downtrend, who knows? But it would mean gold is no longer setting lower highs and lower lows at last.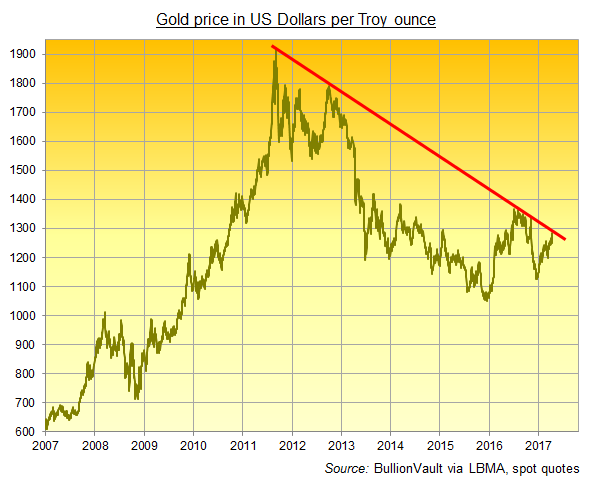 "Spot Gold has eroded the 200-day [moving average] at $1255...and the $1264.05 February high," says the latest Bullion Weekly Technicals from German financial services giant Commerzbank.
"It is now heading for MAJOR resistance at $1291...the 6-year downtrend."
Whether or not gold prices now break that falling resistance line, the metal has still gained a tidy 12% versus the Dollar so far in 2017.
So Asian consumer demand has eased back of course. Because high prices.
But so too has Western investment demand. Headlines about a 'safe-haven'' rush into gold are mistaken. Because hot-money speculators are driving this move, not underlying physical buying.
The
surge in futures and options contracts
not backed by any metal has pushed prices to 5-month highs this week. In contrast, physically-backed
ETF holdings have flat lined
, Shanghai's gold premium has fallen to the lowest since immediately after the Chinese New Year holidays, and demand at London's daily benchmarking auction has clocked off early for Easter.
Only 1 of this week's 8
benchmark auctions in London
opened with more demand than supply. And that was on Monday morning, more than $30 below here.
Amongst private investors, BullionVault clients have also turned net sellers on this latest jump in prices. That's because longer-term investors, building a position ahead of this geopolitical scare, can now take a quick profit, and wait for the price to cool before getting back in.
Leading up to this month's spike – driven by Comex traders betting on WW3 on Trump's sudden conversion to both a weak Dollar and to running foreign policy as Chief of Police for the World – BullionVault saw the strongest Q1 for net gold demand since 2012 (0.7 tonnes to a record 37.9 tonnes of total holdings) and the best Q1 for silver since 2013 (+16.7 tonnes to a record 663 tonnes of total holdings).
But now, up here at these prices, "I don't believe it" say investors. Finance magazines and some bullion-bank analysts agree.
Maybe this is just the kind of disbelief gold needs to finally break above that 2011 downtrend.
You can perhaps see the same thing at work – only in reverse – with London house prices right now.
Bloomberg:
"The Royal Institution of Chartered Surveyors said its price balance for the city fell to the lowest since February 2009 last month. It declined to minus 49, indicating that a greater percentage of agents reported drops in March.

"Still, more respondents than not still expect prices in London to rise over the next year, the report showed."
London house prices only ever go up, remember. Until they don't.
Back in the 'safe haven' rush for gold meantime as prices nudge its 6-year downtrend, Google says that internet searches for the words "buy gold" have rarely been this few and far between at any time in the last decade in the United States.
The global volume of "buy gold" searches is weaker still, down at the lowest since October 2007 on Google Trends' data.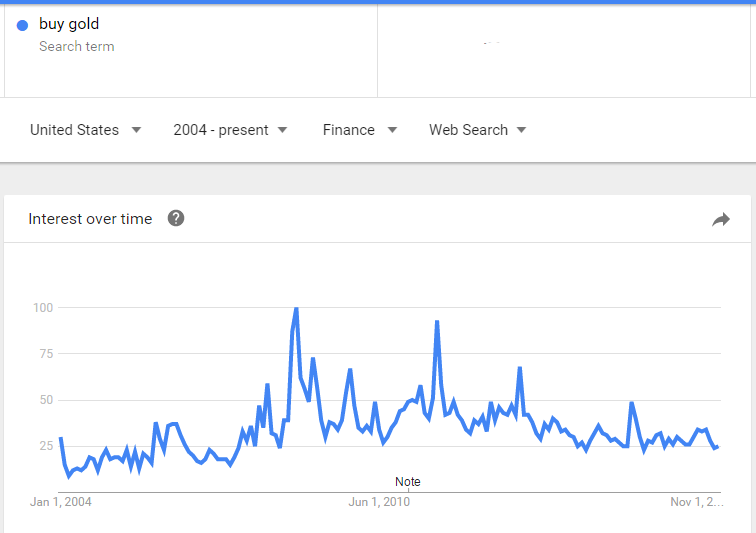 Now we wouldn't as a rule post nothing but a slew of charts and tables. But this move in gold is, so far, all about the tape, rather than the metal.
So instead of daffodils,
Easter
egg hunts or cherry blossom in Japan to mark this long holiday weekend, here's another graph to go along with the USDJPY chart in
today's London Gold Market Report
.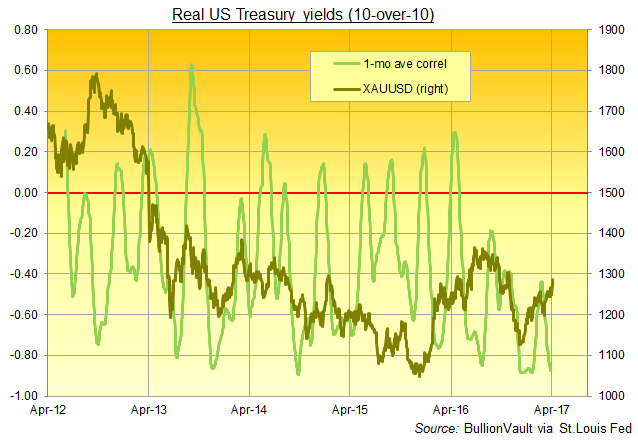 As we
never tire of repeating
, the underlying trend in gold prices most closely mirrors the direction of real returns on cash and debt investments. Because devaluation. And as you can see, the 1-month average of gold's rolling 1-month daily correlation with the real yield offered by 10-year Treasury bonds is as negative as it gets.
Other markets, in short, are driving hedge-fund algorithms to push gold prices higher using Comex derivatives. Because correlation.
If they do succeed in taking out gold's 6-year downtrend at $1290 or so, physical buyers and short-term sellers might well regret their sudden, ill-timed moment of doubt.