Gold Mining 'Plateaus' as Scrap Jumps, Demand Sinks
Wednesday, 11/09/2016 13:13
Cost cutting curbs gold mining despite price jump, scrap supply +18%...
GOLD MINING output "is plateauing" at record levels according to leading data analysts, but total supply has risen in 2016 as scrap recycling jumps on this year's price rise.
Gold demand meantime has retreated in the face of gold's 20% price rise, shrinking by one-tenth in July-to-September from a year earlier as Chinese and most notably Indian jewelry buying fell hard.
Despite continued gold buying from China and Russia, central-bank demand fell 51% overall in Q3 from the same period of 2015 and stands one-third lower year-to-date on Metal Focus' estimates for the World Gold Council.
Specialists Thomson Reuters GFMS
estimated last month
that third quarter global gold mining output slipped 2% from Q3 2015, extending this year's slight retreat from the seventh annual rise to new record highs.
Analysts at Metals Focus – whose research now underpins the quarterly Gold Demand Trends report from market-development organization the World Gold Council – say Q3 output slipped 1%, but add that year-to-date the world's gold miners have extended 2015's record by 1% overall to far.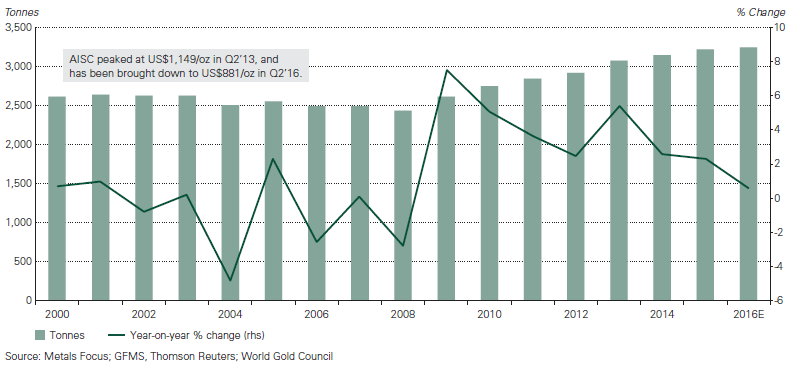 "Annual mine production is plateauing as cost-cutting bites," says the mining-backed World Gold Council in its latest
Gold Demand Trends
report.
"Project expenditure – which captures the cost of developing projects – peaked in 2012, and currently remains at multi-year lows as producers remain hesitant to loosen the purse strings."
Both existing and new projects are hit by "this parsimony" the Council says, with more recent discoveries "contributing less to the amount of gold being mined annually" and leaving "established projects [to] lift year-on-year output."
The start of commercial production at the
Merian project in Suriname
, owned and operated by a division of world No.2 gold miner Newmont (NYSE:NEM) represents "one of only a few new mines being brought on-stream by major producers."
"There are relatively few new projects and expansions expected," agrees GFMS in its Q3 update to Gold Survey 2016, "and those in the near-term pipeline are generally fairly modest in scale, underpinning our view that global mine supply is set to begin a multi-year downtrend."
Having "fewer new projects coming on stream...reduced the appetite for hedging," the World Gold Council adds, with Q3's three-year high in Dollar gold prices failing to spur fresh price protection amongst gold mining companies because newer projects "often require hedging to secure financing."
Thanks to a jump of one-fifth in old jewelry and other 'scrap' flows however, "Total supply [in Q3] was at its joint highest level since the closing quarter of 2012," says GFMS, "with scrap soaring as the market responded rapidly to the stark price appreciation.
"Indeed, Indian scrap supply was at its highest in [GFMS's] quarterly series, which dates back to the start of 1999."
Jewelry demand in contrast sank by one-fifth in Q3, both Metals Focus' data and GFMS agree – the "largest decline since Q2 2014 and the lowest third quarter for jewellery demand since 2011" according to the World Gold Council, pointing to average gold prices rising 28% from recent levels.
For 2016 to date, its latest Gold Demand Trends puts global jewelry consumption 18% below the first 9 months of 2015 at the lowest Q1-Q3 total since the global financial crisis of 2009.