Gold Mining 'Set to Decline' But Aussie Exploration Rebounds
Sunday, 6/18/2017 14:07
New Australian drilling jumps near 2012 peak...
GOLD MINING exploration in world No.2 producer Australia is picking up according to new statistics, but global output is set to flat-line or decline in 2017 as lower exploration spending means fewer new projects will come on stream, writes Steffen Grosshauser at BullionVault.
Global gold mining exploration funding sank by two-thirds in the 5 years to 2015.
Across the first quarter of 2017, that meant "mine production of 764 tonnes was little changed from Q1 last year (767.8t)," writes the mining-backed World Gold Council in its latest
Gold Demand Trends
report, "supporting our view that production will remain broadly steady before tailing off."
"Having plateaued in recent years, mine production will soon enter a period of decline," add the WGC's analysts.
"The growth rate has roughly halved every year for the last three years, partly as output from new mines has slowed and we expect production to contract in 2017," agree the precious metals analysts at research firm Thomson Reuters GFMS in their Gold Survey 2017.
The collapse of commodity prices starting a half-decade ago led the industry to cut spending on exploration from a record of US$6 billion in 2012 to less than $2 billion in 2015.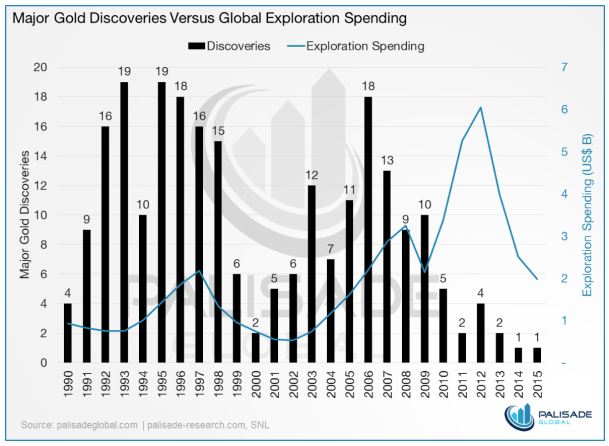 Australian drilling has now rebounded however, with around A$117 million spent on new exploration in the first quarter of 2017, a 4-year high according to new figures released by the Australian Bureau of Statistics.
This rebound also saw 639 programme of works (POW) applications to the Australian Department of Minerals and Energy over the first three month this year – a 50% increase from the previous quarter and the second highest quarterly total since 2009.
"Anecdotally, I'd put in a POW last year and I'd get it approved within a few days," says senior geologist John Harris. "One came back the day I put it in."
"[But] we're at six weeks now, which means a lot of people want to do work – want to do drilling work, get out in the field, do surveys. There's
some money being spent
."
"Mining has been the driving force of Australia's economic growth for
longer than anyone cares to remember
– helping GDP growth average 3.6% a year for most of this century," according to the UK's
Daily Telegraph
newspaper.
The global total supply of gold – which also includes recycled gold and the impact of any gold-miner buying or selling to hedge production against changing prices – has
averaged around 4,000 tonnes
per year since 2005. Of that, gold mine production accounted for around two thirds, increasing from 2,470 tonnes in 2005 to more than 3,200 tonnes in 2016.
"Australia became the
top destination in terms of active
exploration sites, followed by Canada and Latin America," says
Mining Weekly
. "There were 1,930 active exploration sites in 2015 and about 24%, or 463, of the sites were in Australia."
"I have no doubt that the [Australian] mining industry is recovering," says mining analyst Tim Treadgold.
"We're getting back to probably within 20% of the situation at the height of the boom in 2012," agrees fellow analyst John Harris.