Gold Mining Output 'Starts Decline', Price Below Cost
Tuesday, 1/26/2016 18:21
Negative "all in" margins see global gold mining output turn lower from new record...
GOLD MINING production dropped at the end of 2015, according to leading analysts, marking "the beginning of the decline" from a run of new all-time record highs.
New output worldwide fell 4% in the last 3 months of 2015, precious-metals specialists Thomson Reuters GFMS said Tuesday – the "largest quarterly reduction since 2008," when the global financial crisis hit all minerals output.
Moreover, gold mining profit margins turned negative on GFMS's measure of "all-in" costs, which includes investment to maintain future production, as well as writedowns on the value of existing assets thanks to the 40% plunge in gold prices since the peak of 2011.
GFMS says it expects the 2015 full-year world average cost of producing gold to reach $1200 per ounce. That would stand some $40 per ounce above last year's annual average market price.
The top 3 listed gold majors – Barrick (NYSE:ABX), Newmont (NYSE:NEM) and Goldcorp (NYSE:GG) – are due to report their fourth-quarter earnings in February.
Bullion market prices rose today to reach 12-week highs near $1120 per ounce.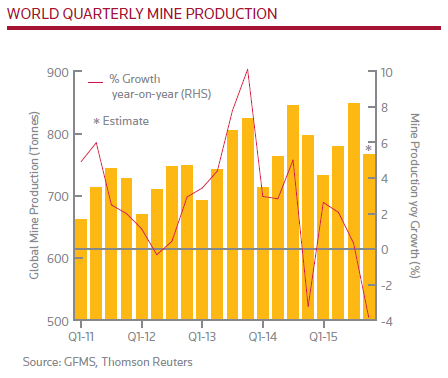 Forecasting a gentle rise in gold prices for 2016, GFMS told Tuesday's conference call launching its Gold Survey 2015 Q4 Update & Outlook that gold miners as a group will return to "hedging" future production this year, reversing the slight de-hedging of existing forward sales likely to be confirmed for the last 3 months.
With gold prices already reversing more than half of the 35% drop from 2011-2013 for Canadian miners – "Producer selling is evident" said one bullion bank's sales desk this week, noting that gold Forwards contracts sold for delivery of physical bullion in the future "are trading lower" on 1- and 2-year terms.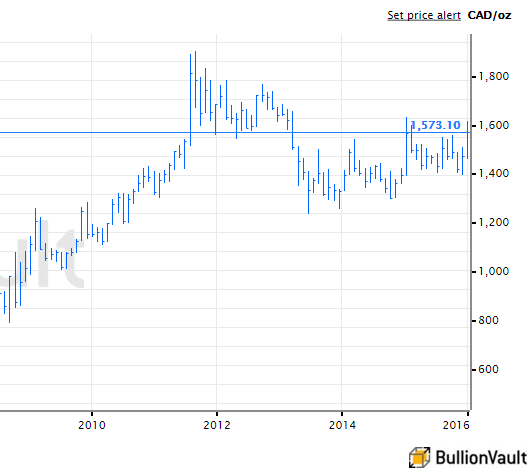 "[That] usually hints of selling pressure from fundamental players," the note adds, saying that "most of the recent flow has been around emerging-market [gold producer] currencies" led by South African Rand and Russian Rubles.
South Africa's JSE Gold Miners index has now almost doubled in Rand terms from last summer's 14-year low.
"Buying gold and the gold miners...is the
best trade in the world...in 2016
," reckons Lawrence McDonald, head of the macro strategies group at French investment and bullion bank Société Générale's US operation, speaking to CNBC.
Capping a run of 7 years of new
record highs for global gold mining output
, end-2015's drop comes thanks to a "lack of investment since 2013," said GFMS mining analyst Will Tankard on Tuesday's call, with GFMS head of metals Rhona O'Connell predicting that global production will fall "by an order of several hundred tonnes per year" for the next half-decade.
Notably, they added, gold mining supply from China – the world's No.1 producer nation since 2007 – will show a drop for the second-half of 2015 when final data are released, breaking a trend of growing output in place since the early 2000s.
The impact on prices will depend on "who" announces these cuts, said O'Connell, explaining that large cuts from a gold mining major would improve investor sentiment on gold's supply/demand fundamentals in a way which piece-meal cuts from several smaller players would not.