Gold, Inflation & the Complacency Index
Wednesday, 3/15/2017 16:40
Fed rates up, gold down, right? Well no, in fact...
YOUR retirement savings might not show it, but the MSCI World Index has doubled in value over the last 5 years, writes Adrian Ash at BullionVault.
The 'least loved' bull market has bucked several big risks and shocks. Investors seem to think it's become bullet-proof.
While 2017 might struggle to match last year's political surprises however, financial markets view this packed calendar of risk events all too calmly. Fresh shocks with more severe outcomes are far from impossible.
Call it "tail risk"...as French bank SocGen does today...or "a very attractive gain to loss ratio" for bearish hedge funds such as Hugh Hendry's Eclectica. Few money managers seem to think they need insurance. That means few have put a price on it.
Typically called the 'fear index' for instance, the
VIX measure of US stocks' volatility
now shows levels of equity investor complacency to match January 2007, eve of the financial crisis, and January 1994, eve of the
bond bloodbath
when Fed rate rises wiped $1.5 trillion off the value of fixed-income investments worldwide.
Today's clearly-telegraphed Fed rate hike meantime coincides the Netherlands' parliamentary elections, and while Geert Wilders looks unlikely to form a new government, a strong vote for his anti-Euro stance will pose a real challenge to the Eurozone union.
So too would a more possible win for Marine Le Pen in the French elections starting next month, but while the gap between French and German bond yields has widened since last summer, it stands at barely half the modern-era peak hit in 2012, when the markets took the southern Eurozone's debt crisis as a very serious threat to monetary union.
Gold's recent weakness confirms the complacency, preferring to over-read the Fed's likely rate rise against the fast-ageing equity bull market and the signal upturn in inflation.
Hiking to a ceiling of 1.00% (its emergency all-time low of the 2001-2004 deflation scare), the Fed remains a long way behind the acceleration in the US cost of living. Now at 5-year highs of 2.8% per annum on today's latest data, inflation had taken the real Fed Funds rate down from -0.6% to -2.2% since July, even with the central bank's measly 0.25% hike in December.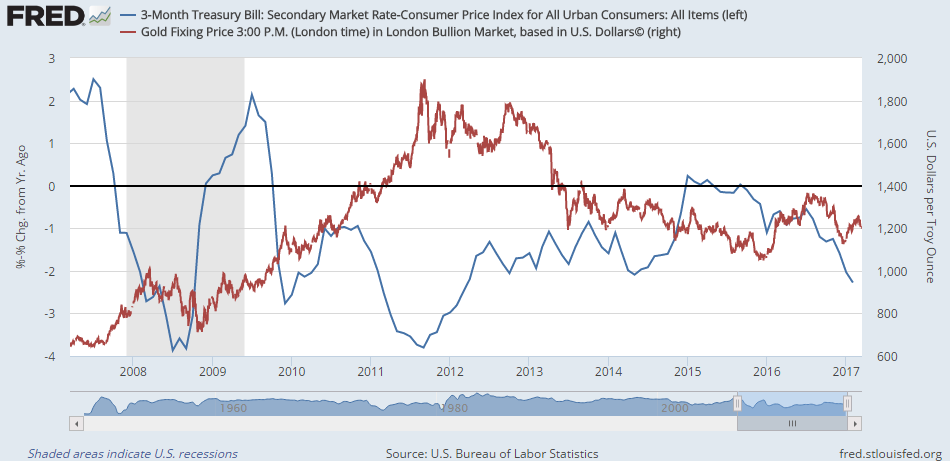 Yet apparently gold prices will plunge...outpaced only by silver and platinum...with $1200 never to be seen again. Latest data show the giant SPDR Gold Trust shrinking by 2.4% last week. In Comex futures and options contracts, the Managed Money net long position shrank by more than a fifth. Net betting by 'hot money' traders in silver fell for the first time so far this year.
So if you want to go with the flow, sell the rumour, buy the fact. See gold's rally after the December 2015 and then Dec' 2016 rate rises for instance. Also recall that – political risk aside – rising consumer prices are the key reason for the Fed's sudden conversion to (what's laughably called) tightening rates. And as
our analysis of Fed rates and gold prices
back in September last year showed, rates and gold tend to rise together.
Why? Because if even the Fed can smell inflation, then gold will certainly know the cost of living is rising. Silver will likely show that inflation risk more plainly again.
To repeat:
Gold has since 1986 been more likely to rise if rates go up than if they stay the same, and by a greater percentage as well;
Longer-term in fact, a US rate rise has also been followed by much stronger gold gains than a cut, and more frequently too.
Sure, this time may be different. Starting with a ceiling of 1.00%...even as inflation runs up to 2.7% per year...the Fed Funds rate might suddenly and repeatedly get pushed sharply higher in 2017.
So the Fed Funds rate may even reach and overtake the rate of rise in the Consumer Price Index...offering cash savers a real return on their money for the first time in almost a decade.
As you recover from your laughing fit, expect volatility around today's decision and press conference from the Fed in Washington either way.
Anyone wanting to invest in precious metals as insurance might find Wednesday offers a bargain or three.