Hot Money Runs Back into Gold Futures
Monday, 3/24/2014 20:37
And runs straight out again as the 2014 rebound gets whacked...
WONDERING what the hot-money hedge funds are doing with gold? asks Adrian Ash at BullionVault.
Chasing it lower and higher, of course. And getting it wrong both ways.
Last year saw speculative traders take their bearish betting against gold to 15-year records, just as prices hit rock bottom in midsummer. From there, not even the bears made money in gold.
But here in 2014, and with a tidy rebound in gold prices, speculative hedge funds trading futures and options look to have called the turn once again...placing their heaviest bets on gold to go higher just as it had already done that.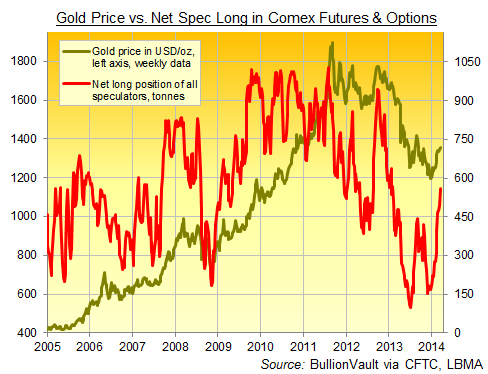 Each week, US futures regulator the
CFTC gets to know what position
big speculators have taken in commodity contracts. The banks, refiners and miners making up the "commercial" side of the industry also spill the beans. Futures brokers have to report what the little guys...the so-called "non-reportables"...are up to, as well.
The data are reported on Tuesdays. And last Monday, the day before these latest figures were taken, gold prices hit a 6-month high...both leading and fed by hot money piling in.
Wednesday however then saw Federal Reserve boss Janet Yellen cough something about raising interest rates from zero, and earlier than the Fed had said before too.
Cue the hot money to get whacked, and get out. Hence the rush of escaping air from gold prices over the last week. Because a big chunk of that peak at $1392 came from hedge funds and other leveraged speculators betting with borrowed money.
Overall by last Tuesday, positioning data say, speculative
traders in gold futures and options
had hiked their bullish betting...both gross and net of the group's bearish bets...to the highest level since November 2012.
More urgently, they've clawed back half of the pre-crash peak, starting back in October 2012 when the 2013 dive got started.
And most importantly short-term, the net spec long...including the '
doctors and dentists
' of small-time private traders...had grown for 11 of the last 12 weeks.
Such a long-lived run of bullish betting is unheard of, at least since January 2005. Yes, it marks a huge turnaround in sentiment on gold. But only amongst hot-money traders betting on credit. People buying and selling for full payment remain cautious, if better-disposed to buy gold than in late 2013.
The big SPDR Gold Trust for instance, the largest exchange-traded gold fund, has only crawled back to mid-December's level of bullion holdings, owning 816 tonnes to back the value of its shares. Here at BullionVault, the world's largest physical gold and silver exchange online, users as a group were net sellers at the peak last week, buying back on the following drop.
Buying gold we think is a smart idea. Chasing the price up...and then down...with gold futures and options is less clever. But it remains an ever-popular way of losing money for aggressive hedge funds and their formerly wealthy clients.