Gold vs. Covid? Useless. Perfect.
Tuesday, 3/31/2020 11:55
Panic! Cobwebs! Deflation! Money printing...!
FIRST the deflation, then the inflation, writes Adrian Ash at BullionVault.
That was what gold investors were said to be expecting from the global financial crisis a decade ago.
It's what pundits think we're betting on again in the virus crisis of 2020.
"Everyone has skipped [to the end of] our story and read the conclusion."
Pointing at the US Fed's record bail-outs and money printing, "People fear financial anarchy. Gold coins are sold out. Everyone is in. And yet the price of gold has fallen this year."
Tipping government bonds instead, Hendry said gold could bottom at $500 per ounce (it was then at $700, down by one-third from March 2008's peak) while bond prices soared...
...squashing interest rates to fresh all-time lows.
Hold that thought. Hendry went on:
"At this stage [with bond prices up, gold down] those who missed gold's rally from 2002 would have the solace of schadenfreude when in reality they should be buying the stuff and selling their bonds.

"What delicious irony: deflationists and inflationists could both claim to be right. But how many will have profited?"
"Moral hazard is dead," says the ex- Financial Times pundit, now writing for the Wall Street Journal.
"Central banks have printed record amounts of money to save financiers and allow indebted governments to keep spending. Inflation is inevitable.

"If all that sounds familiar, it's because those were the views of buyers of gold and other inflation protection in 2009. They were wrong then, but they're at it again – and this time they might be right."
Wrong then? Might be right now?
Money printing has certainly gone into overdrive...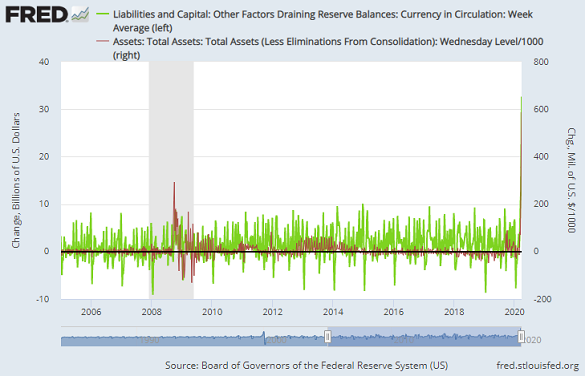 ...both for physical notes in circulation and also for their
electronic equivalent
(© Ben Bernanke, 2002) so that quantitative easing can try and keep the banking system afloat.
But against this new record inflation, meaning a surge in the quantity of money – plus the common-or-garden
inflation of surging food prices
amid what lazy hacks (both journalist and political) insist on calling "panic" buying the world over – comes a very plain threat of historic deflation...
...meaning a slump in economic activity, wages, credit, and therefore prices.
Confused? The stock market certainly is.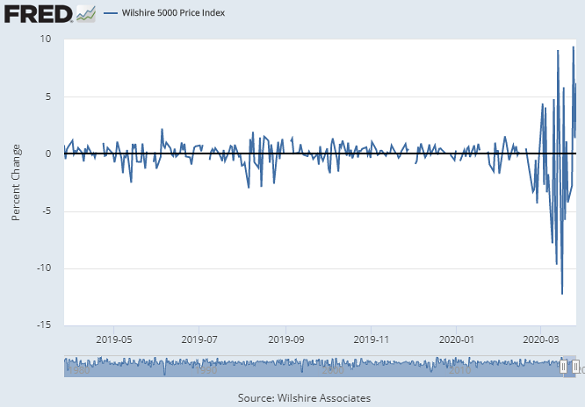 That's barely 0.4% of the time.
But 9 of those days have come in the last 14 sessions...
...nearly two-thirds of the time over the last 3 weeks...
...and more even than during the absolute panic of December 2008.
Why so spooked? Frankly I'm surprised the world's stock markets are still open. Because this catastrophe is truly unprecedented.
More dramatic than the 1970s' oil crisis, never mind Lehman's, it's also very, very different to war.
The world's economic activity is being demobilized, not conscripted, trained, armed and sent off to fight. Nor will this catastrophe lead to any destruction of capital assets.
No blitzkriegs or fire-storms. Just mothballs and cobwebs.
So trying to value or trade any corporation right now means trying to guess 6 impossible things before calling your broker. Because nothing is clear, never mind certain.
How do the emergency wage payments work? What about the mortgage and other debt delays? How long will this last? Do we all have to do all this over again whenever the virus returns, if indeed it ever takes a break?
I mean, did you see what just happened to auto sales in the car industry's No.1 market? And did you see where it was already pointing?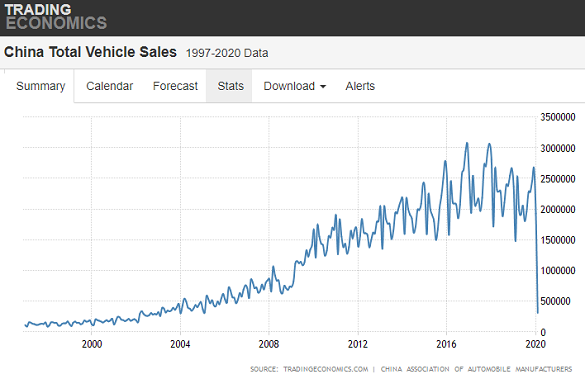 Commodity traders seem very unconfused by such pictures.
That's why the major indices of natural resources have crashed to multi-decade lows...
...as silver, like platinum...
crude oil
...copper...and pretty much every other useful lump or liquid you can dig out of rock...has sunk in price.
The financial oil paper continues to find support above $20 a barrel. But the physical market remains in free fall. Note that Platts assessed yesterday Dated Brent at $17.79 a barrel, almost $5 below ICE Brent futures | #OOTT #OilPriceWar #covid19

— Javier Blas (@JavierBlas) March 31, 2020
Agricultural products have also sunk in price, albeit to multi-month or recent year lows, rather than wipe-out collapses. Because even a world in lockdown needs to eat and drink.
Gold, on the other hand, has whipped higher and lower...but far less dramatically than the stock market...yet held or grown its cash value overall (depending on your currency) during this crisis so far.
How come?
First, go back to Hendry and Mackintosh.
In their view of how gold works – the typical view if you don't give it more than a moment's thought – deflation says "Buy bonds!" as the cost of living and interest rates fall. Inflation says "Buy gold!" as the purchasing power of money evaporates.
But as more
thoughtful investors have shown
they that know, bonds and gold are far from opposites. Because both tend to rise in price when interest rates fall.
Bonds go up quite mechanically when interest rates drop. That's because the fixed annual coupon they pay to the lender must become a smaller percentage of the bond's price. So the traded price of the bond rises in the secondary market, even though it will still return the same old face value when it reaches maturity.
(Indeed, rising bond prices are what usually move interest rates lower for the vast majority of deals and contracts outside overnight cash on deposit, driven by investor demand for the apparent safety of government promises to pay. Central banks, in contrast, usually control only the "front-end" of the curve directly, making very short-term interbank loans or trading very short-term government bills. Or they can also start printing money (or its electronic equivalent) to buy longer-term debt, pushing up its price and thereby
"easing" long-term rates lower with "quantity"
.)
Gold prices
go up meantime when interest rates fall because that cuts the "opportunity cost" of holding cash instead (or indeed bonds).
Gold pays nothing, remember. But it also cannot go bust. The damn stuff does so little in fact (less than 10% of 2019's global demand came from industry or medicine) it doesn't even rust.
And that, in truth, is what's really driving this surge in investment gold demand worldwide.
Investors and savers aren't spooked by inflation. Quite the reverse. They're spooked that in this awful virus pandemic – and with humanity responding by shutting everything – useful things like oil and copper have been utterly pointless.
Useless gold, on the other hand, is custom-made for this catastrophe. Because anyone saying it has no intrinsic value overlooks its use in all ages and all cultures...
...as the ultimate store of spending power.
With the economy in lockdown and share prices losing 30% inside a month, it's natural for investors and savers to seek a bolt hole in precious metals. Physical bullion, unlike a bond or a business, cannot miss a payment or go bust. Nor can it be created at will, unlike government debt or currency.
At the moment, we've got both. So fair enough – what about inflation then?
Yes, that matters very much too. Because gold goes up most of all when interest rates fall relative to the pace of change in the cost of living...
...and that real interest rate is swinging like never before.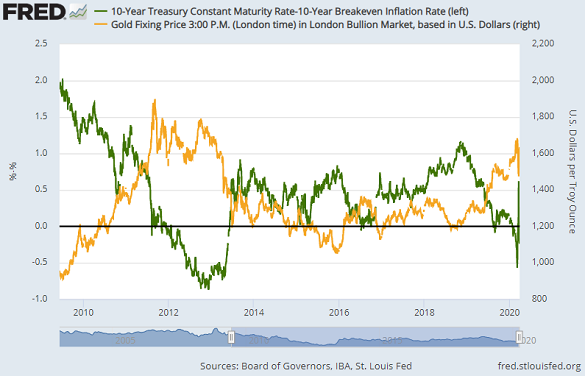 Lots of fund managers trade gold on this basis. Whether chicken or egg, that has made gold more responsive than ever in recent years to changes in the real rate of interest.
On their 52-week correlation, gold's Dollar price has moved more tightly with the real yield offered by 10-year Treasury bonds only once, during the Bear Stearns phase of the global financial crisis in March-June 2008.
Put another way, gold is most definitely a deflation/inflation play, and (almost) never more so than today. It loves falling interest rates, which in this catastrophe everyone thinks now signal deflation. But it also loves rising inflation, which everyone thinks is what will come after.
So meantime, in the here and now, gold is caught in the same whipsaw volatility as everything else. Because no one knows what in the hell's going on, nor where this disaster-movie made real is heading.
Fact is, however, a genuine deflation – where the cost of living does actually drop – could make it very tough for gold prices to rise. Not unless interest rates and bond yields plunge faster through zero. Which if you cast your mind back to those carefree days of just last year, was already happening. Because policy-makers and bond investors both thought the economy was about to crater.
Jan 2019: "Fed should be worried about deflation" - CNN
April 2019: "Japan's deflation mindset could be contagious" - Bloomberg
May 2019: "Forget inflation. We should worried about deflation" - Washington Post
July + August: "China producer prices fall for first time in three years, deflation worries resurface" - Reuters
Sept + Oct: "China's factory deflation worsens, adding to global economy woes" - Bloomberg
Nov 2019: "Korea faces no immediate danger of deflation" - central-bank chief Lee Ju-yeol
Dec 2019: "As 2020 approaches, it's time to worry about deflation" - Investorplace, clueless about how right it was.
What to make of it?
"In the economic slump that's coming, give me useless stuff, not useful things!"
So said Andy Smith – once of Japanese trading house Mitsui and also Swiss bullion bank UBS, then an independent precious-metals analyst – to the
LBMA's 2013 conference in Rome
.
Back then he forecast that a global economic depression would follow the massive inflation he saw in Obama's post-financial crisis spending and borrowing.
So far he's been wrong. But this virus is up-ending no end of outlooks, models, plans and hopes.
Falling demand and weaker prices pose a big threat to the world's heavily-indebted corporations, households and governments. But they are far from a new worry. The Covid catastrophe just brings them forward in a shape, and size, like no-one ever imagined.