Gold Makes Big January Jump on China Risks. Again
Friday, 1/08/2016 12:38
2016 begins with a bang for gold bullion prices on China risks. Just like 2014 and 2015's pattern...
A BIG New Year's bang is becoming something of a habit for gold bullion, a clear seasonal pattern, writes Adrian Ash at BullionVault.
Over the 10 years since 2006, January has become gold's single best month of the year, showing a fall only twice in Dollar terms, and averaging a gain of 4.7% overall.
Thanks to the latest crash in China's financial markets, January 2016 matched that gain in less than a week.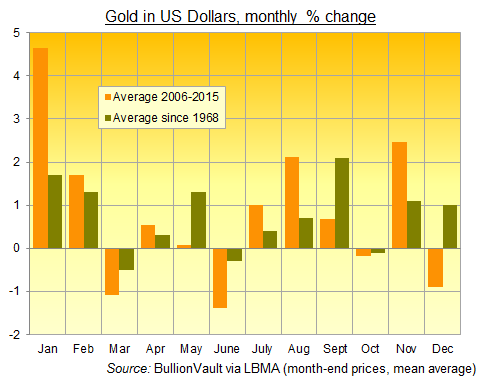 Rising from the last London benchmarking of New Year's Eve at $1062.25 per ounce to touch $1112 early Friday in Asia, gold has eased back a little this morning. But it remains on course for its fifth New Year gain in a row. Because hot-money traders who could only think of selling it short before Christmas now can't get enough of the stuff.
Might this sudden appeal stick? Fans of statistics might note that, while gold prices have risen in 20 of the last 40 Januarys, it has gone on to end the whole year higher only 12 times.
But whatever the statistical pattern, whether or not this January jump now disappoints as it ultimately did in 2013, 2014 and 2015 depends on what happens to other asset prices.
The last two January jumps also came on sudden volatility in financial markets – like 2016, linked to trouble in China. January 2014's turmoil came on rumours of China's first-ever domestic bond default. January 2015 then saw a major Chinese real-estate developer
miss a repayment
, again spooking markets worldwide, while the Swiss abruptly stopped pegging their Franc to the Euro ahead of the European Central Bank finally starting QE money printing.
That move by the ECB – aimed at devaluing the Euro currency, in the hope of making Eurozone exports more competitive – came against action in China, where the Yuan had been allowed to start drifting lower, finally dropping hard on a formal change in Beijing's policy last summer and ending 2015 with its worst annual drop in more than 20 years.
This global "currency war" is only getting hotter as 2016 begins. Investors wanting to buy a little bullion as insurance should note however that this growing volatility also applies to gold.
Since 2006, only December has broken with gold's longer-term seasonal pattern (see the chart above), showing a drop where the 47-year average shows a gain. But the last 10 years have been more jumpy, amplifying gold's average changes in all other months but May and September. (Gold prices were freely floated in 1968, hence the longer time-frame.)
Moreover, Dollar gold prices have gone in the opposite direction to US stock markets more often on average, moving inversely across 6 months of the year since 2006 rather than the longer time-frame's 4 months since 1968 as a whole.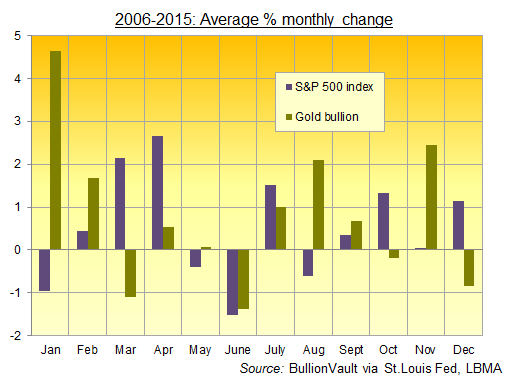 Gold, in short, is tending to do what investors expect and want it to do. Which is to counterbalance losses in other, typically more productive assets.
That need grew greater as the financial crash approached and began a decade ago. Equities have turned sharply higher from their 2009 lows, and the sense of crisis has since receded. With it, so has the gold price.
So far, at least.