GST 'Will Boost' India's Gold Buying Long Term
Monday, 8/07/2017 17:32
No.2 consumer nation set to keep buying gold with new 3% sales tax...
DEMAND for buying gold in India is set for a long-term boost from the country's new GST sales tax, according to industry figures and analysts.
Despite the short-term challenges it throws up, the new Goods and Services Tax (GST) will increase demand for gold from the world's second-largest consumer market in the long run, says a report by the World Gold Council.
"The industry will
go through a period of adjustment
," says the mining-backed market development organization, but "we see the net impact on the gold industry as being positive."
"The new tax is likely to cause some short-term disruption," agrees specialist consultancy
Metals Focus
, predicting that "demand will be subdued for a few weeks...as manufacturers, retailers, importers and consumers adapt to the new regime"
The introduction of India's new 3% sales tax on bullion, with 5% levied on fabrication fees for jewelry, consolidates the country's formerly fractured regime of local rates and rules.
All told it will see gold bars cost consumers 2.0% more while jewelry will see an average 3.2% rise, according to equity and commodity brokers Motilal Oswal.
"The slight increase in taxes is likely to impact demand," it says, but "pass-down [of price rises] to retail consumers will not be much of an issue over a period of time," says Navneet Damani, vice president of commodity research.
"We expect full year 2017 demand in India to be slightly higher than 2016."
With this year's monsoon rains estimated to be within normal bounds, analysts would typically expect a good harvest followed by solid rural demand to buy gold over October's peak festive season.
"India's gold demand [is] heavily dependent on monsoons," concluded a presentation by Shekhar Bhandari, senior executive vice president at Kotak Mahindra Bank (NSE:KOTAKBANK), speaking at the London Bullion Market Association's 2016 conference in Singapore.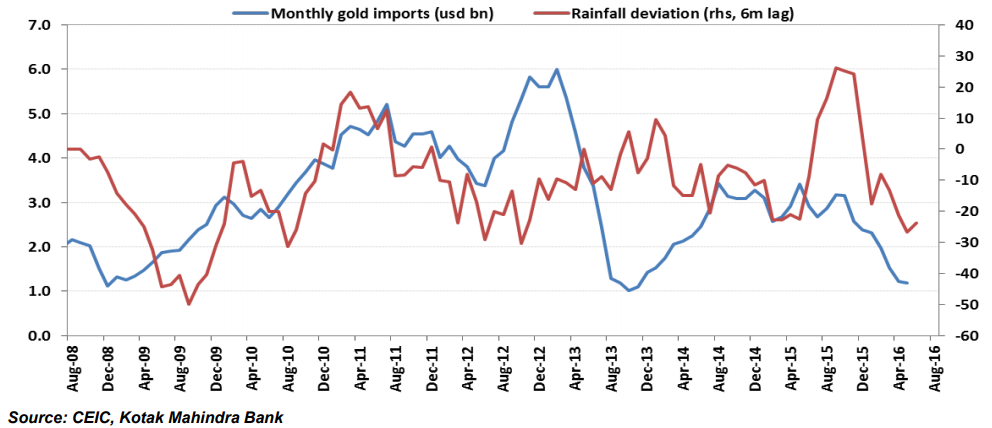 "Providing the market adapts to the new GST," says Alistair Hewitt, head of market intelligence at the World Gold Council, "we
may see solid demand
around Diwali."
Further ahead, the World Gold Council believes the new GST system "
should be helpful
for gold demand," predicting it will "rising to 850-950 tonnes by 2020," up from current levels of approximately 700 tonnes.
Besides the seasonal downturn in Indian demand, the country saw heavy gold buying in anticipation of GST being introduced on 1st July, and so "Inventory levels have increased by 45% in the last six months," report analysts Thomson Reuters GFMS, "with imports in the first half already near the whole of 2016 volumes."
Final consumer demand to buy gold could still be "10% higher year-on-year" from 2016's sharp drop on the demonetisation of large banknotes, the consultancy believes, "[as] consumption demand by the end of the year is forecast to reach close to 660 tonnes."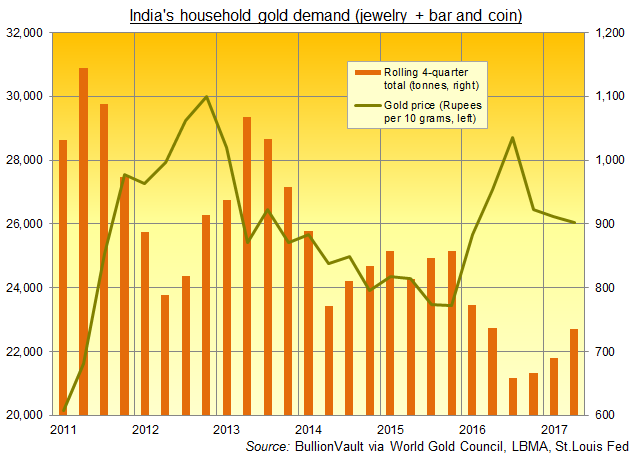 Consolidation in the market seems likely following the new tax, reports GFMS, as larger firms will find it easier to expand the reach of their outlets across state lines over the next year.
A new limit of Rs 2 lakh (200,000 Rupees, currently equal to $3,100) on all cash transactions will drive payments via debit and credit cards, it says, while punishing those smaller firms typically dealing more with cash.
This "shift in trend from cash to card" is an intended consequence of the new system reports GFMS.
The Goods and Services Tax is
an "encouraging step
in the current context to stabilise the industry," according to the World Gold Council's managing director in India, Somasundaram PR.