Diwali Gold Buying 'Only Down' 25% on 2019's Record Indian Rupee Prices
Tuesday, 10/29/2019 18:19
Imports fell hard in September as prices set new record highs...
INDIA's household demand to buy gold this Diwali was less awful than retailers and pundits expected according to a leading trade association's estimates.
Ahead of the Hindu festival of lights – starting with Dhanteras last Friday and ending on Sunday – Surendra Mehta of the India Bullion & Jewellers Association (IBJA) forecast that gold buying
would fall by 50%
compared to Diwali 2018.
But revising the IBJA's figure over the weekend, "The sales have dropped by around 25%,"
Mehta tells news agency IANS
, now saying that consumers bought perhaps 30 tonnes of gold on Dhanteras, down from the 40 tonnes seen "in the past few years."
Accounting for duty, tax and the Rupee exchange rate, domestic bullion prices in India last week rose within $4 per ounce of quotes for London settlement according to data compiled by Thomson Reuters.
The smallest discount to the global gold benchmark since the start of June, that suggests a tighter supply-demand balance inside the world's No.2 consumer gold market, where exports of bullion remain illegal, forcing excess metal to trade at a discount.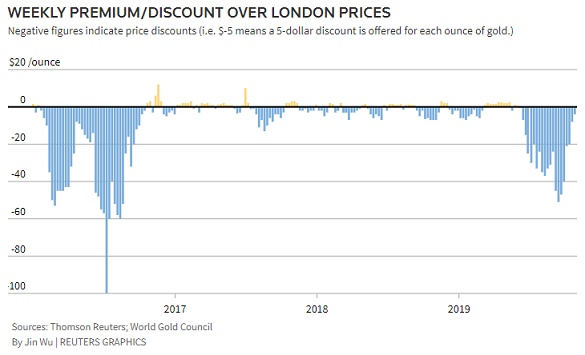 "We didn't expect so much sales," says Mehta, national secretary of the IBJA, "because...gold prices in the domestic bullion market are high due to the soaring prices in the international market [plus the] increase in import duty."
Across July to September 2019, wholesale gold bullion prices traded 21.7% higher from the same period last year in Rupee terms – the fastest annual third quarter price rise since 2016, when India's household demand to buy gold sank 28.9% from Q3 2015 according to data gathered and analyzed by specialists
Metals Focus for the mining-industry's World Gold Council
.
On top of that,
bullion import duty was raised
from 10% to 12.5% in the Modi Government's re-election Budget of July, raising the cost of legal bullion purchases by another 2.5% for Indian households.
"India's gold imports fell for a third month in September to the lowest in more than three years as jewelers cut purchases on poor demand," reported Bloomberg on Friday.
Net imports of bullion to India tend to rise or fall in opposition to the direction of Rupee gold prices, showing a strongly inverse correlation of -0.66 on a rolling 4-quarter basis since the start of 2012.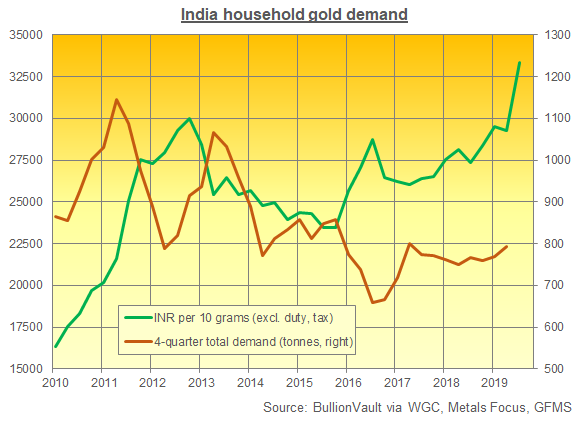 Imports ahead of this summer's steep rise in global prices however showed strong growth, despite April to June marking the 3rd highest quarterly average gold price ever in Rupee terms.
The second quarter of 2019 saw the 4th heaviest bullion imports of the last 5 years according to data from Metals Focus, with scrap recycling jumping to a near record and total supplies to the Indian market reaching the most since since Q4 2014.
In line with a growing tradition around Diwali, many leading gold retailers and investment sites
launched special offers
, discounts and cashback last week.
Already claiming to be India's largest online platform for gold savings, Paytm Gold said it wanted
3-fold growth
in Diwali sales this year.
With the IBJA revising its forecast to a 25% drop, other estimates however put Dhanteras gold buying
down 35-40%
from previous years.