Turkey's Demand to Buy Gold Weak, Scrap Sales Strong
Friday, 5/27/2016 08:05
Weak currency, high prices deter world's former No.4 gold buying nation...
BUY GOLD prices in Turkey, formerly the world's fourth largest consumer market, have recovered from a "very rare" discount to international quotes, according to local dealers, but demand remains poor on currency weakness which has taken prices to all-time highs.
"It has been a very difficult year," the Platts data and news agency quotes one Istanbul dealer in the Grand Bazaar, "and footfall has been increasingly down since January."
Turkish prices to buy gold slipped in early 2016 below international prices, typically quoting London settlement as the world benchmark, managing
only to recover a $1 per ounce premium
in late May.
The global gold price crash of spring 2013 unleashed a surge in demand to buy gold in Turkey, alongside other key markets led by China and India.
But 2015's rising Lira price then saw a jump in gold selling by households and investors, notes a recent report from specialist analysts Metals Focus – a jump so strong that major gold refineries in Turkey "could not satisfy demand [to process this 'scrap'] despite running 24 hour shifts.
"Turkey has so far continued to see significant scrap flows enter the market" in 2016, the consultancy goes on, "this time both because of strong Dollar gold and a weak Lira...which have generated new record high prices."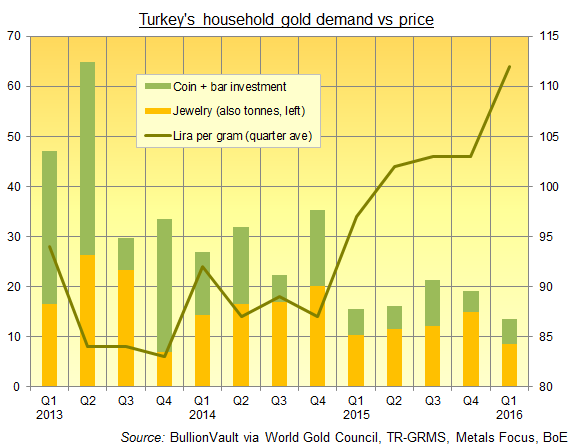 The Lira this week extended a rebound from near 2016 lows on the currency market, helping trim the price to buy gold price for households and investors in what used to be the metal's No.4 consumer nation – overtaken in 2015 and so far in 2016 by Germany.
The central bank of Turkey on Tuesday cut its key overnight lending rate for the 3rd month running, down to 9.5%, but new governor Murat Çetinkaya kept all other rates on hold as new prime minister Binali Yildirim
formed a cabinet with the approval
of fellow ruling AKP party member, Turkish president Recep Tayyip Erdogan.
The Central Bank of the Republic of Turkey's key rate, the 1-week repo rate, has now been held at 7.25% for 15 months.
Privately-owned stockpiles of gold jewelry, bars and coins in Turkey are estimated at some 2,500-5,000 tonnes, accounting for perhaps 2.7% of all the gold mined worldwide in history.
Households, temples and investors in world No.2 consumer nation India are estimated to hold perhaps 20,000 tonnes.
Turkish demand is expected to rally over the summer, Platts quotes the Istanbul dealer, "as it always has."