Less Than Zero
Saturday, 11/17/2007 11:38
US Treasury bonds are no 'safe haven' investment; they're now a sure route to destroying your wealth...
IT'S BEEN A TOUGH couple of weeks for anyone Buying Gold just below its all-time record high of $850 per ounce in early November.
By lunchtime on Thursday 15th, the Gold Price had dropped almost 8% from its 27-year high of $849 of only seven days before.
Even long-term gold investors, most especially those gold buyers who climbed aboard below $300 per ounce, couldn't help but wish they had taken a little money off the table.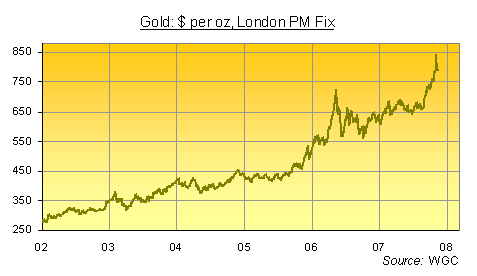 After all, a profit's not a profit until it's safely in your pocket. Not unless you're Goldman Sachs "marking to model" its mortgage-bond profits, that is.
But the latest gold buyers can't even pretend they're in profit just yet. Should they quit now? The last blow-off top in Gold Prices – the spike of May 2006 – cost new buyers 20% of their investment inside six weeks. At today's prices, that would take us back to $680 per ounce.
Five months later, in Oct. '06, those gold buyers stood one-fifth short of break-even once more. And it took until Sept. this year to regain that of May '06 at $725 per ounce.
Could you afford to sit on a loss in gold – earning zero per cent interest and actually paying for storage and insurance – until Feb. 2009...?
Here at BullionVault, we don't pretend we can see the future. We enjoy blackjack and bridge far more than tarot. But in lieu of tea-leaves and crystal balls, we do like to study the past.
Because if you won't study history when you're picking your investments, just what do you plan to study instead? To turn that question around, what else might new gold investors have chosen to buy in early November that would have made them a quick profit instead?
US Treasury Bonds: Now the Perfect 'Safe Haven'
The "smart money" of professional and institutional fund investors is surely shouting an answer. "Buy Treasury bonds," cry Wall Street and London. "Buy short-dated bonds and keep buying them...buy! Buy! BUY! Quick, before the Bernanke Fed hacks away at US interest rates again, fixing the mortgage market with a fresh dollop of cheap money!"
But if it's cheap money you want, then it's cheap money that the Federal Reserve will deliver. And the US Dollar is now cheaper than it's ever been before in history.
Glancing back at the past once more today, we wonder what that means for today's eager Treasury-bond buyers...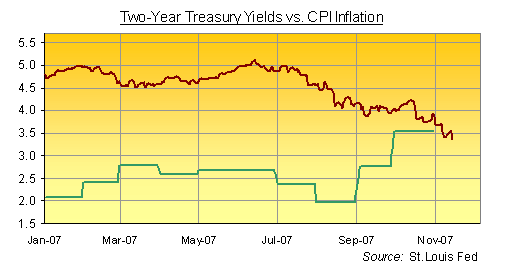 US government bond yields have now sunk so far, so quickly, that on Thursday this week – in a little-noticed event – they slipped below the last reading of US inflation.
Yes, even on the Dept. of Labor's much-despised Consumer Price measure, the cost of living in America in October was officially higher than two-year Treasury yields are today. Two-year yields have dropped by more than 0.5% over the last month. They're down by nearly 1.5% since November last year.
But CPI inflation, on the other hand, has risen from 2.0% in January to above 3.5% in October.
In short, two-year Treasury bonds are now deemed so desirable – because the subprime mortgage disaster demands such aggressive Fed rate cuts – that investors are willing to let inflation destroy their wealth. Or rather, the wealth of their clients...
And why not? Everyone thinks Ben Bernanke will jump at the ghost of '30s deflation before he dares shadow-box the threat of '70s inflation. No doubt everyone's right in thinking that, too. Bernanke did build his career – first as an academic, and now as the world's chief central banker – on the promise of preventing the Great Depression more than 50 years after it ended.
And just maybe Bernanke is right, too. Maybe the housing slump – and the resulting loss of consumer spending – really do threaten such an ugly unwinding of US debt, the economy will slip into deflation. The major challenge to that view, however, is the ongoing rise in the cost of living, driven by surging energy and food prices now being send east across the Pacific from China.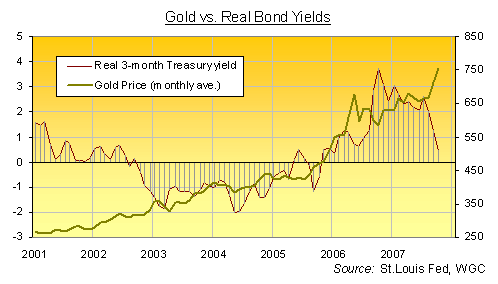 The connexion is hardly strong enough to trade for a living. You'd be hard put to explain how it works to your friends and family as well. (Trust me, I've tried...)
But when Treasury bonds start paying less than inflation – and real interest rates pay less than zero – the stage is set, according to history, for a strong rise in the Gold Market.
Just how crazy is that? Physical gold bullion pays you nothing, remember. So it's always a losing investment compared with bonds...right up until those fixed-income assets start paying less than inflation. Then the destruction of wealth by government debt leads investors, even if slowly at first, to start doing crazy things.
What kind of crazy things?
Crazy Times, Crazy Reactions!
Crazy things like asking why-in-the-hell they should lend money to the Treasury if the Treasury won't even pay investors a real yield above inflation...
Crazy things such as dumping Treasury bonds quick, pushing interest rates skywards and forcing Washington to offer a decent rate of return – say two, three or even nine per cent above inflation – in thanks for helping to fund war, welfare and pork barrel pledges...
And crazier things still like Buying Gold bullion...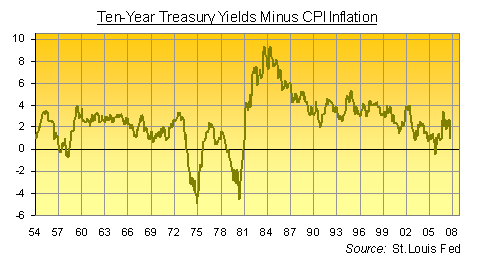 Right now, of course, the only madness in the bond market is the frenzy for below-zero yields. The seemingly crazy reaction of selling instead – and pushing bond yields higher – remains a long way off yet.
In the meantime, and for as long as the "smart money" continues mistaking the destruction of wealth for a safe-haven investment, that leaves the rest of us with an even crazier choice.
Whether or not to Buy Gold – a non-yielding asset that actually costs you to own it – in the hope of defending your wealth against a loss of real value in both Dollars and bonds.
Call it spite if you must. But if the world's No.1 currency – and the world's No.1 source of debt finance – both fail to outstrip inflation, investors will slowly go mad. Mad enough, in fact, to get even, swapping their Dollars for a fistful of metal. Because gold, unlike the greenback, issues no debt and offers to pay you no interest. It's simply been used to store wealth, right across the planet, for more than 5,000 years.
Oh sure, gold was for the birds between 1980 and 1999. Real yields on 10-year US Treasury bonds, on the other hand, averaged 4.35%. But since the start of 2000, gold has now gained more than 160% (the current setback included). Ten-year US Treasury bonds, in contrast, have paid barely 1.9%.
Last month real yields on the 10-year bond fell below 1.0%, less than one-third what they were paying a year ago. Is it mere coincidence that the Dollar's now toast?
Is it any surprise the Gold Market just shot to a near record high?