Gold, Bitcoin, the BBC and My Cat
Thursday, 11/30/2017 16:22
Truly headline news rarely proves good for investors...
RADIO 3, the BBC's classical music station, isn't known as a hot source of finance tips, writes Adrian Ash at BullionVault.
Not beyond recommending the occasional 'budget price' recording of Schubert or Schumann for your collection.
So when Radio 3's 7am headlines get between Bach and Puccini with news that Bitcoin rose through $10,000 – as it did yesterday – you know something is amiss.
Wednesday then saw Bitcoin push on again, leaping above $11,000 in a matter of hours, only to fall hard – down $2,000 in a few hours again – to what had been a new record high the morning before.
So far it has found a floor around $9000, a mere 20% loss for yesterday's top tickers. And with "ownership" of the "asset" still very much a minority sport, there could be plenty of hot air pumped back into Bitcoin's 2017 ten-bagger gains just yet.
But wait: gold investing found favor with what, perhaps 1 in 10 people at its 2011 peak? Even the Tech Stock Bubble couldn't suck in those private savers without a broker's account (over 6 in 7 households in the US in 2001).
Mass adoption isn't the issue. Instead, no bull market can top – nor bubble find its pin – before everyone hears about the gains they have been missing. And if the BBC's clanging bell didn't toll the final peak for Bitcoin this week, it sounds like one hell of a near-term top.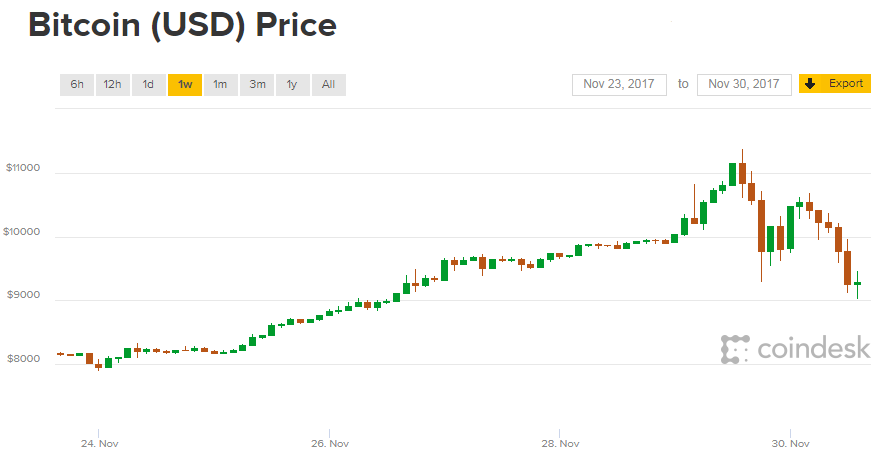 Gold made the BBC headlines a few times last decade. But contrary to the growing chorus of Bitcoin pundits and "analysts", there the similarity ends.
Unlike gold, for instance, Bitcoin has been going up in 2017. And while "neither pay a yield" as one spread-betting pundit said this week
in a bid to say something
...anything...coherent amid the cacophany, neither does my cat.
He's strictly limited in supply as well. (The vet saw to that.) My cat isn't controlled by the government either. (At least, that's what he says.) But that doesn't make him "similar to gold" anymore than a digital puzzle invented in 2009 shares anything with gold's 5,000-year history as a way of storing value everywhere it has been discovered –
the universal prize
in all countries, all cultures and in all ages.
Back where gold and Bitcoin do collide, listeners to BBC Radio 4's breakfast news on Friday 12 May 2006 heard that gold had hit the highest price in a quarter-century, jumping above $700 per ounce and rising over 70% from 1 year before.
Later that day gold hit $725. Then it lost 20% inside a month. Gold didn't then wear a $700 handle for another 16 months, when the UK's first retail banking run in over a century hit Northern Rock in September 2007.
Again in mid-March 2008 gold made national prime-time news, rising above $1000 per ounce as the bleeding edge of global financial bust washed away Bear Stearns in the US.
Again that proved an intermediate top. Gold fell by one-third against a surging Dollar as the crisis claimed Lehmans and very nearly everything else that October. By then, lots more people had figured out that gold was the one thing needful, but the metal didn't get back above $1000 until almost 12 months later, on its way to the ultimate peak of nearly twice that price in September 2011.
By then, of course, you couldn't hear yourself think above the din of news anchors and talking heads talking about gold. Everyone knew gold was the only asset that mattered. Even people falling asleep in front of
daytime chat-shows in the UK
.
And thus the bull market which had begun as the ultimate contrarian trade a decade before finally coughed its last. Which isn't to say that gold as financial insurance has since failed to do its job. Quite the reverse.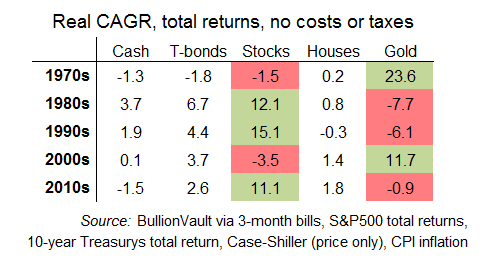 Back then the driver was Silk Road. Bitcoin founds its ideal use in the Amazon of the dark web, where potheads and hitmen traded illegal stuff behind hidden I.P. addresses.
Today, the use case is...well, what?
"We think over the next 10 years, this new generation of millennials are going to view trust as a replacement for gold. So, Bitcoin is essentially digital gold for another generation."
So reckons a "strategist" apparently,
gassing on to CNBC
on the day Bitcoin broke $10,000 and then $11,000.
If you think anything he said means anything at all, Bitcoin must look like a steal to you right now.
Enjoy.