UK Debt: Worth Your Weight in Silver
Thursday, 3/25/2010 15:17
Comparing this week's grace-and-favour budget with 300 years ago...

A NATIONAL DEBT equal to 1,000 grams of silver per head of population was enough to bankrupt the French monarchy in the early 18th century.
Trying to fix that mess led to the debt monetization and inflationary bust of John Law's Mississippi Scheme.
Across the Channel, a national debt equalling 750 grams of silver per head very nearly bankrupted the British state, too. That led in 1719 to the "debt-for-equity" swap of the South Sea Bubble. And even Alistair Darling knows how that ended...
Given the UK Chancellor's nakedly mercantilist budget on Wednesday, it's worth comparing today's public finances with such previous grace-and-favour regimes as the Bourbons and Hanoverians.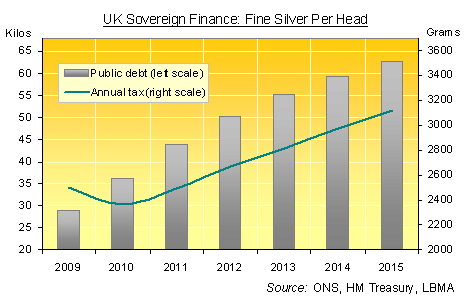 "The role of modern government is to work with key sectors of the economy to help them compete and prosper," said Alistair Darling, stating as fact a position I've never voted on, and to a deafening lack of Tory jeers, as well.
No doubt Darling's predecessor as Chancellor, John Aislabie – who was expelled from parliament, lost a chunk of his wealth, and was committed to the Tower for a time, despite only supporting, rather than being found guilty of profiting from the South Sea scheme – would be proud.
A 20% tax break for the already world-beating computer games industry;
Forcing banks to accept low-income customers;
Dictating approval of small-business bank loans;
Taxing phonelines (a.k.a. "unlock private investment") to subsidize a new cable-laying bonanza; and
Gifting more than £2 billion to self-declared "green" projects.
How to fund such favouritism and advancement? Measured at Wednesday lunchtime's Silver Price, Treasury projections for Britain's outstanding national debt go from equalling some 30,000 grams per head in 2009 to well over 60,000 grams by April 2015.
That pretty much replaces the weight in silver, owed per head of the population, of the average 7-year old girl with the weight in silver of the average adult woman. So whichever way you look at it, the value of Britain's national debt is truly historic.
So too are Darling's mercantilist policies. If his 18th century forebears are any guide, expect more money printing soon, plus the inevitable inflationary bust.
Looking to Buy Silver today? Make it simple, secure and cost-effective...owning the safest silver at the very lowest costs...by using Silver.BullionVault...