LBMA 2019 Gold Price Forecast: Like, WTF?
Thursday, 11/01/2018 20:51
More proof democracy's in danger from voters...
OKAY, we confess we sank a few beers or more at LBMA 2018 in Boston, writes Adrian Ash at BullionVault.
But everyone else, it seems, was smoking crack...
Oh good grief! #LBMA2018 forecasts $1532 #gold this tor next year

— BullionVault (@bullionvault) October 30, 2018
That "tor" should read "time". Our thumbs failed us in shock as this year's premier precious-metals event ended on Tuesday.
Because for the first time in its 19-year history, the average attendee of the London Bullion Market Association's annual conference said they foresee not a small drop in gold prices (as they did back at the bear-market bottom of
Vienna 2015
)...
...and not a steady 8% rise over the coming 12 months either (like they have on average every year since Kyoto 2008, expecting two-thirds more than the gold price delivered)...
No, by the time we meet again in Shenzhen next October, co-hosted by the Shanghai Gold Exchange,
LBMA members
and guests voting in the conference room this week think – as a group – that the gold price will have gained over 25%.
Why so bullish with gold at $1230 today? No reason we can see. Not besides all that crack.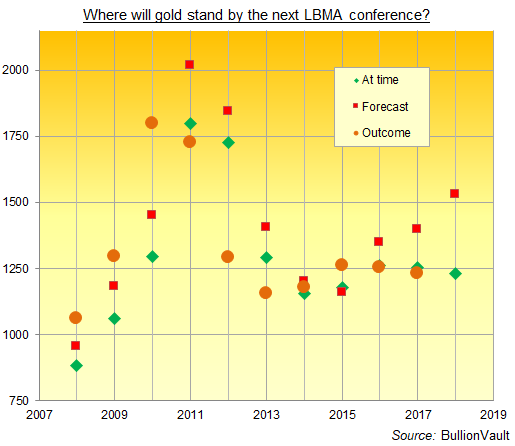 Start with the green diamonds. They show the actual path of gold prices in US Dollars per ounce over the last decade, roundabout the end of October each year.
Then see the red squares. Those are the average 12-month forecasts from attendees of that year's LBMA gold and silver conference, held jointly with the London Platinum & Palladium Market.
Finally look at the orange dots – y'know, the ones now swimming in front of LBMA attendees' eyes as they crash and burn with jetlag on top.
Because those orange dots show the actual outcome for gold prices 12 months later.
As you can see, delegates have rarely got it right. Never closer than $20 wrong, in fact.
But at least the path of their guesses tracked the out-turns, albeit with a bad lag...
...then overshooting that peak and failing to forecast a drop until 2015, just when gold prices in fact found their floor and turned higher.
But since 2016, can you see the divergence?
The metal has in fact tipped lower again. Yet LBMA forecasts in contrast have kept pointing higher.
And now $1532.
"I still can't get my head around it," says a friend who makes a living doing just that and also wondering if all the other voters on Tuesday had come from a difference conference entirely.
"I can only surmise that the negative economic commentary [in
Boston 2018's presentations
] got people going," he guesses. Which would make sense. If only delegates hadn't also got to vote in the first opening 10 minutes on Monday morning, before anyone said anything much...
...and in that pre-conference vote, the average forecast came in at $1565 (as we learned at the end the next day)...predicting a 27% jump by this time next year!
So yes, most of the supply-and-demand presentations sounded bullish for precious if that's what you wanted to hear at Boston 2018. Yes, all of the macro-economic stuff was kinda bullish gold too, save for the only panel which matters, which covered the outlook from real-money investors. It was distinctly "downbeat" as John Reade of the World Gold Council said, because rightly or wrongly "this just isn't gold's time yet".
Even the investor panel's conclusion however – that for gold a strong, simple story
is missing right now
– might sound quite bullish if you hear the words "investors are complacent" instead.
How else to explain the weird similarity between Monday morning's crack-fuelled pre-conference forecast and the marginally less crazy Tuesday afternoon conclusion?
Surely these people came looking for a bull story, and found it whatever the presenters said.
Or maybe you give 800 chimpanzees an app for their smartphone, plus a range of $500 to $2500, and you either get the Complete Works of Shakespeare or a $1500 gold forecast on average.
That simple maths would, after all, equate to an even spread of 40 people per $100 range, giving you dead-center overall. And that number of 40 people would roundabout match with the number of $1300 forecasters I spoke to and heard speak in Boston.
But maybe the people we didn't meet or ask for their forecast really did know something when they arrived...and then tempered it only a little as they headed home to whatever economic, financial or political mayhem they see ahead.
More on that soon as we unpack our notes.