What's Yours Is Mine
Friday, 11/23/2007 11:41
The era of overpaid corporate stewards is corrupting and crippling America's dynamism...
WALL STREET HAS NEVER had it so good! Oh sure, earnings have tumbled, entire divisions have disappeared, and tens of billions of dollars of shareholder wealth have vanished from the balance sheets of leading lending institutions.
But bonuses at the five largest Wall Street firms have jumped 9% above last year's record-setting tally.
"Never in the history of Wall Street have so many earned so much in so little time," a Newsday columnist remarked one year ago. He was referring to the then-record $36 billion in year-end bonuses that Goldman Sachs, Morgan Stanley, Merrill Lynch, Lehman Brothers and Bear Stearns dispensed to its employees at the end of 2006.
Last year's record payout seemed audacious, but not quite outrageous. By contrast, Wall Street's 2007-vintage bonus pool is both audacious AND outrageous, as well as disgusting, reprehensible, over-the-top and rapacious.
This year, Wall Street's five largest brokerage firms will dole out a new-record $38 billion in year-end bonuses. The hefty number would seem merely audacious if Wall Street's shareholders were sharing the wealth. But they are not.
"Shareholders in the securities industry are having their worst year since 2002," Bloomberg observes, "losing $74 billion of their equity."
Just think how large the bonuses would have been if every Wall Street firm had gone completely bankrupt...or at least as bankrupt as Wall Street's ethics.
During 2006, the stock market climbed and Wall Street flourished. So the then-record bonuses possessed at least some tenuous connection to legitimacy. But in 2007, what rational could possibly exist for establishing a new-record payout?
Maybe just this: because Wall Street can get away with it.
We would note, for example, that sanctions imposed by the Securities and Exchange Commission in fiscal 2007 fell to the lowest level since 2002. The SEC collected only $1.6 billion in fines this year, compared with more than $3 billion in each of the previous three.
Perhaps no direct connection exists between soaring Wall Street bonuses and shrinking SEC penalties, but a symbolic connection certainly exists. Wall Streeters already believe that "what's yours is theirs". It's in their professional DNA. So if the SEC turns a blind eye to the processes that promote institutionalized avarice, who else could possibly stand in the path, other than a few grumpy, ill-mannered journalists?
This year's enormous bonuses would not be so galling if remuneration tended to go up as well as down. But it doesn't. The connection between merit and pay disappeared a long time ago.
As recently as ten years back, for instance, the bonus pool for New York City's finance-company employees totaled less than 90% of the net income of NYSE brokerage firms. Today, the relative size of the bonus pool has doubled to about 180% of net income.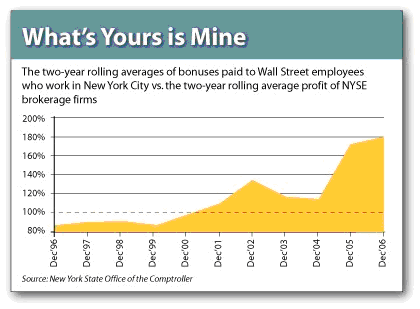 To put it kindly, Wall Street bonuses possess a distinct upward bias. In fact, Bloomberg notes:
"The last time bonuses declined was 2002 when the Standard & Poor's 500 Index fell 23%, and Enron Corp. and WorldCom Inc. went bankrupt."
But these financial hiccups from five years ago seem relatively tame alongside today's epic credit-market devastation. Tens of billions of dollars are disappearing from the balance sheets of America's largest lending institutions. Tens of billions more might disappear before the bust has run its course.
In this context, dispensing tens of billions to millionaire-employees seems imprudent, if not utterly asinine. But then, lest we forget, Wall Street is forever and always about money – both making it and taking it.
Let's try to put this year's bonuses in perspective by having some fun with numbers.
Just for kicks, let's ask ourselves, "How much is $38 billion?"
Well, for starters, it is more money than Wall Street's five largest brokerage firms – combined – earned during the last 12 months. $38 billion is also more than the combined earnings of these five firms during all of 2004 and 2005, too.
It is more than the annual GDP of Guatemala or Costa Rica. It is seven times more than the annual budget of the National Cancer Institute (NCI), America's principal agency for cancer research.
Looking beyond our own shores, $38 billion is three times more money than the entire world spent on humanitarian aid last year. $38 billion is twice the sum necessary to provide basic health care to every child in the world, and three times the sum necessary to provide clean drinking water to every child in the world.
But $38 billion does pale alongside some annual expenditures, however. It pales alongside the $59 billion the world spends on golf every year, or the $118 billion it spends on wine (I'm guilty). And in particular, $38 billion pales alongside the $794 billion the world spends waging war or preparing to wage war.
"Every gun that is made, every warship launched, every rocket fired signifies, in the final sense, a theft from those who hunger and are not fed, those who are cold and are not clothed," President Dwight Eisenhower once remarked. "The world in arms is not spending money alone. It is spending the sweat of its laborers, the genius of its scientists, the hopes of its children...this is not a way of life at all in any true sense.
"Under the cloud of threatening war, it is humanity hanging from a cross of fire."
Admittedly, excessive compensation regimes that bear no legitimate connection to merit are not as costly to humanity as warfare, but these regimes nevertheless impose serious covert costs. They "steal" money from shareholders, cultivate a risk-taking, "lottery" mentality among financial firms and sanitize unbridled avarice as "merit-based pay".
Excessive compensation schemes also help to legitimize extreme socio-economic disparities. As such, these schemes work to squander the nation's collective "sweat", "genius", and "hopes"...just like warfare does.
The stewards of public companies do not deserve mega-million bonuses. Not once, not twice, not ever. They are the EMPLOYEES of public companies that are OWNED by the shareholders. They are not the lords of their domain with the right to tax the productivity of the shareholder/serfs. The era of the overpaid corporate stewards is corrupting and crippling American dynamism.
Obviously, most employees within the Wall Street rank and file deserve every cent of their year-end bonuses. But most of those at the top of the ranks do not. Maybe $28 billion would have done the trick, saving $10 billion for – oh, maybe boosting shareholder equity against the next moronic credit debacle that America's financial chieftains bring down upon their poor, abused shareholders.
There's no denying that greed and money go together – just like Ginger Rogers and Fred Astaire...or maybe more like Bonnie and Clyde.
So we cannot really blame Wall Street for being what it is. But we can avoid dancing on the same stage...or riding into an ambush in that same 1934 Ford V-8.