Trump's Tech Shock Hits India
Friday, 2/03/2017 09:01
What 'America First's block on H-1B visas means for I.T. stocks...
DONALD TRUMP just assumed office, but already, his "America First" agenda is sending a big chill through Silicon Valley and India's biggest tech stocks, writes Gary Dorsch at Global Money Trends.
The US tech industry has long lobbied for an easier way to recruit talent from abroad, and had expected Hillary Clinton to expand high-skilled immigration. However, under President Trump, it now appears highly likely there will be a new set of rules that will dramatically ratchet back immigration overall into the US.
White House officials say Silicon Valley chieftains and their suppliers of cheaper labor from abroad- are right to be nervous, especially about changes to the visa program. Chief strategist Steve Bannon and policy chief Stephen Miller are known to be deeply skeptical of the H-1B program, and will have a strong, vocal ally when Jeff Sessions gets confirmed as Attorney General.
On the campaign trail, Trump promised to "end forever the use of H-1B as a cheap labor program." He later signaled in a meeting with tech leaders that he's most concerned about companies misusing the visas to displace lower-wage American workers.
Google, Apple, Microsoft and other tech giants have expressed great dismay over President Donald Trump's "America First" policy. Aaron Levie, chief executive of cloud computing company Box, said seeing Mr Trump win the elections for the presidency had been "incredibly stressful" and "painful" for many in Silicon Valley.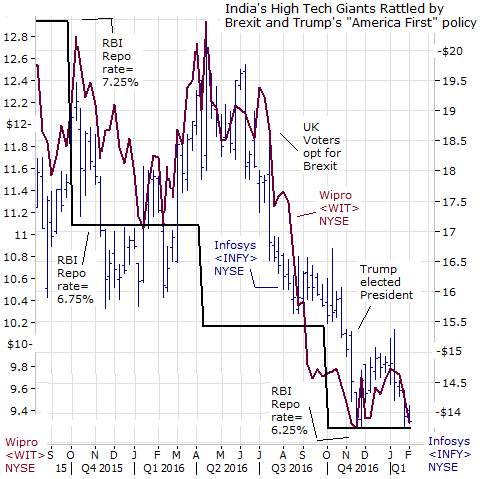 "Given the rate of growth we are seeing in so many different tech companies from Facebook to Uber to Google or a company like Box, there's simply a shortage of really great talent," Mr Levie said.
"When you have incredible talent that wants to work in your organisation but you are preventing them from doing so, that is disastrous to innovation and competition."
Employers say H-1B visas are crucial because they allow foreign workers to fill skill gaps in the American workforce.
Visas are capped at 65,000 a year, with 20,000 additional visas for foreign workers with master's degrees. The visas are distributed to companies through a lottery system.
Foreigners are in hot pursuit of them, too. Last year demand was three times more than the annual limit of 85,000.
The visa has special significance for Silicon Valley because the tech industry is worried about attracting and retaining foreign engineering talent. Tech industry advocates have lobbied for years to increase the number of visas to meet the growing demand.
But critics of the program say some outsourcing firms exploit H-1B visas to hire foreign workers. They contract them to work for big companies who end up paying them less than Americans would make for the same jobs, and disadvantaging American programmers and engineers, especially given that the visas are widely used by outsourcing firms.
For years, US lawmakers have been debating proposals to change the program. Now a window might be opening. President Trump has said he wants to crack down on misuse of visas, though he has not detailed how. Trump's anti-globalist, America-first rhetoric has emboldened those in Congress who want the world's biggest economy to cut its reliance on foreign workers. A new bipartisan bill is seeking to raise the minimum salary of H-1B workers from $60,000 to $100,000.
Trump's attorney general nominee, Sen. Jeff Sessions, is a long-time critic of the program. He sponsored a bill with US Senator Bill Nelson (Democrat), aimed to cut the number of H1-B visas by 15,000 from the current 85,000. The bill also proposes that visas be granted to highest wage earners first. Senators Chuck Grassley and Dick Durbin introduced a bill that hopes to stop companies from hiring H-1B visa holders if they employ more than 50 people and over 50% of their employees are H-1B and L-1 visa holders.
Rep. Darrell Issa, a California Republican, introduced a bill that he says will punish outsourcing companies. Under his legislation, any company paying H-1B workers less than $100,000 would have to show they couldn't hire Americans for the same jobs.
Existing law has a similar requirement but sets the threshold at $60,000, a level established in 1998, and doesn't apply to foreign workers with master's degrees. Issa's bill would do away with that exemption. The idea is to make it more expensive and complicated for companies to use H-1B visas, and to hurt companies that exploit the program.
The election of Donald Trump is a worrying development for India's IT industry. "Very clearly we see that there is a move to protectionism which is coming out of the US. Whether it works out or not is a different issue altogether," says Shivendra Singh, vice president at the National Association for Software and Services Companies (Nasscom).
But it does lead to creating a fair amount of news across and among various stakeholders, which is also to the detriment of our companies," he added. For its part, Nasscom has increased its lobbying efforts in the US and even released studies highlighting Indian IT's contribution to America's economy.
For instance, a study released in September contended that Indian IT companies paid $22.5 billion in taxes to the US Treasury between 2011 and 2013 and supported more than 411,000 direct and indirect jobs in the US – including 300,000 held by US citizens and permanent residents.
About 70% of the H-1B visas in 2014 went to workers from India, according to figures from the US Department of Homeland Security. The H-1B program is very large with approximately 120,000 new workers admitted annually. Once admitted those workers can remain in the US up to six years. While no one knows exactly how many H-1Bs are currently in the country, analysts estimate the stock of H-1B workers at 600,000. Critics of outsourcing allege that the H1-B program is grossly misused by Indian IT companies who flood the American labor market with low cost talent.
Mr.Trump's "America First" agenda has already spooked investors in India's giant IT services companies, who may have to cough up a lot more to hire workers as a result. These stocks – like Infosys (500209.IN / Nasdaq:INFY) and Tata Consultancy Services (532540.IN) – pioneered IT outsourcing in the late 1990's as a way of offshoring software engineering to cheaper workers in India. They're now among the biggest users of H-1B visas.
Higher salaries would inevitably be passed onto clients, who are already cutting back spending. Shares in these blue-chips plunged as much as -30% from their 52-week highs.
Tata Consultancy Services, India's largest IT company, may face the most pressure from any clampdown on the use of H-1B visas to hire its US-staff. While the Mumbai giant doesn't make the biggest use of the visa scheme (that honor goes to rival Infosys), it generally pays lower salaries to its US workers compared to its rivals. TCS pays on average less than $70,000 to employees holding H-1B visas.
That could make TCS especially vulnerable to the proposed increase in the minimum to salary to $100,000. A salary hike of that magnitude would hit the company's earnings margins by as much as -5%. TCS's current margin – based on earnings before interest, taxes, depreciation and amortization (EBITDA) – is about 25%.
Bangalore-based Infosys (Nasdaq:INFY) is India's second-biggest IT services vendor by revenue, raking in almost $10-billion in revenue in its most recent financial year. The company's also the most dependent on the H-1B visa program among its peers, filing almost 35,000 applications last year. That's more than double the number filed by the next biggest user of the program, Tata Consultancy Services.
However, Infosys does pay among the highest salaries to employees working under the H-1B visa scheme, at an average of almost $79,500 annually. Compare that to TCS, which generally pays less than $70,000.
The big problem for Infosys is the possibility of a so-called 50/50 rule at some point in the future. Democrat congressman Bill Pascrell and Republican Dana Rohrabacher last year sponsored a bill that would require businesses to have no more than 50% of their US.
INFY also faces headwinds like its rivals from declines in the Euro, British Pound and Australian Dollar. Infosys reports in Indian Rupees, so falls in its clients' home currencies are felt at the top and bottom line.
Bangalore's Wipro (507865.IN / NYSE:WIT) is the country's third-biggest IT services provider with about $8-billion in yearly revenues. The company caters to industries including energy, manufacturing and healthcare. Wipro gets just over half of its business from US-customers, but isn't really among the largest users of the H-1B visa program.
Last year Wipro filed about 15,000 applications to place employees in the US. It is generally one of the low payers, though, with an average annual salary of about $70,000. Under proposed legislation the minimum salary could rise to $100,000, which puts Wipro in a bind.
On January 3rd, the leaders of two of India's largest technology services companies, Infosys and Wipro, warned their employees that their industry faces a grave threat from rising political and economic conflict around the world.
Asia's largest providers of IT services, which include leader Tata Consultancy Services, have lost business as their corporate customers in the UK reined in spending. They've been buffeted by macroeconomic swings in the two largest markets of Britain and the US, together accounting for about four-fifths of revenues in India's $108-billion IT services export industry. Britain's planned exit from the European Union cast uncertainty over the outlook for IT spending, while Mr.Trump has threatened to choke the flow of overseas workers Wipro and Infosys rely on.
Said India's IT industry trade body Nasscom in November:
"At a time when the world around us seems ever more influenced by the baser instincts and tendencies, we must bring the best of our intentions, and the best of our imagination, our knowledge and our conviction, to all that we do. These questions have arisen from developments in the political arena, from the fast-unfolding environmental crisis and from forces that want to shape the world into a place of exclusion, conflict and suspicion."
After years of stupendous growth, Nasscom has already cut its revenue forecast for the current year.