Solitaire Investor
Monday, 12/24/2012 15:20
Investment lessons from a simply card game...
I TRAVEL a lot, writes Louis James, chief metals and mining strategist at Doug Casey's Casey Research.
This means I spend a lot of time standing in lines at airports, taxi stands, train stations, and so forth. My habit has been to use this time reading books, playing with lines of poetry, or simply thinking about whatever needs thinking about. If I believed in sin, the cardinal sin in my book would be to waste time; every squandered minute is a piece of my life I will never get back.
But a couple months ago, I saw my wife playing a game on her phone and remembered that my phone has games on it too… and sometimes one is just too tired or jet-lagged to do good work. So I started playing solitaire.
Now, Doug has long said that he loves playing poker, a game with instructive lessons for speculators. He always stresses that speculative investment is – or should be – very different from gambling, but there are obvious parallels in how one assesses odds and the like. That's great, but I'm a terrible poker player; I can't seem to bluff. Solitaire is more my speed.
Solitaire is a silly use of time, really, but relaxing. After a few hands, my wife showed me the "Undo" function that lets you try different solutions to the challenge each hand of cards presents. And down there by the Undo icon was another for stats. The game had been keeping track the whole time, and I had won approximately 30% of all the games I'd played. Checking on my progress, I noticed that the stats don't include the games I don't play – if I didn't like a hand I was dealt and hit the "New Game" button, it didn't count as a loss, didn't show up in the stats at all. And then I saw an option to reset all statistics…
As my daughter likes to say: light bulb!
It was like Doug Casey's favorite Warren Buffett aphorism about investing being like a ball game with no called strikes. You don't have to swing at every – or any – pitches. You can wait for one you like and then swing for the bleachers. So, what would my stats look like if I simply refused to play any hand that didn't offer me the advantages that I've learned help me win?
Well, you can see in the photo below what happened: I reset the statistics, applied my new criteria, and doubled my success rate to 60%.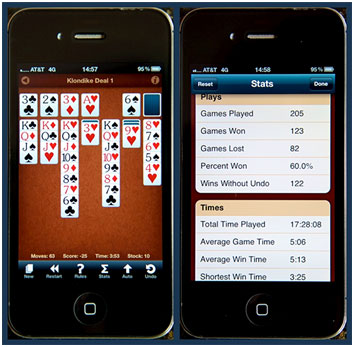 On the left is a hand of solitaire I was playing. On the right is the stats screen that shows I've won 60% of 205 games played since resetting the statistics and beginning my experiment. Note that the "Games Won" is greater than "Wins Without Undo" by one game – that was the time my wife showed me how she would play the hand.
After playing many hands, I'd found that the more moves I had at the outset the greater the odds of winning. If I am dealt a hand in which I can make three moves before turning over my first card from the deck, I can win 50% to 60% of the time. And if I have that plus an ace I can move up top, I can win 80% to 90% of the time.
So, my criteria were simple: I needed to see at least three moves at the start, or I wouldn't play.
I was even tempted by hands that did not quite meet my criteria but looked really interesting – like showing two aces at the start. When I tried such hands anyway, I lost more often than I won. I didn't track it, but I lost a lot more than I won, perhaps even the 70% loss rate I started with.
I found this to be very, very much like investing in resource stocks; the times I've been tempted by something with an exciting story but not quite up to snuff, I've regretted it far more often than not.
Solitaire is not stock picking, I know, but the principle of not acting unless the odds are in your favor is the same; if you don't like anything about the hand you're dealt, the ball you're thrown, or the investment opportunity you're pitched, don't buy the stock.
It's a simple twist on the Nike motto: Just don't do it.
Not playing unless dealt a favorable hand is an incisive instance of something far more important: discipline.
Not being tempted by an exciting but flawed story is just the beginning. Believe it or not, even in something as simple as solitaire, discipline in how one plays matters a lot – perhaps as much as refusing to play unless dealt a great hand.
Patience throughout the game is key.
On my phone, I can turn over the cards in the deck as many times as I like. So, unless I'm going for speed, there's actually no need to use any of the cards in the deck the first time I turn them over. I can go through them as many times as I like, learn what's there, and think about how to play the cards before making a single move.
Boring?
Maybe. But remember, my objective is not just to solve the puzzle but to win without undoing any moves. I don't get to call my broker and ask him to undo trades that don't work out. Once I play a card in the deck, or uncover a card in the hand, it stays played. There's more I can do, but there's no going back.
For example, if I have a space for a king, I don't just fill it with the first king I find in the deck; I go through the deck looking for the color of king that will help me the most.
So, yes, patience is a virtue – as is due diligence. Going through the deck is like reading financial statements and examining drill core. I don't want to get too excited by what I find early on, because I can't undo a blunder.
I also discovered that I make more mistakes when tired. I found that – this shouldn't have surprised me, but it did – if I get stuck in a game and put it away long enough to clear my mind, and come back to it, I can often see moves not seen before.
The same thing happens when I research investment opportunities; sometimes the most important thing I can do is take a break and come back to it after a rest, then think it through again. Makes sense – picking winners is very complicated and requires assessing market conditions, global trends, and the individual psychology of the players involved, as well as the technical merits of the mineral prospect itself.
I could go on, but I'm sure you get the idea. What excited me about this analogy was not just how well it fits my experience as a speculator, but the statistical result. I don't just think it works; I know it does. And I have numbers that show it – as you can see in the photo above.
Get the safest gold at the lowest price on BullionVault...