Silver Prices Flying
Friday, 3/04/2011 16:59
Silver Prices could hit $50 per ounce reckons this long-time precious metals investor...


WATCH OUT for flying Silver Prices, writes Brian Hunt in Steve Sjuggerud's Daily Wealth.

If superinvestor Chris Weber is right, they're headed much higher in the coming years...

He's one of the best investors in the world...and particularly masterful with his analysis of the gold and silver markets.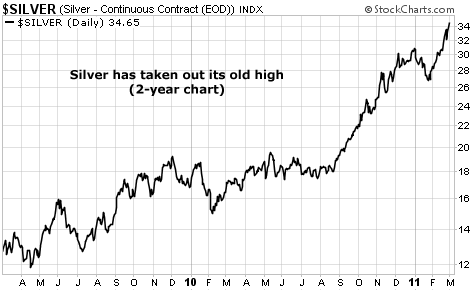 And Chris's take on silver is that governments around the world are locked in a long-term competition to debase their paper currencies. This will drive up the price of "real money" assets like gold and silver.

In his recent forecast, Chris Weber noted that after surging from $18 to $30 per ounce in 2010, silver barely took a breather. Chris said he's "never seen such strength" from Silver Investing...and if silver closed above its old high of $30.91, it was a sign the metal was due for another big run.

As you can see from the chart above, silver has blasted above its old high. While we can't know the future, we know this metal is capable of huge moves...and like Chris, we here at Daily Wealth wouldn't be surprised to see silver surge to $50 per ounce.

Silver Investing – get physical bullion, free of sales tax and at the tightest spreads anywhere, using the award-winning Bullion Vault...