Silver Investor Index Hits Record Low on Price Spike
Tuesday, 11/03/2015 10:46
Silver sellers outnumber buyers by record margin on world's #1 investing exchange...
SILVER investors able to trade cheaply and easily took profits and cut losses last month as prices rose near 7%, writes Adrian Ash at BullionVault.
That's according to our latest Silver Investor Index – the companion to our Gold Investor Index launched at the start of 2015.
More volatile than gold, silver's investor sentiment – as measured by the balance of buyers over sellers across each month – fell in October to new series lows. Because the near-7% monthly price jump saw people choosing to cut their silver holdings outnumber buyers by a record margin.
Gold also saw a rise in sellers and a drop in buyers compared with September. But the switch was less pronounced, and so the Gold Investor Index held above 50.0 – the level signaling a perfect balance of net buyers with sellers across October – for the 68th month running.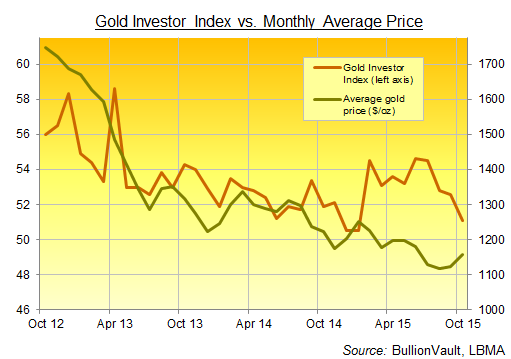 Gold in October saw the fewest net buyers since December and the most sellers since January.
Those two months marked the same 5.5-year low in the Gold Investor Index at 50.5.
Last month the index read 51.1, down from 52.6 in September and extending the downturn from this year's earlier strong upturn in the balance of buyers over sellers.
Silver meantime saw net sellers outnumber net buyers by the largest amount since at least January 2012, the start of BullionVault's Silver Investor Index series. So this index fell to a new series low, down from 51.7 to 47.8.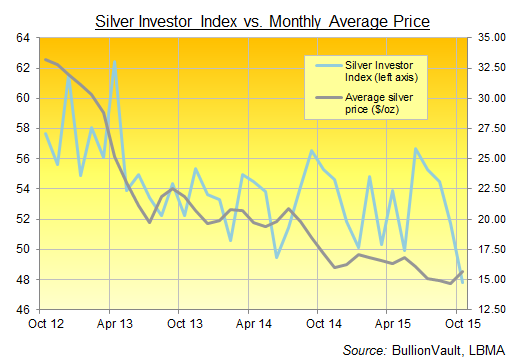 Doesn't this jar with silver coin mints reporting record investor demand? Perhaps. But silver investing – even amongst private individuals – is about more than coin collecting as a hobby or
"silver stacking"
as a personal protest at fiat money, QE and zero interest rates.
October's monthly average silver price rose 6.7% from September in Dollar terms – the fastest rally since August 2013. Coming after the metal hit fresh 6-year lows over the summer, that rise gave longer-term holders the chance to reduce their losses. It also gave more active traders the chance to take profits on silver they'd bought more cheaply.
Bottoming at $14.00 per ounce in late August, silver peaked above $16.30 late last month – a move of 16%.
Trouble is, that
surge in silver prices
wouldn't have registered as a gain for anyone buying coins, nor even small bars. Because dealing costs are too high.
Even in quiet times, silver coin prices start at 10% above wholesale 'spot' prices. European investors face 19% VAT sales tax on top, and major US coin shops quoted 30-40% above spot for silver Eagles and
even "junk" silver bags this summer
, as demand leapt on news of the metal's new 6-year lows in the wholesale market.
BullionVault saw a
surge in silver over the summer demand
too. Buying silver in large, wholesale bars at low, wholesale prices (and from as little as 1 gram at a time), our customers pushed the Silver Investor Index up to 56.7 in June – its highest reading since the price-crash of April 2013 unleashed untold demand worldwide.
But what silver investors choosing to go direct – buying low-cost silver in the low-cost spot market – didn't then suffer was a drop in the premiums paid by dealers to buy that metal back. Because there were no premiums to start with. Tight supply in the coin market, in contrast, led to a surge in retail prices – a surge which ate up the cost-saving which "bargain hunters" sought in silver's drop to new 6-year lows.
Looking ahead, US interest rate expectations will likely prove the key driver of gold and silver prices as the New Year approaches. Investors expecting the Fed to lose its nerve again in December may do well to build a position in advance.
Investors can sell as easily as buy using BullionVault, and October's pop in prices gave existing gold and silver owners the opportunity to take a quick profit – or reduce losses – after the summer's earlier falls.
Choosing secure storage in London, Singapore, Toronto or Zurich, BullionVault users grew their total holdings of silver for the seventh month running in October, adding more than 4 tonnes overall to a new record above 535 tonnes.
Gold holdings rose for the eighth month of 2015 to date, growing by a little over 28 kilograms in October to reach 34.4 tonnes.
But although we saw
total BullionVault client holdings by weight
continue to grow in October, private investors wanting the lowest costs plus instant dealing remain wary of chasing prices, preferring instead to build their precious metals holdings more steadily.
A growing proportion are acting to trade in and out as prices allow, especially with silver.