Silver Resistance? Like a Knife Through Hot Butter
Thursday, 7/23/2020 09:01
Suddenly easy. All too easy...
WE HAVE
been micro-managing silver lately in NFTRH and that is for a reason,
writes Gary Tanashian in his Notes from the Rabbit Hole.
The reason is that gold's wild little bro has been rallying – in what is turning out to be 5 clear waves – since the March crash.
When that crash reversed, my view, and hence the NFTRH view was that it was likely to have been a horrifying shakeout of the silver bulls that due to its violence may well have sparked a bull market of some kind on the flush.
We noted in real time that silver and precious metals mining stocks often make dramatic crash lows immediately preceding significant new rallies or bull markets. Silver was in an uptrend before the crash and that was a significant factor to a bullish view, post-crash.
Here is the daily chart we used in a subscriber update this week showing that silver was taking out a resistance point we've noted was not formidable (boy, it sure wasn't).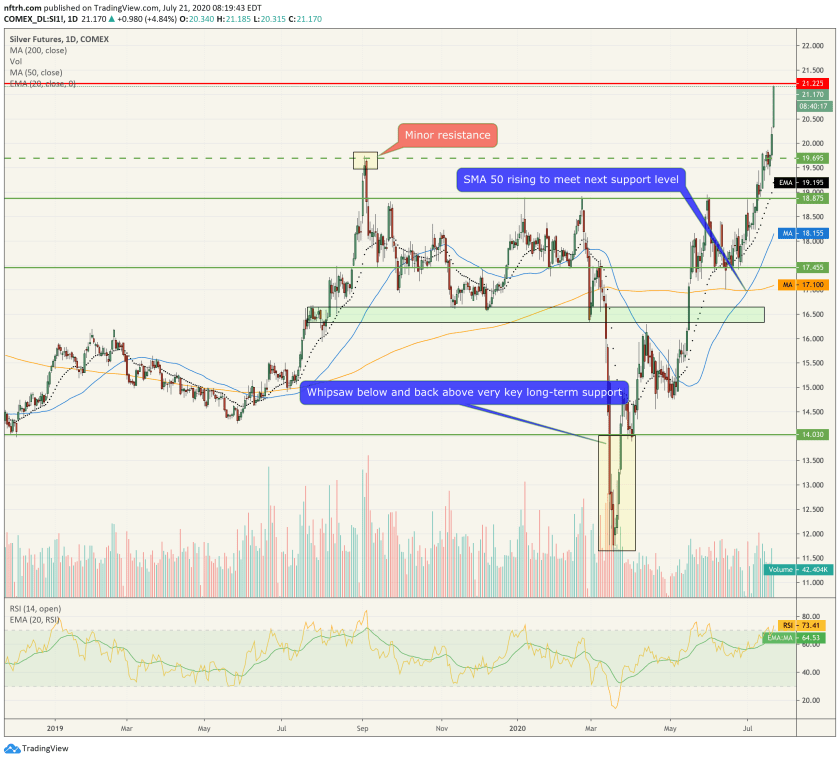 The chart above shows a resistance line but no context for it. Well, here is context. The label we have had for $21.23 is that of gatekeeper. In and of itself, it too is minor resistance, but it's significance as the 2016 high that needs to be crossed in order to signal a cyclical bull market is great (much like $1378 was for gold in 2019).
I would not be surprised if silver halts there for a while. Nor would I be surprised if it cuts through it like warm butter.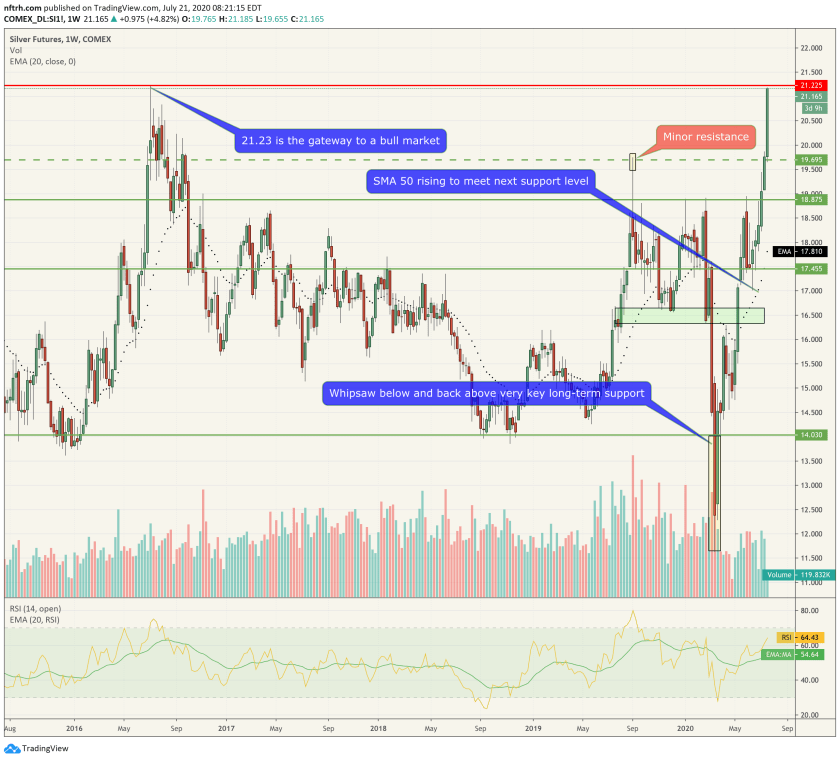 The target of the daily and weekly chart patterns is $24+. We have had this loaded in much the same way and for the same technical reasons we've had an initial target of 375 loaded on the HUI gold stock index since last year. Much like HUI's daily/weekly chart patterns now agree with the target of its big picture monthly chart so too do silver's shorter-term charts agree with its big picture objective.
Those objectives are long-term resistance. Notice the down spikes to $26 in 2011 and 2012. That is resistance. So, given the energy that tends to be released once the silver horse gets the bit in its mouth we can establish a firm eventual target of $24-26 if/when silver makes it through the bull gateway of $21.23.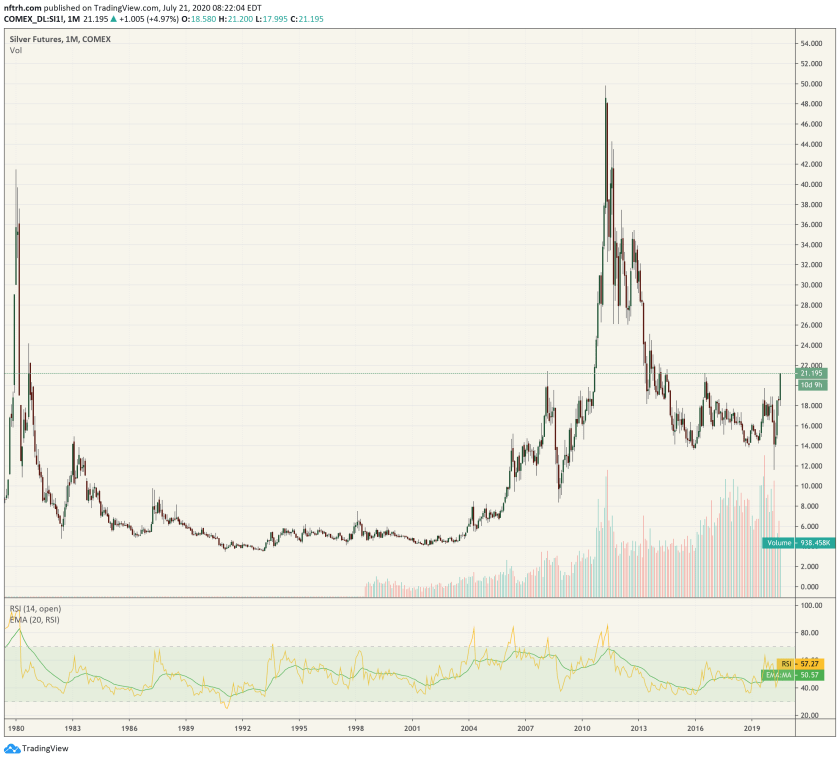 It's not as easy as jumping on now and riding the Silver Bullet to great prosperity. The volatility will be epic and the hard work was done in March, April and May. Now it is too easy.
Despite the bull market gateway at hand, the play has already been played. If you buy now, you are chasing. You are running with momentum freaks and the machines they follow. You will be subject to great volatility after positioning late for the current phase.
It could still be quite a run higher and I think that whether sooner or later, a cyclical bull market will engage. But this is not a game. It is a metal that shook out some of its most ardent believers on that false spike down below $14 in March. That has acted as a slingshot and the stone will stop when it stops. But there will be new opportunities aplenty in the months and years ahead, not just for silver but also for gold and mining stocks and depending on an inflationary backdrop, maybe commodities and certain global markets.
I would advise you not to just follow the Men Who Stare at Charts (like those above) exclusively...
...but instead take a more holistic approach whereby the 'top-down' macro is considered. A big part of that macro will be the Silver/Gold ratio (SGR). In another subscriber update we reviewed the parameters of the current SGR rally but also dialed out to a bigger picture with a bigger message. Only by digging into and abiding by the market's internal signals can we hope to be right on the larger trends.
Patience and a sensible macro view are the keys.
An end of summer 2020 price increase is coming. Subscribe to the value-priced NFTRH now to lock in the current rate for the life of your subscription! Current subscribers will never see an increase and have never seen increases since the service began in 2008.