Why So Down on Silver?
Tuesday, 4/28/2020 09:19
Price crash dents small specs' bullishness...
WE RECENTLY
looked at a chart of gold with its associated Commitment of Traders data,
writes Gary Tanashian of subscription service Notes from the Rabbit Hole.
The chart has a clear upside target and the unspectacular CoT [ie, the net positioning of speculative traders] is not standing in the way of that. Gold sports a CoT structure that you'd expect to be more contrarian bearish, given the current gold price.
We also looked at the chart of silver, which more and more people are becoming bearish of, and we noted the really muted little guy (blue line shows 'non-reportables', ie private individuals rather than professionals) in the CoT data.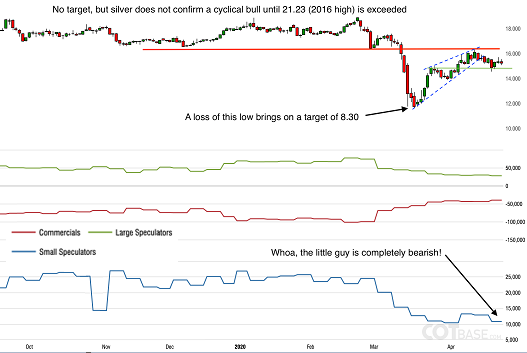 Altogether this gives us an unpleasant looking chart of the silver price, and an okay large Specs/Commercials CoT alignment (but nowhere near as good as it was last spring; note the pinched Specs and Commercials at left). Ah but...the little guy. Look how he hates himself some silver.
That is not at all negative because the little guy will be briskly bullish at the next major top in silver, whenever that comes.
What's more, the Sprott Silver Trust's premium has been cut to .66%, in essence even, after a big drop and spike in sympathy with silver's price drop (which may have been the final flush) and recovery. The difference between the pump of the last few weeks and the pump you can see here in early 2016 is that this spike came after a flush. In the way markets sometimes work and precious metals often work, that might mean something. We'll just have to see.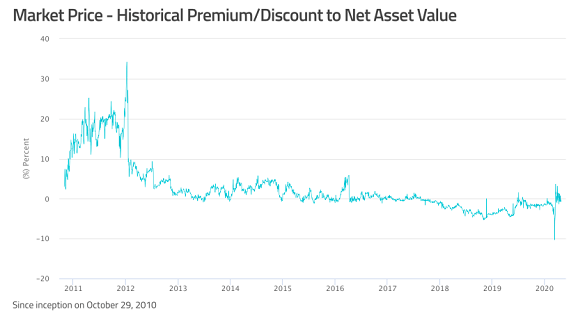 I understand the supply/demand overhang issues that silver is dragging around (very well presented in Mark Turner's IKN Weekly last weekend) but there are sentiment-based forces in play that could support the silver price going forward. And if the balls out inflation being promoted in the US by fiscal and monetary authorities and around the world over finally takes hold as expected, silver is going to be a big play again.
Short-term? Long-term? It's all up in the air. But I am keeping its relationship to gold well on radar as an ignition switch.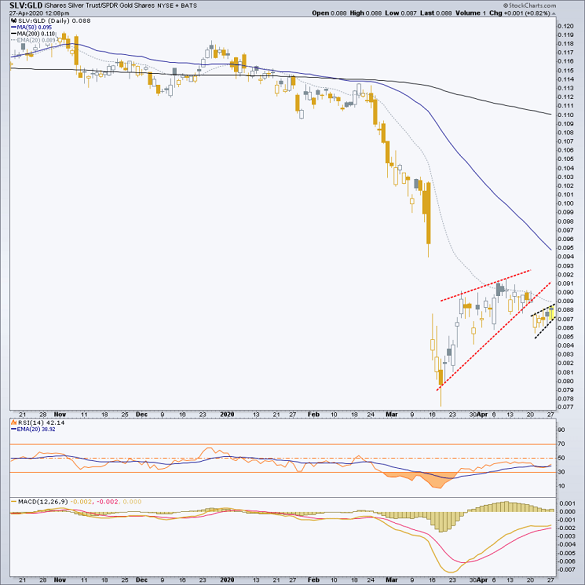 Thus far the Silver/Gold ratio is not doing anything. A little bear flag forming after a bear flag breakdown is not gonna get 'er done.