QE: Rinse & Repeat in 2015, UK Gilts Edition
Friday, 12/05/2014 18:14
40% of UK debt repayments in 2015 will go to the Bank of England...
QUANTITATIVE EASING, you will recall, was never about central banks helping to finance government spending, writes Adrian Ash at BullionVault.
Heaven forbid! Because that would be just like Zimbabwe in the early 2000s...or
Weimar Germany
90 years ago...as they tipped into hyperinflation.
That's why, for instance, it is
illegal under the Eurozone treaty
for Eurozone central banks to fund their national government debt...even if funding by the European Central Bank itself is now being prepared.
No,
Quantitative Easing
is about boosting private-sector activity. Even if...umm...all the QE money created by the central bank just goes into government bonds. And stays there.
Next financial year for example, some £70 billion ($109bn) of the UK government's debt to the bond market will fall due. That will account for 40 pence in every Pound the government then has to borrow again from the markets, so it can fill the widening gap between its 2015 income and outgoings. (
See the table on page 94 here.
)
Luckily however, the UK already has one eager buyer: the Bank of England. Yesterday's policy vote at the UK central bank confirmed that it will "maintain" the Asset Purchase Facility once again.
Set at £375bn ($585bn) since July 2012, this Quantitative Easing money is entirely held in UK government gilts, which the Bank has bought from investors since the Asset Purchase scheme began in 2009.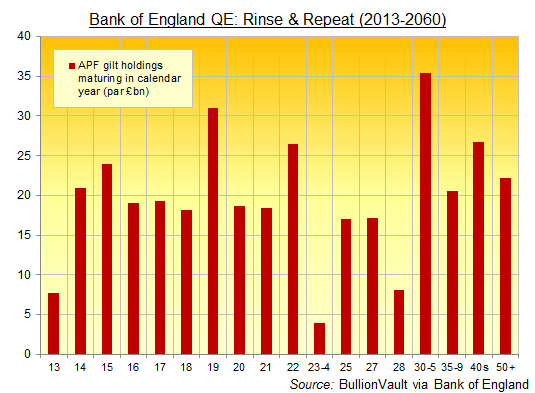 Maintaining the £375bn level means re-investing the money paid back by the government as those gilts mature. The chart above shows how those gilts will mature by calendar year, running all the way out to 2060. But next financial year, April 2015 to March 2016, some 40% of the State's gilt repayments are due to the Bank of England.
So, on receiving the cash, the Bank of England will step straight into the bond market again...buying medium or longer-term debt to maintain its £375bn total.
No, the Bank of England won't directly print wheelbarrows of cash and
run them 2.5 miles west
to the Treasury's front door. But in keeping £28bn of the government's longer-term gilts off the market, it will free what appetite there is for buying UK debt among money managers and pension funds to finance the new borrowing.
The Old Lady could of course just refuse repayment of next year's maturing bonds instead. But that would mean the Bank had, in effect, printed money and handed it straight to the Treasury...albeit with a 5-year delay from when the QE programme began.
That would never do, of course. Because it would be monetary madness like Zimbabwe or Weimar Germany. So instead, this rinse and repeat cycle continues instead. And as our chart shows, there's a lot of QE cash to be recycled yet...all the way to 2060.