Gold Price: LBMA Gets Its Crystals Balls Out in Rome
Thursday, 9/26/2013 23:33
What is the LBMA, and why does it bother trying to forecast next year's gold price...?
LBMA conferences have a tradition of everyone guessing the gold price one year hence, and the average being offered back as some kind of guide to professional sentiment, writes Adrian Ash at BullionVault.
You know the idea. Anyone trying to guess how many sweeties there are in a jar – or inflated balloons squashed inside a car, say – will likely be wrong. But average out everyone's guesses, and your answer can prove weirdly right.
Forecasting the future then, this
wisdom of crowds
might help as well. Especially if the guesses are made by industry players, taking a punt at where they see – for instance – the gold or silver price sitting one year from now.
But no...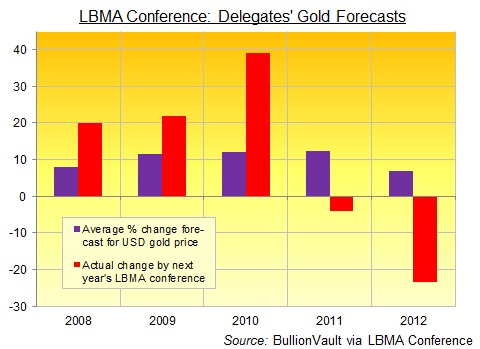 Where's the wisdom? And who's been making these guesses?
Keeping the wholesale gold and silver markets they work in running efficiently.
The LBMA's staff are thus charged with setting and maintaining the
Good Delivery standards
of the London market's large wholesale bars (1000-ounce silver, 400-ounce gold). These standards have been developed over 250 years and more, since the Bank of England – then as now sitting at the heart of the world's physical bullion trade – began to tell brokers what it would and would not accept into its vaults.
To achieve these standards – and again
picking up where the Bank of England began
– the handful of people on the LBMA's executive team, plus the slightly bigger handful of volunteer committee members, set and maintain the Good Delivery list of bullion refiners. These refiners know the value of Good Delivery status. So they're happy to be poked, prodded and then approved (and spot-checked again from then on) for the production of gold or silver bars meeting the Good Delivery rules.
Those rules, which the LBMA sets on behalf of its members, cover weight, shape, markings and of course purity or "fineness". And that, in truth, is it. The LBMA exists for no other purpose, and its members (such as BullionVault, as well as those bankers, brokers, miners and so on) expect it to do no more.
The LBMA runs no vaults, and trades no metal. It might represent the bullion industry's interests to government (see
Dodd-Frank and Conflict Gold
, for instance, again addressed through the Association's refining standards ). But its annual accounts, in fact, show this global association doing its job for less money than your local tennis club probably turns over.
Bankers, brokers and the rest however are a clubbable sort, those based in London no less than the LBMA's growing membership worldwide, and especially in China. So the odd get-together gives these people, serving precious-metal buyers and sellers wholesale, the chance to talk shop, gossip even, and start new deals and business relationships over a beer or three.
Hence Rome 2013, the LBMA's fourteenth annual conference. As cover perhaps for the dinners (and travel – Lima next year, anyone?) two days of expert seminars give the conference a focus. Keynote speakers then add a little spice –
Marc Faber at LBMA 2012 in Hong Kong
for instance, or Pierre Lassonde in Montreal 2011. Plus, this gathering of 700+ industry players gets chance to voice its collective guess on where prices are heading. It says more about sentiment, however, than direction.
The gap between this crowd's "wisdom" and reality 12 months later has long stood out. "Perhaps a sobering thought for those of us," as Rhona O'Connell of GFMS said in 2009, "who profess to have crystal balls."
After lagging the gold price so badly through the global financial crisis, the wholesale gold and silver world finally raised its targets, just in time for the price to turn lower. "This year I sensed that the bullishness has moderated and there is less conviction," said Tom Kendall, head of Credit Suisse's precious metals research, when he summarized the Hong Kong conference last year. Yet once more, the crowd's average guess was amiss – this time by being too keen.
To see what this year's forecasts are as they come in, follow
Bullionvault on Twitter
and keep up-to-date with
GoldNews
, live from the conference floor. Watch also for news and views from the bullion market's premier event as well. Because if nothing else, LBMA Rome 2013's collective gold price forecast might suggest how fast prices are heading in the other direction.
UPDATE: The LBMA 2013 conference guess came in at $1405 for the gold price by November 2014, when the Association will next meet (and yes, in Lima, Peru). That was with spot gold priced at $1290 in London. The 8.9% rise projected is just shy of the conference's average annual projection of 10% over the previous half-decade.