Gold Priced in Sterling
Thursday, 9/03/2009 09:54
Does the Gold Price in British Pounds signal a sharp move ahead...?
YOU NEEDED a little more brass last week to trade British Pounds for Gold Bullion, says Brad Zigler at Hard Assets Investor.
Sterling's purchasing power dropped 2.2% against the yellow metal in a dramatic reversal of 2009's trend to date. The British Pound had previously distinguished itself this year as the only reserve currency that actually appreciated against gold.
It's precisely because of that track record that some market observers wonder if Sterling's actually a "canary in a coal mine" for paper money worldwide.
Does the turnaround in the Pound vs. gold foreshadow a generalized flight from fiat currency?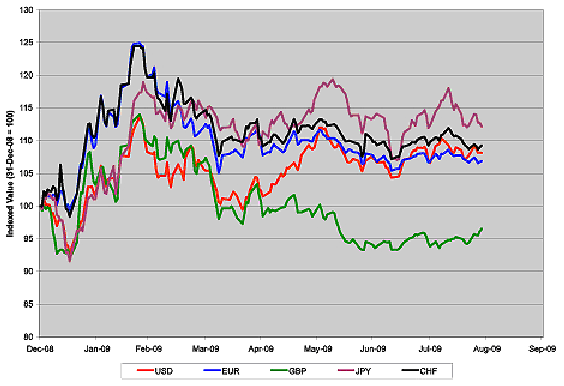 There's no shortage of voices lined up on either side of that question. And, as we've noted many times in this column recently, the gold market's been winding itself into an ever-tightening coil. Something's gonna give and we won't have to wait much longer to see the direction gold takes.
In sifting for directional clues, many observers have been surprised to discover that the US Dollar's not been the inflationary bad boy this year. Among reserve currencies, in fact, the greenback's been something of a middler.
Measured against the British Pound, gold had dropped 3.5% by the start of Sept. from New Year '09. That compares with average annual price rises of 12.2% – better than against any other major currency, and just ahead of the Dollar-price rise at 12.0% – since 1999.
Price in Dollars, in contrast, gold has gained 8% so far in 2009. Japanese gold-owners have seen it rise 12.2% vs. the Yen, reaching above its decade average of 10%.
Viewed in Swiss Francs, the Gold Price has risen 9.3% since New Year '09, precisely in line with its annual average since 1999. And Eurozone investors Buying Gold have seen it gain 6.9% since Jan. 1st. Gold's average annual gain since the start of this decade has been 9.9% vs. the single currency.
Might the Pound be reverting to type? Might that signal a sharper rise ahead for gold priced in other major world currencies? Sterling and Dollars have been neck-and-neck in the race to devalue over the past decade. But now we wait. A little bit longer. For the other shoe...er, currency...to drop.

Looking to Buy Gold with Dollar, Sterling or Euros...? Make it simple, quick and secure – dealing direct at live wholesale prices from one gram and up – at BullionVault...