Gold vs. Stocks vs. Silver
Tuesday, 7/07/2009 09:21
Gold Mining stocks straddle the fence between commodities and equities...

BOTH GOLD and silver are grinding through a seasonal slump at present, writes Brad Zigler at Hard Assets Investor. Neither looks especially buoyant.
But it's worth remembering: Silver's fortunes within that pairing change constantly. An ounce of gold has the equivalent value now of some 70 ounces of silver. A month ago, gold was worth only 61 ounces of silver. So, over the last month, gold strengthened and silver weakened. In relation to one another, that is
The gold/silver ratio is likely to vacillate significantly before year's end. After all, gold's multiple started the year at 80 times, dipped into the 60s and is now rebounding into the 70s.
So when we say that gold is strengthening, that's not to say that Gold Bullion or its proxies are due to take off on a gallop to the upside. If you're a silver aficionado, you might view this as an opportune time to dollar-cost-average into more metal, but a rising gold/silver ratio shouldn't be taken as a signal to start Buying Gold hand over fist.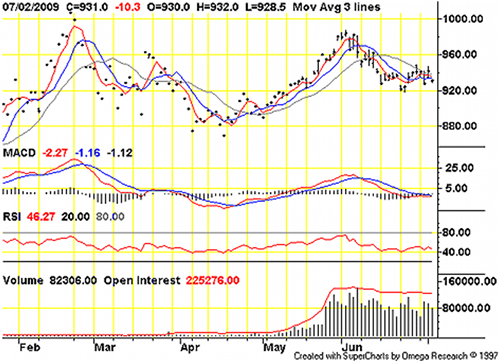 That, of course, won't dissuade inveterate aurophiles from making purchases now. For these folks, the question worth asking is whether bullion (or bullion proxies) are a better buy than Gold Mining stocks.
This year, Gold Mining stocks, as represented by the Market Vectors Gold Miners ETF (NYSE Arca: GDX) has outgunned the bullion-backed SPDR Gold Shares Trust (NYSE Arca: GLD) by better than a 2-to-1 margin.
GDX is up 13.1%; GLD's gained just 5.5%. The miners' advantage has been reflected in a stair-step decline in the securities' price ratio.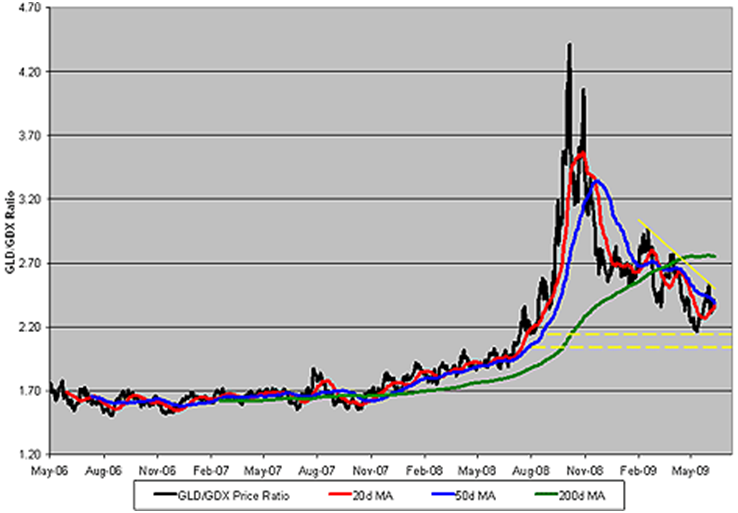 There's a price for the excess return earned by the miners: volatility.
The mining ETF's standard deviation is more than that of the bullion trust's. Expressed in portfolio terms, GDX can be said to have a beta of 1.64 against gold.
That's an important thing to keep in mind, because Gold Mining stocks straddle the fence that separates the commodity and equity realms. Miners behave more like the metal in bull trends, but more like the general stock market when gold's downtrending.
Thus, a bet on gold miners now necessarily includes a side wager on the stock market.