Gold Up, But Silver Upper
Thursday, 2/24/2011 21:13
The Gold Silver Ratio is sinking to lows not seen since the '80s as Silver Prices shoot ahead...


LOOKING AT the ratio of gold to Silver Prices, the way we might put it here in Texas is to say the Gold/Silver Ratio is trying to "sneak into new low territory" on the chart, writes Gene Arensberg in his GotGoldReport.

Check that. The GSR has in fact snuck into new low territory as of this week, if we use data compiled by StockCharts.com. Wednesday's probes to a 41-handle on the ratio are the lowest the Gold/Silver Ratio has traveled since the Great Gold Bull began in 2001...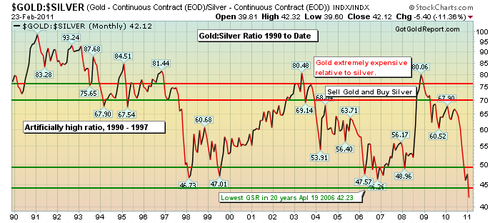 Review above the Gold/Silver Ratio since 1990, monthly data. The lowest ratio during that 21-year period occurred intra-day on April 19, 2006 at 42.23. Wednesday's close of 42.12 was lower, so we can announce that the Gold/Silver Ratio is testing lows not seen since 1980, courtesy of gold prices rising, but Silver Prices rising very much faster.

Here at GotGoldReport, we believe that this important ratio will likely return to its historic relationship to gold over time, and that historic relationship is closer to 15 or 20 ounces of silver to one ounce of gold. We do not expect that to happen by next week, but we would not be surprised to see a Ratio in the 30s in the near future – if the world manages to hold itself more or less together.

As silver reacts with gold higher – and given very unsettling news out of the Middle East, particularly out of Libya – it is interesting to note some of the changes in large commercial futures trader positioning as of last week Tuesday. The latest data from the Commodity Futures Trading Commission (CFTC) captured a snapshot of trader positioning, as it does every week. Recall that the report was for positioning prior to the strong moves higher in gold and Silver Prices on Thursday and Friday last week, which many traders assume were fueled by short-selling traders covering their downside precious metals bets.

One technical trigger that tends to reinforce that short-covering notion occurred as silver blasted up past its former turning high of $31.21 last Thursday in convincing fashion, and then followed through with conviction on Friday to a weekly close of $32.52 – the highest weekly close for silver since 1980 and very close to the intra-day highs for the week.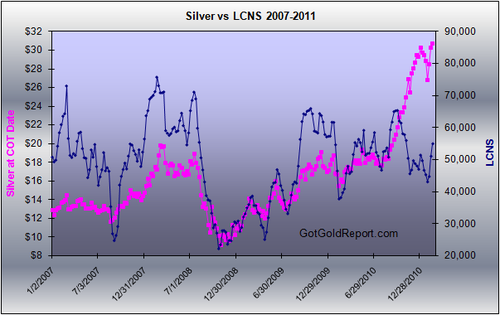 But looking at the "Net Short" position of the large commercial players (ie, silver production-side), we aver three further observations.

First, commercial traders increased the net short positioning for both gold and silver. Second, with gold not all that far below its all time highs and with silver literally at the highest for a COT report in this bull market, neither commercial net short position was even close to record levels.

Finally, the violent surge higher for silver late last week together with extreme backwardation in the silver futures strip [Ed.: Near-term delivery cost more than far-dated months, as it has done throughout recent weeks, and to ever-widening levels, bucking the typical shape of the "curve"]. This suggests that a sure-enough silver physical squeeze is underway in the tiny silver market. And as exciting as that may seem, we wonder at what point the regulators and the exchanges will move to protect their hedgers?

Possibly in some kind of midnight surprise, perhaps. But we also wonder whether, if they do make such a move, how much of an effect it could have. We strongly suspect that it is the physical market for silver that is firmly in control at the moment, not the futures that hedge it. Either way, be careful out there if you're trading.

Buy physical Silver Bullion – no leverage, no credit risk – using the low-cost, award-winning BullionVault service...