Gold: The Start of a Run?
Thursday, 4/10/2008 09:44
A confident call for the Gold Market's downside. The upside is anyone's guess...
THE PRICE OF RICE doubled in the last two months, writes John Lee of GoldMau.com, raising fears of fresh outbreaks of social unrest across Asia according to the Financial Times, since the grain is a staple food for more than 2.5 billion people.
This should come as no surprise. Grains, energy, and just about every other commodity prices have risen a minimum of 50% in the last six months. And a strong physical demand and lax monetary policy will continue to fuel high commodity prices.
You might have also read that Carlyle Fund and Bear Stearns blew up in the past month. Two companies going down is not a cause of concern in itself; companies rise and fall all the time. However, when you consider they held about $300 billion worth of mortgage positions – making their counterparties sweat – you begin to understand why the New York Fed agreed to advance $30 billion to help J.P.Morgan assume Bear Stearns positions.
Last year, I wrote that the mortgage mess was minimum a $2-3 trillion problem. We are about half way through, so expect to still see massive write-downs from pension funds and endowments in 2008, together with perhaps another major blow up to follow Bear Stearns.
All those bailouts are creating the "moral hazard" of saving aggressive risk-takers from the results of their actions, and they leave the Fed with no room to raise rates to combat inflation. Such monetary instability and fears of inflation are Gold's best friends. This is why my focus right now is on precious metals.
I expect the mortgage mess to reach a climax in 2008, which will more or less correspond to a spectacular rise for Gold Prices this year.
Asia barely sneezed at subprime, but they sure are catching cold feet on inflation and fever on gold. Technically, at $920 per ounce, Gold is comfortably above the previous record high of $850 per ounce set in 1980. I am very confident the downside at worst is now between $850-$890 – while the upside is anyone's guess.
Studies suggests a Gold Price between $1,500 to $2,000 per ounce based on today's oil and copper prices above $100 per barrel and $3.7 per pound respectively.
Interestingly though, junior Gold Mining Stocks as a whole are trading today at their lowest level this decade relative to the Gold Market itself, as this chart from Boris Sobolev at StockCharts.com shows: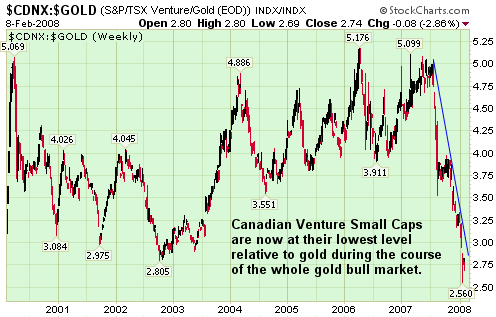 It makes no sense that the American mortgage crisis is impacting Canadian gold mining and resource juniors. One can now make a margin trade at 5% to buy oil trusts paying 15% dividend and gold juniors costing less than $10 per ounce in the ground.
I am confident this situation will reverse, offset not by higher interest rates but by higher junior gold mining stock prices. Within two months – and as soon as we hit the bottom of US interest rates – I expect all the hoarded money to spill out looking for a new home.
It simply does not pay to park money earning 2% with real inflation running nearer to double digits. In the last six months, I believe, junior gold mining stocks have decisively bottomed; their prices have been slashed up to 90% in some extreme cases. I am now seeing nice pops here and there, like mushrooms on a sunny spring day after the storm.
There are many quality junior companies with good cash positions, a low market cap and good prospects. Some of them are featured at www.goldmau.com...