Gold Price Free Fall
Thursday, 12/15/2011 11:25
Has gold now found interim support...?
IT DID NOT take very long for the Gold Price to free fall to a zone which should offer at least some interim support – shown in yellow on the chart below, writes Gene Arensberg at GotGoldReport.
In just three days the Dollar Gold Price has plummeted more than $80, with about $55 of that plunge coming while your author was traveling west at 40,000 feet.
The captain of the airplane reminded us that at that altitude the ambient temperature is about minus 69 degrees F, and said that he would be grateful if no one opened a window on the way. A few folks chuckled. The only thing we can think of that is colder than that is the precious metals market.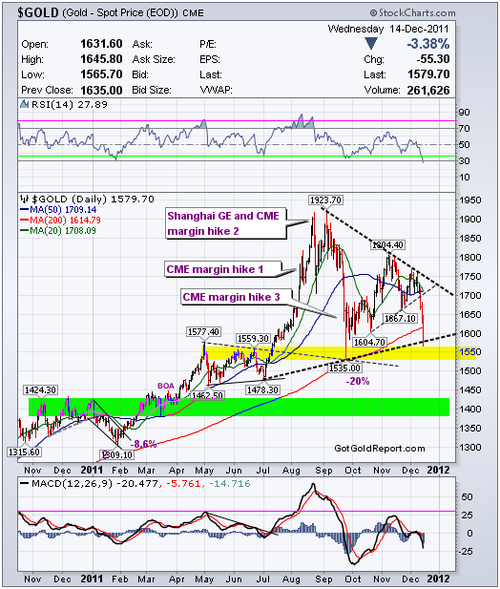 Who knows what shall happen just ahead. The plunge over the past few days has been brutally harsh and way too quick for comfort. Having said that it has always been our contention that the most violent down-jags for the gold market occur in bull markets, not in 'bears.' We would not be at all surprised to see gold fetching up either here, at implied support, or perhaps if the momentum is too strong, at the next level lower, suggested by the green bar.
One of the reasons precious metals have broken so hard is the one-two punch of a surging US Dollar and growing fear of European banks. There is quite a flight of capital out of the Euro at present, so this is not your usual commodity selloff. With the big...no make that huge banks in Europe scrambling to raise capital and with scared capital trying to get anywhere but where it is, there is a rush to liquidity. Commodity trader/broker/merchants are creatures of credit, and a lot of that credit is tightening or disappearing – suddenly – so part of what we are seeing is forced liquidation on a pretty big scale.
The crux of the issue is that what is unfolding is longer term very bullish for precious metals. But that does not count for much in a rush to liquidity. Our bet is that this current down spike in gold will end up being a precursor of a follow-on rush out of fiat currencies again and back into precious metals. But how much damage will be done before the liquidation is over, we can only watch and patiently wait to know for sure.
Get the safest gold at the lowest prices with BullionVault...