Gold Options Gambit
Tuesday, 1/26/2010 17:26
Gold options just delivered a $1,430 profit for NOT taking a position...
ABOUT A MONTH AGO, writes Brad Zigler at Hard Assets Investor, the option market advertised a sale on gold.
We wrote about the likelihood of a sell-off to the midway point of gold's July-December rally just before New Year. Basis the February Comex Gold Futures contract, we noted, that would mean a drop to the $1068 level or so.
Back then, in mid-December, gold bulls in the gold options market were looking for below-market entry points. One route was to sell February puts, giving their buyers the right to sell Gold Futures to them at, say, $1070 an ounce 3 months later. That was a sort of limit order "with benefits". The benefit being, of course, the premium – then $14.30 an ounce – collected for writing the option.
With January now drawing to a close, gold's see-sawed higher and lower. On Friday last week, the February Gold Futures contract got down to $1,081.90 before settling at $1.092.50 an ounce. Given the volatility of the past three trading sessions, a bullish bounce is likely sometime soon, but guess what?
Those puts are about to die out of the money (i.e. worthless to the owner), making the play very profitable for Dec.'s gold bulls.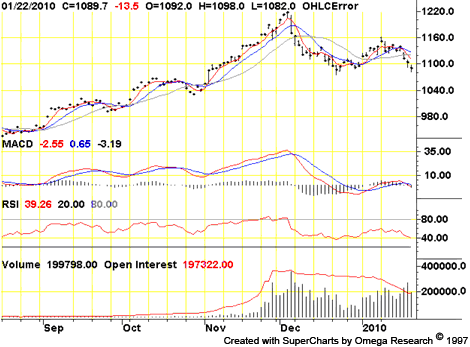 Comex options expire on the fourth-to-last business day of the month preceding the delivery month of their underlying futures.
And with Feb. gold puts at $1070 now expiring "out of the money" – because the February Gold Futures contract hasn't got that low, making the right to sell gold at that price worthless – that means good news for the put writers.
At last look on Friday, the options settled at $2.10 an ounce...down from that original $14.30 a piece.
A diminution in option premium is a plus for the seller, as less and less of the premium collected upon its sale needs to be expended to cover the writer's remaining liability. So unless gold decides to shed another $25 an ounce on Tuesday, these puts are likely to remain unexercised. And that means put writers got paid $1,430 a contract (which comes in 100-ounce chunks, remember) just for placing limit orders to buy futures.
That's quite a deal: making $1,430 for not entering the futures market? If only we had a robust derivatives markets that would similarly afford cash rewards for politicians to forgo entering electoral contests.
Want to Buy Physical Gold today? Cut out the middleman, and get low-cost access to the professional gold-market direct, only at BullionVault...