Gold-Oil Ratio Redux
Wednesday, 5/19/2010 11:51
Priced in gold, a barrel of oil is sinking fast...
AREN'T GOLD and oil both measures of inflation? asks Brad Zigler at Hard Assets Investor.
Because if so, then why is gold up and oil down? Shouldn't the gold-oil ratio – the cost of one ounce in barrels – stay pretty static?
Well, generally speaking – and that'd be very generally indeed – gold and oil do move in tandem. But wrinkles in the relationship develop because of differing fundamentals and because of differing fears. As the gold oil ratio shows, we're living in a fear-driven market now and that's where gold really, um, shines.
As the Greek debt crisis unfolded and fear of Continental contagion spread, capital streamed to safe-haven investments like the greenback and gold. Meanwhile, the prospect of a further meltdown in aggregate demand tilted an already-glutted oil market – for WTI crude, at least – downward.
Put simply, oil got cheap, not only in Dollars, but also in terms of Gold Bullion. Recently, as the gold-oil ratio below tells us, an ounce of gold could buy as few as six barrels of crude to as much as 25 barrels...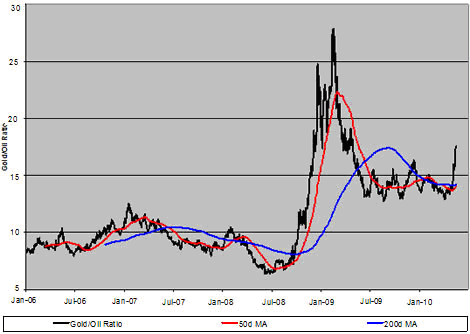 The gold-oil ration's most recent high followed six months of frantic de-leveraging and was itself followed by basing at the 14-times level as economic fixes were instituted and fears eased
Take a look at the chart, though. We've had a vertical ascent in the ratio this month. We're pushing on the 18-times level now.
The question for traders is whether this is a repeat of the late-year 2008 move or just a short-term blip.
The consensus – a thoroughly unscientific poll as it happens – seems to line up with the blip notion. For now, at least.