Ouch! Leverage in Gold Stocks
Wednesday, 10/20/2010 20:36
Gold Mining stocks have been relatively weak compared to Gold Bullion...

WHILE TUESDAY'S sell-off hit Gold Bullion hard, writes Brad Zigler at Hard Assets Investor, Gold Mining stocks were thwacked.
Heading into the East Coast lunch hour, spot Gold Prices were off 2.5%, while the stocks of gold producers proxied by the Market Vectors Gold Miners ETF (NYSE Arca: GDX) had tumbled 4.1%.
Ah, the leverage of mining stocks...
Gold Mining stocks had already lost a lot of ground to Gold Bullion in the bull market, and were only struggling to regain their strength. To better understand the stocks' performance, however, we should regard a longer time frame.
When the GDX portfolio – tracking a global 30-stock index – was launched in 2006, it outperformed bullion, but very soon began to slip. Within a year, GDX's relative strength had fallen into negative territory, finally bottoming in October 2008. Miners were acting very much like other stocks in 2008.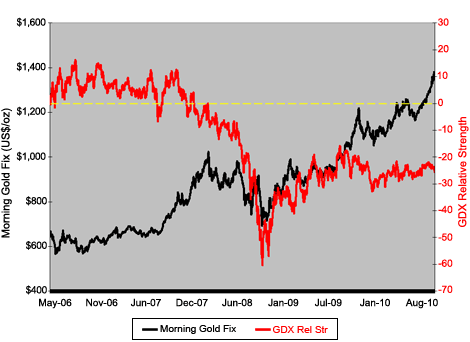 Gold Mining stocks then rebounded until a year ago. In September 2009, mining stock momentum fizzled compared with gold, even though the stocks' price movements are highly correlated (76% daily basis) to Gold Bullion.
And that's the key to understanding mining stocks' performance over the past four years. They're better – or have been better – than stocks in general, but not as good as gold itself.
The numbers for the Gold Miners (GDX) index over the last four years or so bear testimony to this. Its correlation with the price of Gold Bullion has been a strong, positive 0.76. But for their volatility – measured by its beta coefficient – miners haven't yielded enough reward. The stocks' alpha is negative, meaning gold produces better risk-adjusted returns.
The story's completely different, however, when gold miners are put up against the recent performance of blue-chip stocks on the S&P 500 index. Here, miners outshined the broad market, producing alpha – or excess returns – with less volatility.
Keep this in mind as we head deeper into earnings season.
Buying Gold today...?