Look! A Turnaround in Gold
Friday, 9/12/2008 09:48
Has it finally arrived? Are Gold miners finally outpacing the price of gold itself...?
WANT TO SEE THE MAKINGS of a real market turnaround, asks Brad Zigler of Hard Assets Investor.
Peer closely at the zenith of the black line in the chart below. Zoom in REAL close. Now look at the very top of the line...and you'll see a little arc.
Got it? Yes, that's it. That's the turnaround some pundits want you to see.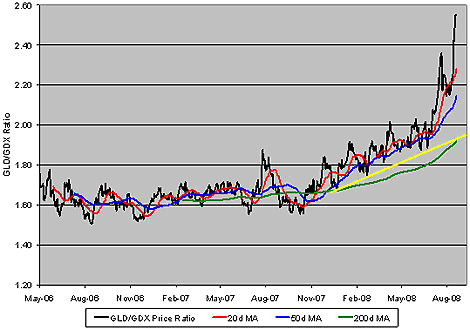 This chart shows the ratio of Gold Prices to the value of Gold Mining stocks. d there was a break in the devolution of gold miners this Wednesday.
The black line represents the ratio of gold's price (as tracked by SPDR Gold Trust) to the price of the Market Vectors Gold Miners ETF (GDX), an index fund representing some three dozen gold mining stocks.
Mid-week, while both Gold and gold miners were sinking in price, equities managed a brief pop while bullion pooped. In a volatile session, shares in the SPDR Gold ETF gave up 3%, while GDX gained 3.5%.
The resulting turnaround, if that is what you're looking for, seems long overdue. Then again, what isn't overdue in the financial markets right now? But as you can see, the ratio's been racing upward with increased velocity recently, much to the chagrin of stockholders who've been awaiting a chance to out-distance bullion since November 2007.
If you like ratios (who doesn't?), then also take a gander at the action in the Gold/Oil Ratio. Oil's recent sell-off has been even harder, dollar-wise, than gold's. So an ounce of Gold can now buy 7.6 barrels of oil; in June, gold fetched only 6.4 barrels.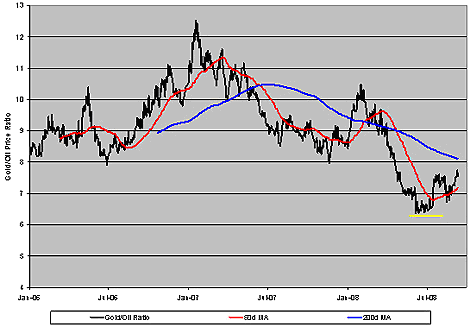 Relatively speaking, therefore, gold's been stronger than oil – and so maybe, just maybe, gold stocks are poised to outdo bullion.
Does this justify buying gold stocks here? Too early to tell for sure, though some investors might opt to trade the spread, rather than buying stocks or a fund outright.
If the spread's short gold leg is discomfiting, there are the DB Gold Short ETN (NYSE Arca: DGZ) and the DB Gold Double Short ETN (NYSE Arca: DZZ) notes available to counterbalance a long stake in the GDX miners.